A complete bathroom renovation to remove a bath & install a new shower
Brendan finally got his unit bathroom renovated in an apartment block in Ashfield. He wanted to get it done last year but delayed the project due to Sydney's various health orders in place. Although we were able to get his bathroom renovated within 21 days once we received approval to proceed.
Lots of people often ask if its possible to renovate a unit in an apartment block. They think that because the walls are shared with other owners that it isn't possible to make changes to their bathroom. This is incorrect, you can renovate your unit or apartment bathroom in Sydney.
What you have to pay very special attention to is what work is being done to make sure damage doesn't occur to walls, flooring or ceilings to adjoining properties. Waterproofing also becomes critical to ensure water doesn't leak into the subfloor.
For this unit in Ashfield Brendan wanted to remove the old bath and install a new walk in shower together with a complete renovation of the room. It is a typical small bathroom about 3 x 3 metres in size which makes it tricky to work in.
Brendan chose a range of products after looking at some of the examples on our website in our photo gallery. The texture and colour choices were simple, but timeless with a colour palette of black, white and touches of brushed bronze tap fittings. The white wall tiling had a textured finish to give the room some interest as well. He even added a touch of luxury with a ceiling mounted rain shower head mixer and we custom made a wall niche to store toiletries as well.
Brendan chose all the items he wanted which made it very easy to begin working on the bathroom once we had sorted out the required legal and compliance requirements.
Can you completely renovate a small bathroom in a unit in Sydney?
As you can see in the photos we completely demolished the old small bathroom in this unit. Behind the old wall tiling are the pre fabricated concrete building blocks and wall frame bracing. Once this was available we could begin getting the plumbing installed to suit the new shower getting built to replace the old bath.
For people living in older high rise apartment blocks this is a bit of a surprise, but we have renovated hundreds of small bathrooms in units over the years. We also take special care to ensure we stick to any strata requirements, keep all the public entry or exits clean & are respectful of other people living in the block.
The big benefit of doing a complete renovation is you can control every element – layout, tiling and products to be installed.
The budget for this type of renovation is between $25,000 and $35,000 with the variance due to products chosen and complexity of the job. All the tap fixtures were purchased from Bathroom Collective while the tiling came from Beaumont Tiles in Sydney.
Are walk in showers a good idea for a unit in Sydney?
It is true, you can go to Bunnings and buy a low-cost pre-fabricated shower that can be installed into a bathroom fairly cheaply. Or you can buy kits that have a steel frame and a base. Although, just look at how stunning and functional a walk-in shower can be.
There is a seamless flow on the floor and wall for the tiling, it creates a sense of space and freedom & you don't have to look at ugly plastic moulds or joins. 
The other benefit is the single piece of glass is super easy to keep clean and the open area allows for great ventilation in the room. There is also less mould build-up due to the reduced number of surfaces, edges or elements for water to pool or sit after it is used.
For a unit, a walk in shower can create the sense of more available space in the room because there isn't the visual bulk of a bath tub or a frame getting in the way.
Replacing an old bath for a new walk in shower
It is so easy to make a bathroom feel bigger by changing the floor plan or removing bulky items like a bath. When you combine this with a relatively simple choice of products & colours it creates a great looking bathroom that won't date very quickly. Brendan's design is simple, practical & has some nice touches like the exposed waste pipe under the vanity, custom made floor waste in the shower & the textured tiling.
The products & design ideas used in this Ashfield unit renovation
The products used in this renovation came from a number of different suppliers. The budget for this type of renovation is between $25,000 and $35,000 with the variance due to products chosen and complexity of the job. All the tap fixtures were purchased from Bathroom Collective while the tiling came from Beaumont Tiles in Sydney.
Shower:
Pegasi Overhead shower, 100 Cdrop 200 mm round head (antique brass light) 30621 or 30623
Pegasi slide shower inflow either 600mm rail length (antique brass light) 30642
Pegasi M Wall Mixer 80 (antique brass light) x 2
Vanity Tap & Basin:
Pegasi M Wall Basin Mixer Set 200 (antique brass light) 30655
Vanity Basin Silkstone Hague Basin (480x360mm) 30825
Vanity unit London vanity 900 wall hung in matte black
Benchtop:
Cloudburst concrete caesarstone
Shaving Cabinet/Mirror:
Kado Neue Arch Mirror shaving cabinet 500x900mm
Milton Moon cabinet and door
Towel racks:
Pegasi NF towel rail x3 (antique brass) Single 900mm
Pegasi NF Robe Hook (antique brass light) 30978
Hand towel holder Pegasi NF towel ring (antique brass)
Toilet
Caroma Luna CF Luna CF WF
Floor Tiles
Homestone Grey Microtec 1207756
Textured 300x600x9mm Wall Tiles 1000544
Agrestic White Gloss 75x150x10mm
Our renovating scope of work
for this Ashfield unit renovation
Nu-Trend has renovated lots of properties in the inner west of Sydney and we have lots of experience working with terrace houses, apartments & units in the local area. Our scope of work for this renovation in Ashfield was extensive and included the following items;
Management of all trades working on the project from initial demolition
Strip and demolition of the existing bathroom & removing all the rubbish.
Using the existing sub floor

Using the existing wall structure but installing a wall niche in the shower

Shaving down the existing door and build new wall frame with niche

Waterproofing and certification processes.

Prime and waterproof bathroom with waterproofing to be applied below and under the screed with 3 days drying time in between.
Re-screed, sand and cement the new floor and allow 7 days to completely dry.
Tile all the walls and floors
Grout all the floors and walls
Paint the existing ceiling with shadow line cornice
Fit off the items such as taps, accessories, pc fixtures, mirror etc.
Test and commission
Professional industrial clean the room at completion.
See more examples of our bathroom renovations in Sydney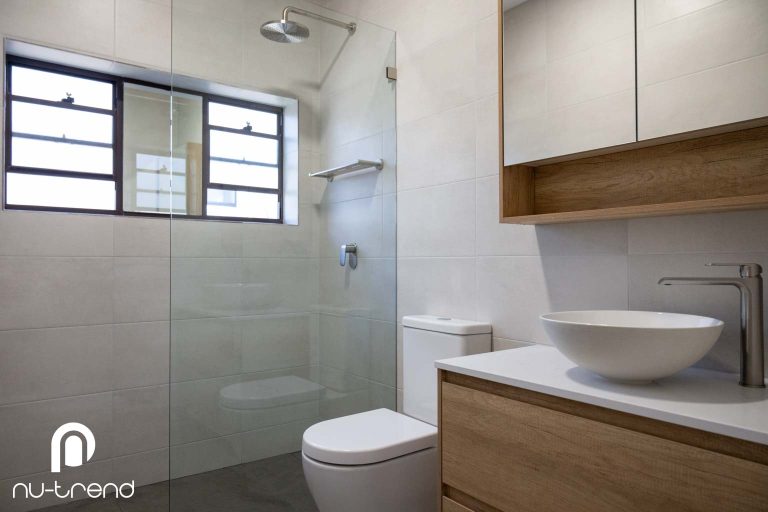 A complete bathroom renovation in Maroubra that included new plumbing, new concrete slab and custom made floor plan layout with new placements for toilet, shower and vanity
READ MORE >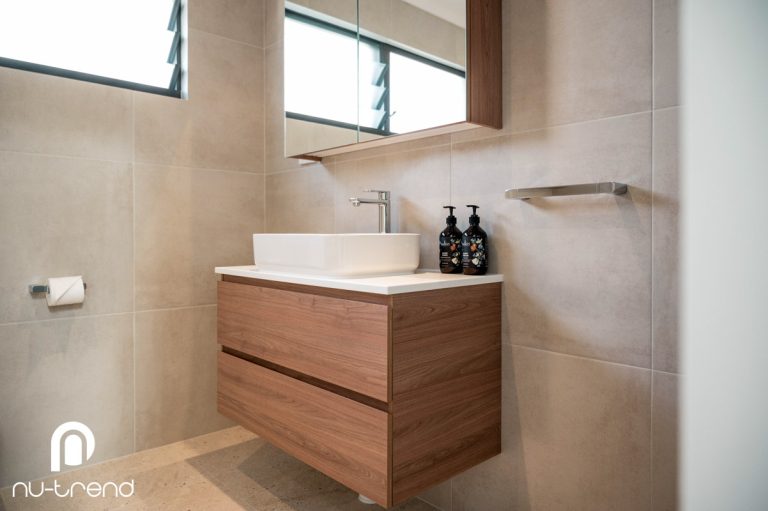 The owners of this home in Kingsford had a bathroom with failed waterproofing. We did a complete renovation to repair the issues and stop the water leaks.
READ MORE >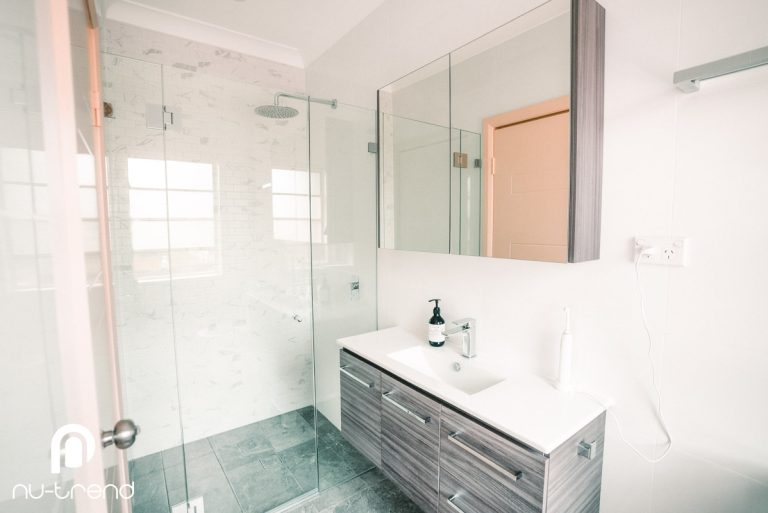 The ensuite bathroom in Mortdale needed an renovation to look and feel more modern, have more storage and more natural light.
READ MORE >
What did we do in this bathroom renovation?
#1 PROTECTED THE COMMON AREAS
Doing as many unit renovation projects as we do, we understand how stressful they can be for people trying to live through them. Most tradies also make a big mess. We make sure we protect all the common areaswith floor and wall coverings to make sure nothing is damaged while we are renovating in the block.
#2 PLUMBING & FLOORING INSPECTION
Nu-Trend is a licensed plumber which is an advantage when you are renovating a bathroom. For every project we inspect all the plumbing to make sure it is ready for use. When you combine this with our renovation expertise you get piece of mind.
Some renovation contractors will not include this in their service, they might leave the rubbish from the demolition in your backyard or on the street. Nu-Trend will make sure all the materials and rubbish that are not used are removed neatly ensuring your property isn't left in a mess and neighbours are happy.
#4 SHOWER SCREEN INSTALLATION
We can install a custom made glass shower screen into your bathroom if it is a house, unit or town house. We can make sure the flooring and plumbing is suitable and it is sized exactly to fit your space.
#5 KEEPING YOUR UNIT CLEAN
Doing as many renovation projects as we do, we understand how stressful they can be for people trying to live through them. Most tradies also make a big mess. We make sure we protect all your main living areas while we are renovating as well as furniture to protect it from dust or debris