A complete bathroom renovation in Penshurst removing a spa bath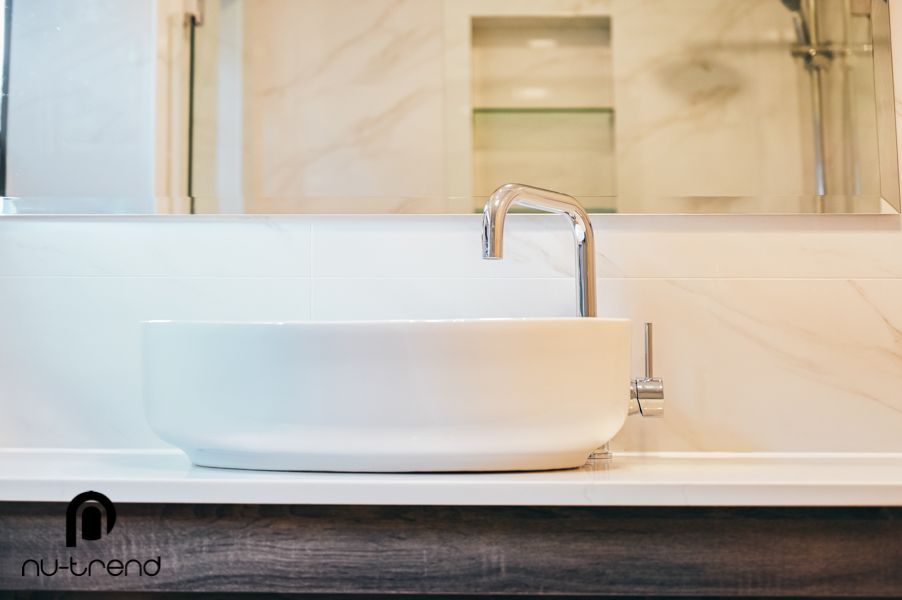 Nu-Trend was contracted to complete a renovation of two bathrooms in this old house in Penshurst. The main bathroom had an old corner spa bath they wanted to be removed & the second small bathroom had a doorway leading to the outside they wanted removing. 
The owner wanted to spend their renovation budget on high-quality workmanship vs expensive bathroom fixtures so their product choices were conservative, but still meant we could complete a high quality finish for both rooms.
Our work started by completely demolishing both bathrooms and as we normally do, we always make sure the bathroom plumbing as well as the structure of the rooms are sound before we being our renovating work.
Unfortunately for this house we discovered the floor was suffering from concrete cancer which we needed to repair. So apart from blocking off an old door the rest of the job was fairly normal with end to end project management, drop sheeting, cleaning, tiling, water proofing, demolition, rubbish removal, rendering, electrical, carpentry and painting.
The total time frame to complete this renovation job was about six weeks with the slight delay from the concrete cancer repairs. Thankfully the client was fast to process our reports & accept the variation costs involved.
All the products were purchased from BBC Tiles with the total budget between $50,000 and $60,000 for the whole job.
How to repair concrete cancer in your bathroom
We had to repair the concrete cancer in this bathroom that was being caused by failed waterproofing in the shower area of the bathroom.
Concrete cancer can be a serious and expensive issue if left untreated, misdiagnosed or just given a quick repair. Concrete cancer is caused when steel re-enforcing within a concrete slab begins to rust. As the steel rusts, it expands and displaces the surrounding concrete causing it to become brittle and crack.
Signs of concrete cancer can include; delaminated & cracking concrete called spalling, rust stains which seem to leak out from within the concrete, bubbling or plating of concrete render or leaks which appear over concrete surfaces.
For this bathroom it was important to have repairs made to the floor to ensure there wouldn't be issues later. We discovered that the water proofing in the shower had failed so water was getting into the subfloor. Fortunately it was limited to just one corner of the room and the rest of the slab wasn't damaged.
While we were under the house we checked the other timbers and the rest of the slab which looked great. So it meant we could wet saw cut a larger section out to remove the crumbled pieces, install new steel bars and repair the area ready to be renovated on.
It's a good thing we detected this issue now before it spread into a larger area of the slab. Concrete cancer can be a serious and expensive issue if left untreated especially when it is under wet areas like a laundry, kitchen or bathroom.
Can a door be removed to make a bathroom bigger?
A lot of homes in Sydney have a laundry that was converted to a bathroom where the old sink was removed and maybe a toilet, shower and vanity was installed. Typically these rooms will also have a door to exit the building to the backyard.
So many home owners these days are converting their laundry into a bathroom to make more usable space in the house. 
So part of the renovation for this small bathroom was to brick up the old door to make more usable space in the bathroom. It meant the layout could be changed so that the vanity was against the wall to then make more space for the walk in shower.
The window was retained to give the room some natural light, but this is a great way to create more space without knocking down walls.
Replacing an spa bath for a new walk in shower
For this house it was easy to make both bathrooms feel larger than they did before. By removing the big, bulky corner spa bath that wasn't being used it made the whole corner of the room available. Blocking up the exit door in the other bathroom created a whole new wall surface to work with. So the existing bathroom plumbing could be used but new shower, toilet, vanity & tiling could be installed. The interior design choices were relatively simple which is a great way to save money & ensure the rooms can appeal to a wide range of people.
The floor tiles are perhaps the most interesting aspect with their timber look textured design.
The products used in this Penshurst bathroom renovation
The products used in this renovation came mainly from BBC Tiles and included things such as
Snow Stone Carrara Marble Polished Porcelain 360×900

Palace Shale Grey Timber Look Porcelain 200×1000
1200 x 800 Bevel Edge Mirror 
750 x 720 x 150 Pencil Edge Mirror Cabinet 
Custom Made Engineering Stone Top 1200×470
Maximo 1200 x 460 x 850 free standing vanity cabinet  
Dove Towel Rail 810mm
Dove Robe Hook
Dove Toilet Roll Holder
Dove Towel Bar
Double Towel Rail Brass& Zinc
Our renovating scope of work
for this renovation
Nu-Trend has renovated lots of properties in the Southern Sydney and we have lots of experience working with terrace houses, apartments & units in the local area. Our scope of work for this renovation in Penshurst was extensive and included the following items;
Management of all trades working on the project from initial demolition
Plumbing and flooring inspections
Strip and demolition of both the existing bathrooms & removing all the rubbish.
Using the existing sub floor

Using the existing wall structure but installing a wall niche in the shower

Bricking up the existing door

Waterproofing and certification processes.

Prime and waterproof bathroom with waterproofing to be applied below and under the screed with 3 days drying time in between.
Re-screed, sand and cement the new floor and allow 7 days to completely dry.
Tile all the walls and floors
Grout all the floors and walls
Paint the existing ceiling with shadow line cornice
Fit off the items such as taps, accessories, pc fixtures, mirror etc.
Test and commission
Professional industrial clean the room on completion.
More examples of our bathroom renovations in Sydney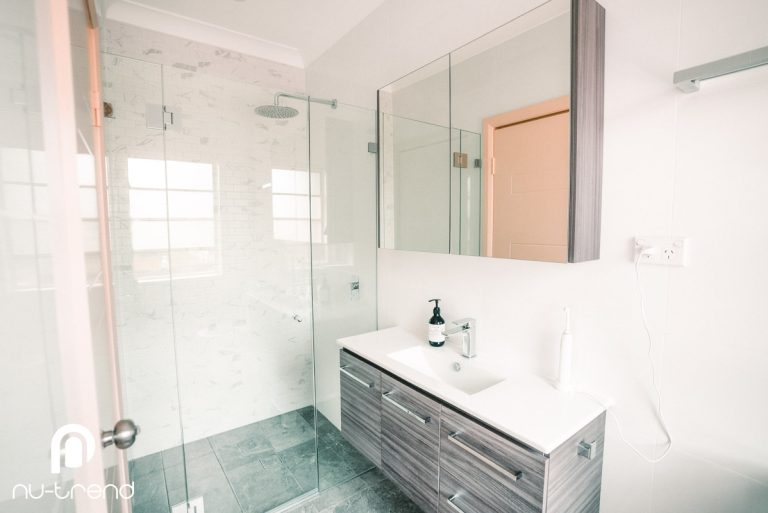 The ensuite bathroom in Mortdale needed an renovation to look and feel more modern, have more storage and more natural light.
READ MORE >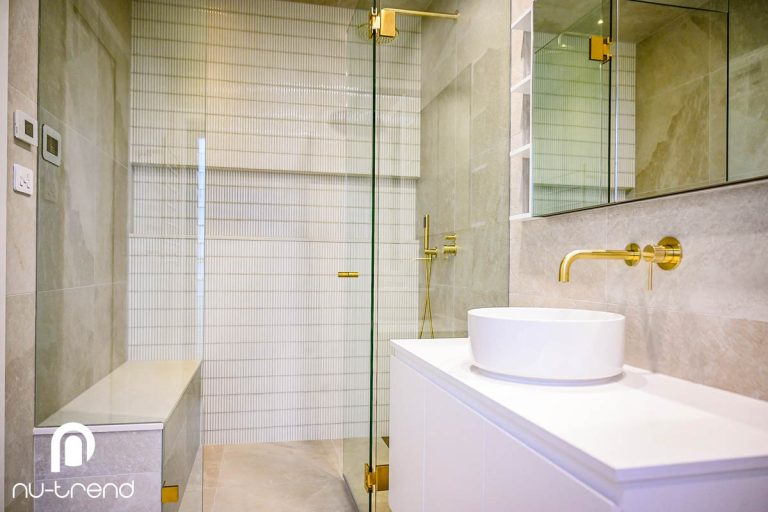 We converted this old bathroom to have a brand new steam shower room installed complete with custom hardware storage
READ MORE >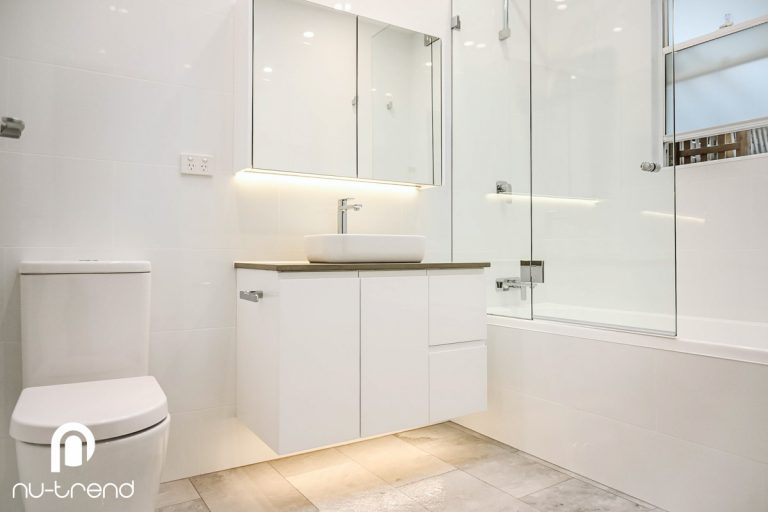 We renovated this bathroom in Leichhardt to install a new bathtub, tiling, vanity, toilet and repair the flooring that had asbestos in it, then built a new subfloor.
READ MORE >
Highlights from this bathroom renovation?
#1 PROTECTED THE COMMON AREAS
All the internal areas of the home between both bathrooms and the entry were completely covered.
#2 PLUMBING & FLOORING INSPECTION
Nu-Trend is a licensed plumber which is an advantage when you are renovating a bathroom. For every project we inspect all the bathroom plumbing to make sure it is ready for use. When you combine this with our renovation expertise you get total peace of mind.
Some renovation contractors will not include this in their service, they might leave the rubbish from the demolition in your backyard or on the street. Nu-Trend will make sure all the materials and rubbish that are not used are removed neatly ensuring your property isn't left in a mess and neighbours are happy.
#4 SHOWER SCREEN INSTALLATION
We can install a custom made glass shower screen into your bathroom if it is a house, unit or town house. We can make sure the flooring and plumbing is suitable and it is sized exactly to fit your space.