Converting the powder room
using an interior designer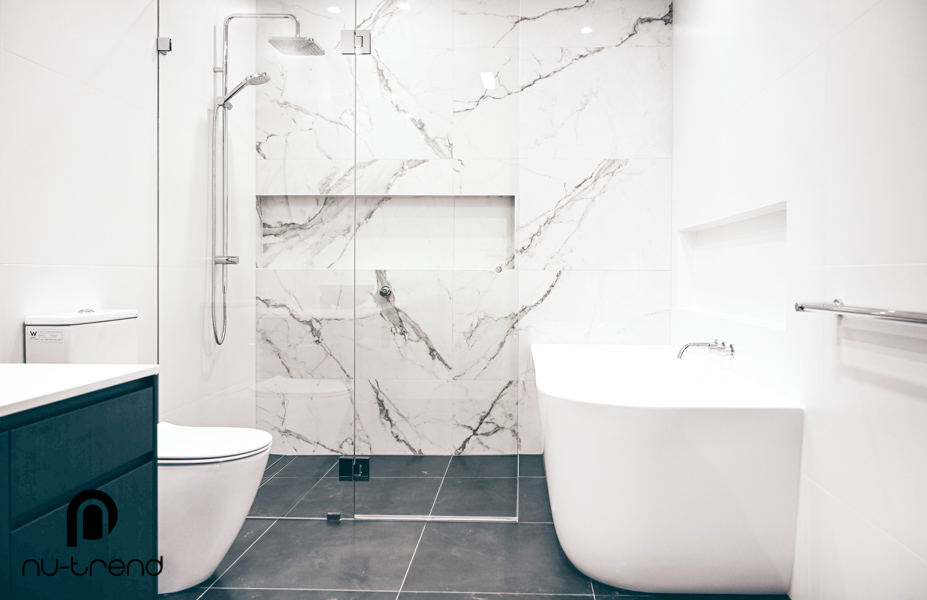 We had the pleasure of working closely with the amazing Think Dzine Interiors team for another bathroom renovation project in Sydney. This property was located in Greenhills Beach and the property owners had some mixed experiences dealing with renovation trades in the past. So our focus was to make sure this renovation project went as smoothly as possible for them by working closely with the Think Dzine Interior team and the builder.


The property had two bathrooms on the second storey of the house;
A bathroom that needed to be converted into an ensuite with a shower.


A powder room that was to be converted into a main bathroom with shower & bath by removing an adjacent wall from the storage room.


The owners chose to use Think Dzine which meant they would get expert interior design advice to ensure the whole project was managed from start to finish without any issues. By changing the floor plan of the second level of their home it would create two large bathrooms with plenty of space and greatly improved functionality.


So the project involved a complete bathroom renovation including new floor and wall tiling, wall niches, new vanities, sinks, bench tops, toilet and lighting. Every interior design aspect was measured and drawn up by the experts at ThinkDzine Interiors which gave the Nu-Trend renovating team the blueprint to work from.


The benefits of using an interior designer for projects like this is it ensures all the various trades ie plumbing, tiling, electrical & building are working to an exact plan. There is no interpretation needed, each trade works to the design provided.


The other big benefit is the ideas an interior designer can come up with which solves practical living situations. They helped to change the floor plan so that it would creates a more functional living space in the home while delivering a high quality visual design that made sure all the materials and products chosen looking incredible.
Changing the floor plan
to create two new bathrooms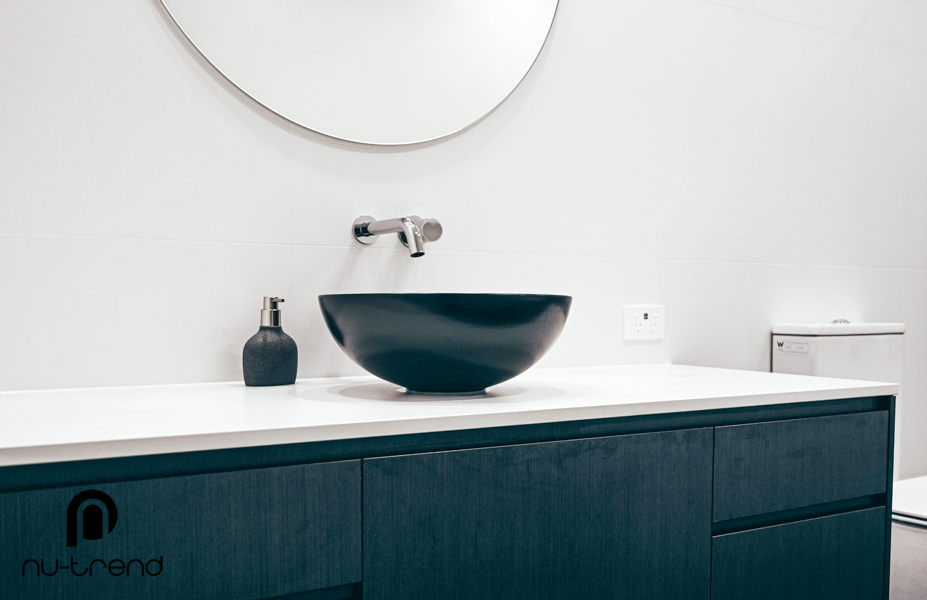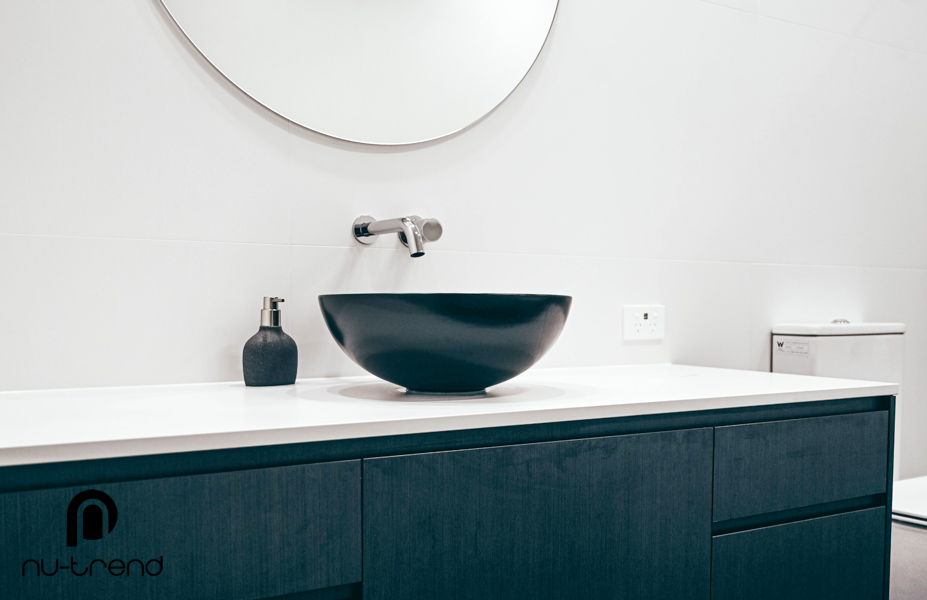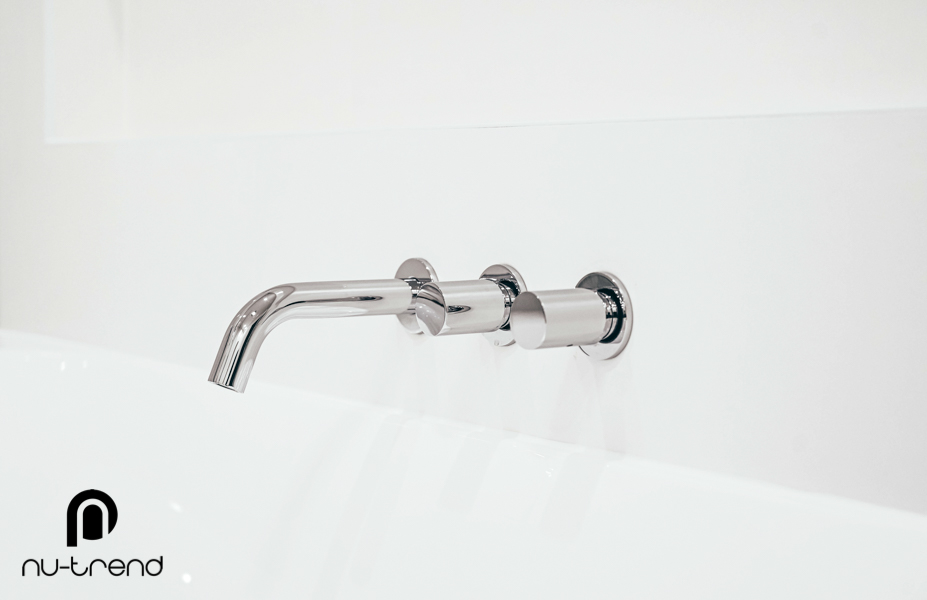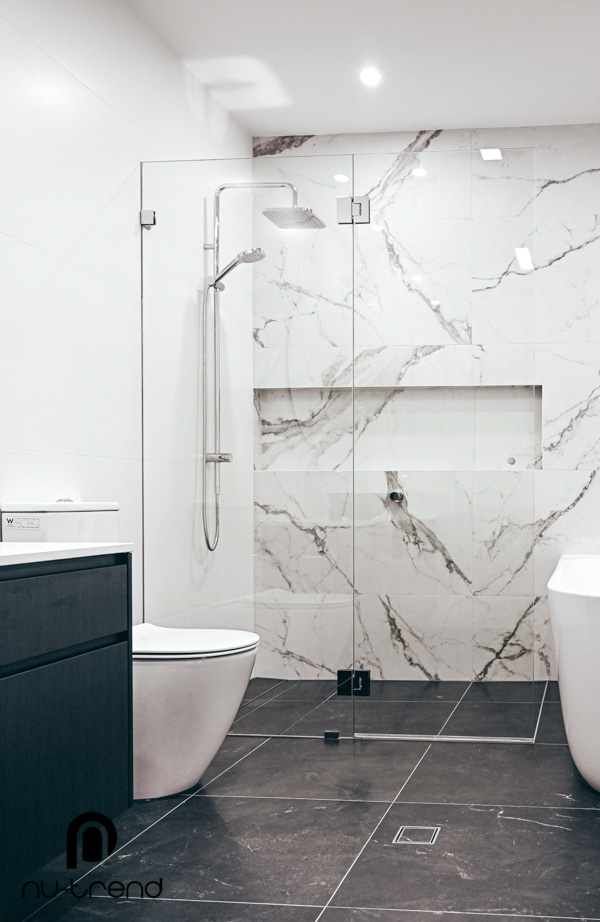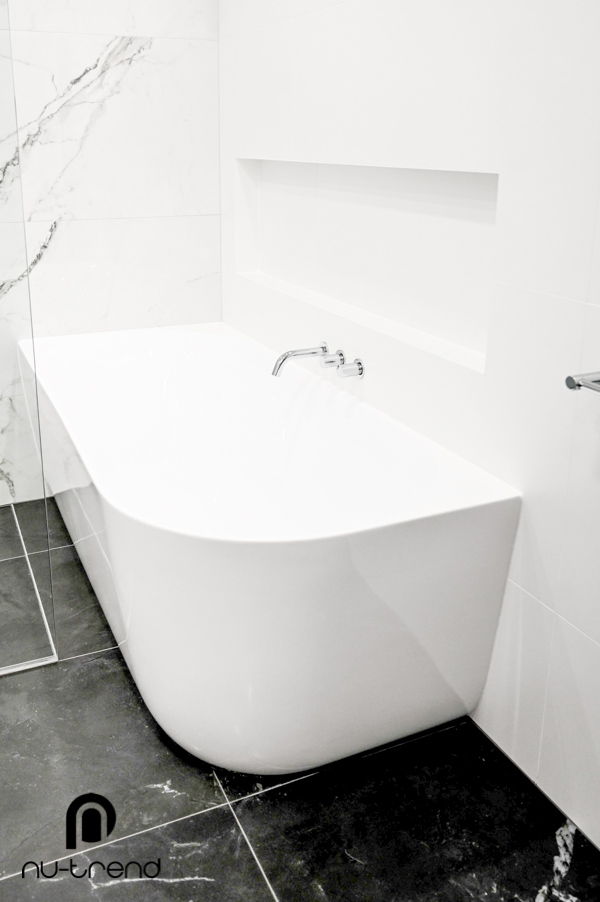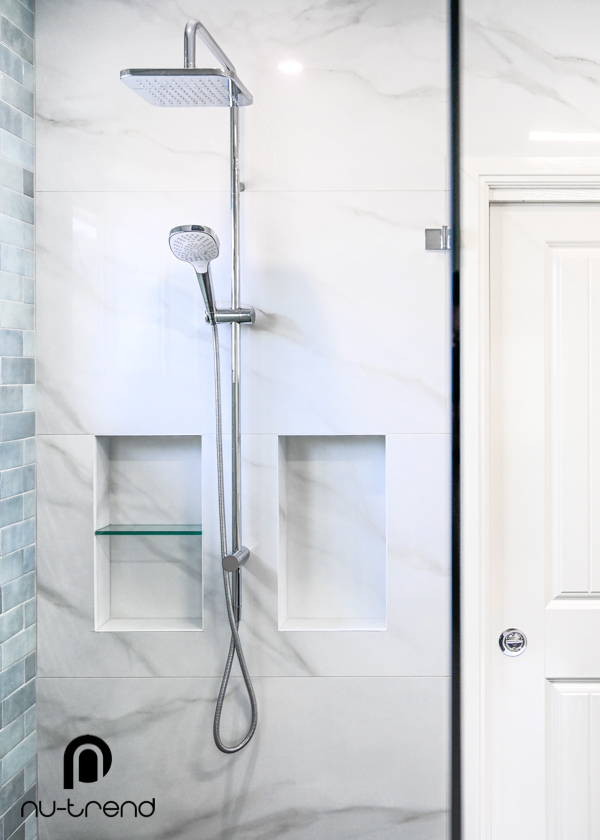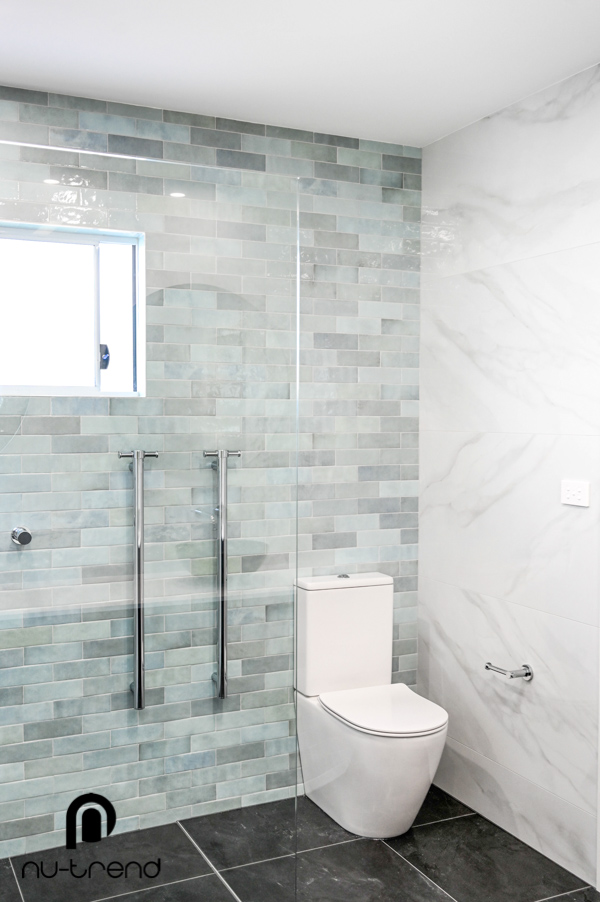 For many people renovating can be either an exciting prospect or quite a scary thought. There are some advantages though if you are considering renovating multiple rooms at once. There can sometimes be cost savings when products are purchased in bulk, reduction in delivery costs, sometimes a reduction in labour & the single use of things like rubbish bins, driveways etc.
The other big benefit is you are using a consistent team renovating both rooms so they can handle everything from start to finish for your project & by using an interior designer you can also make sure the rooms complement each other and/or the rest of your home.
There were three phases to complete this renovation project. We often get asked about whether it is possible to move a toilet or add a bathroom into a laundry and we have some examples you can learn more about. Although in this situation it was about removing the powder room & a storage cupboard change the overall floor plan. 
So the first phase meant we had to demolish the rooms, then we worked with the builder to re-instate the walls according to the design drawings to create the two new bathrooms and complete the construction. It is so important to choose great products when you are renovating your bathroom and this wasn't a cheap makeover – have a read of some of our tips in our Renovating Advice section. 
The products used in this renovation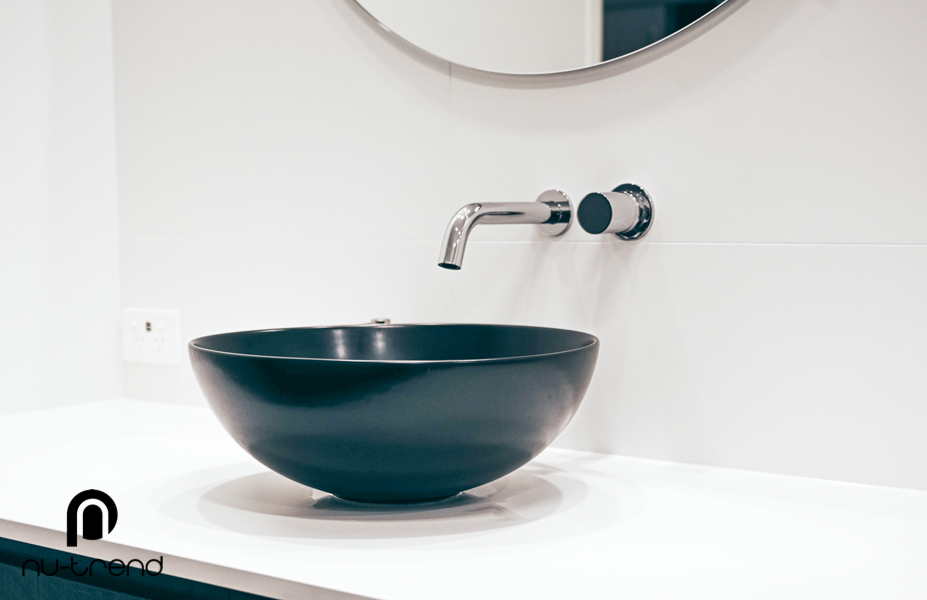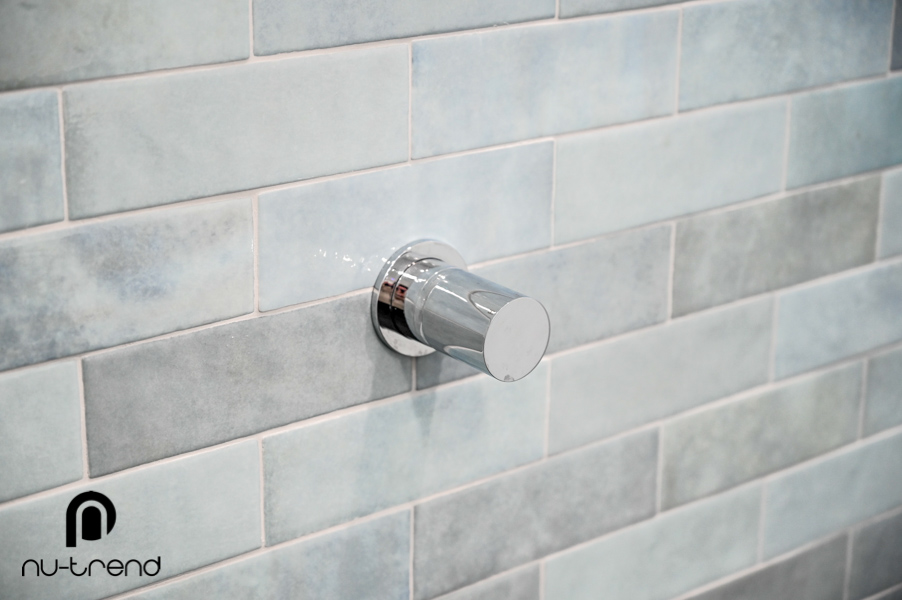 The products used in this renovation came from Reece Plumbing Mosman & Nu-Trend was chosen as the renovating contractor in Sydney to complete the bathroom construction steps including room preparation, waterproofing, tiling, toilet, shower, vanity & bath installation.
Once the builder had removed the necessary walls each room could take shape. The wall hung vanity cabinets help make the rooms feel larger because there isn't any visual bulk sitting on the floors & you can see the beautiful tiling as soon as you walk in. ThinkDzine Interiors spent a lot of time making sure every usable element in the bathroom was correctly spaced, at the right heights & orientated in the rooms to make them easy to live with day to day.
Some of the main products used included;
Main feature tiles; Living Tiles Arcadia Tecno Bianco Natural 1200×600
Ensuite feature tiles; Virgo Green Gloss 82×257
Benchtops; Stone Italiana Cartapietra Superwhite 13 Grain 2.0 – 20 mm thickness
Floor tiles; Living Tiles Charisma Imperial Lappato 600×600
Wall tiles; Living Tiles Arcadia Tecno Bianco Natural 1200×600
Other products included;
Posh Solus bath 1700 left mount
Grohe Croma shower head
Solar black basin
Mizu Drift pop up chrome
Circa wall basin mixer outlet system 200mm
Ellisse MKII wall faced suite
Suba twin rail shower – chrome
Scala double towel rail 700mm chrome
Scala straight toilet roll holder chrome
Voda robe hook chrome
Mizu Drift tile insert waste 100mm
Our renovating scope of work
for this Greenhills Beach renovation
Nu-Trend has renovated lots of properties in the Sutherland Shire and we have lots of experience working with terrace houses, apartments & units in the local area. Our scope of work for this renovation in Greenhills Beach was extensive and included the following items;
Strip and demolition of the existing bathroom & removing all the rubbish.
Re-instate plumbing hot and cold water with new plumbing layout.

Waterproofing and certification processes.

Prime and waterproof bathroom with waterproofing to be applied below and under the screed with 3 days drying time in between.
Re-screed, sand and cement the new floor and allow 7 days to completely dry.
Tile all the walls and floors
Grout all the floors and walls
Paint the existing ceiling
Fit off the items such as taps, accessories, pc fixtures, mirror etc.
Test and commission
Professional industrial clean the room at completion.
See more examples of our bathroom renovations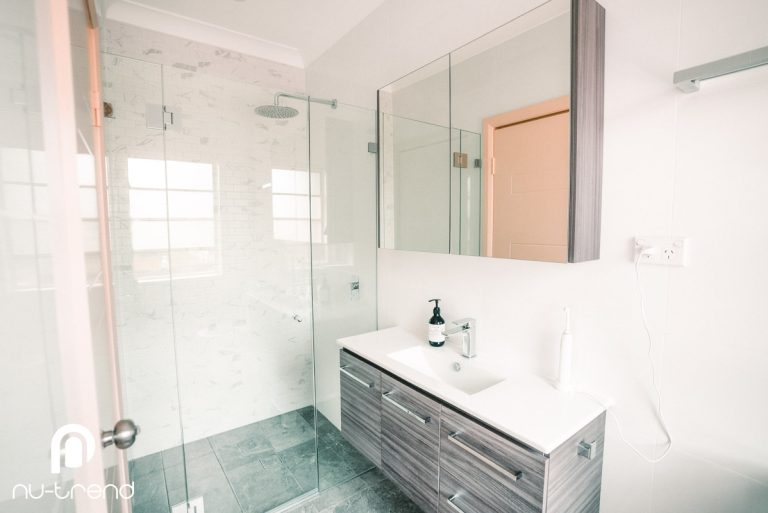 The ensuite bathroom in Mortdale needed an renovation to look and feel more modern, have more storage and more natural light.
READ MORE >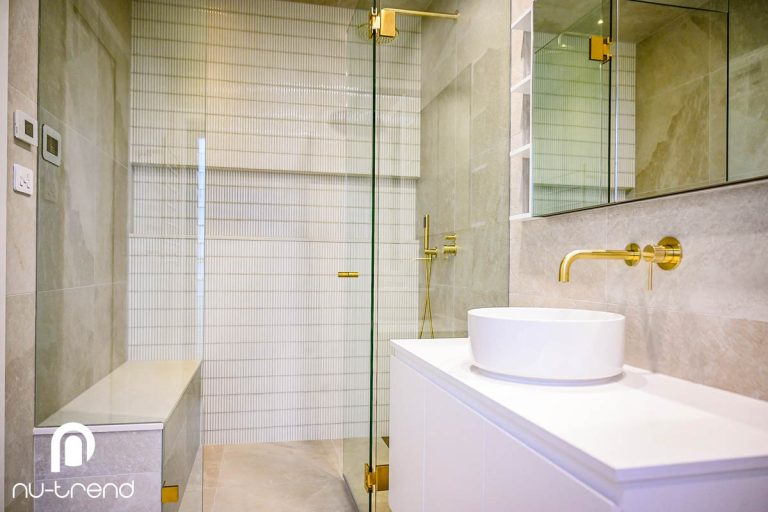 We converted this old bathroom to have a brand new steam shower room installed complete with custom hardware storage
READ MORE >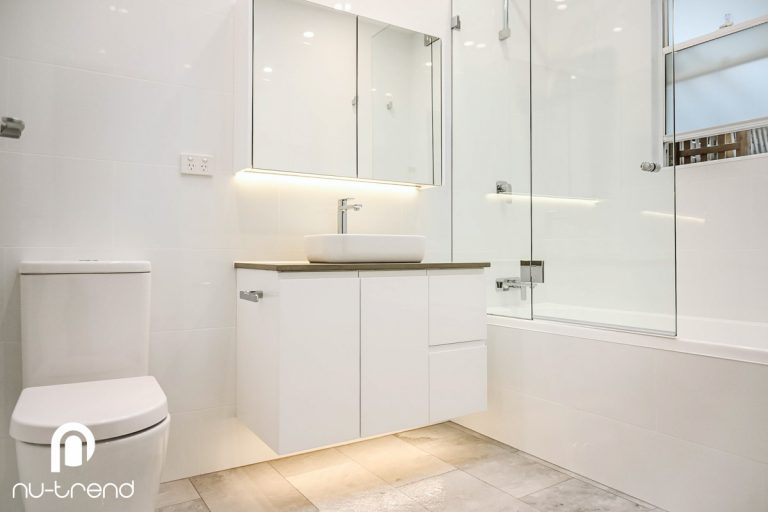 We renovated this bathroom in Leichhardt to install a new bathtub, tiling, vanity, toilet and repair the flooring that had asbestos in it, then built a new subfloor.
READ MORE >
What did we do in this bathroom renovation?
#1 PROTECTED THE PROPERTY
Doing as many unit renovation projects as we do, we understand how stressful they can be for people trying to live through them. Most tradies also make a big mess. We make sure we protect your property with floor and wall coverings to make sure nothing is damaged while we are renovating your house.
#2 PLUMBING & FLOORING INSPECTION
Nu-Trend is a licensed plumber which is an advantage when you are renovating a bathroom. For every project we inspect all the plumbing to make sure it is ready for use. When you combine this with our renovation expertise you get piece of mind.
Some renovation contractors will not include this in their service, they might leave the rubbish from the demolition in your backyard or on the street. Nu-Trend will make sure all the materials and rubbish that are not used are removed neatly ensuring your property isn't left in a mess and neighbours are happy.
We can install a toilet, bath, vanity or shower for all renovation projects.
#5 SHOWER SCREEN INSTALLATION
We can install a custom made glass shower screen into your bathroom if it is a house, unit or town house. We can make sure the flooring and plumbing is suitable and it is sized exactly to fit your space.