We moved the laundry in a
bathroom to create a new powder room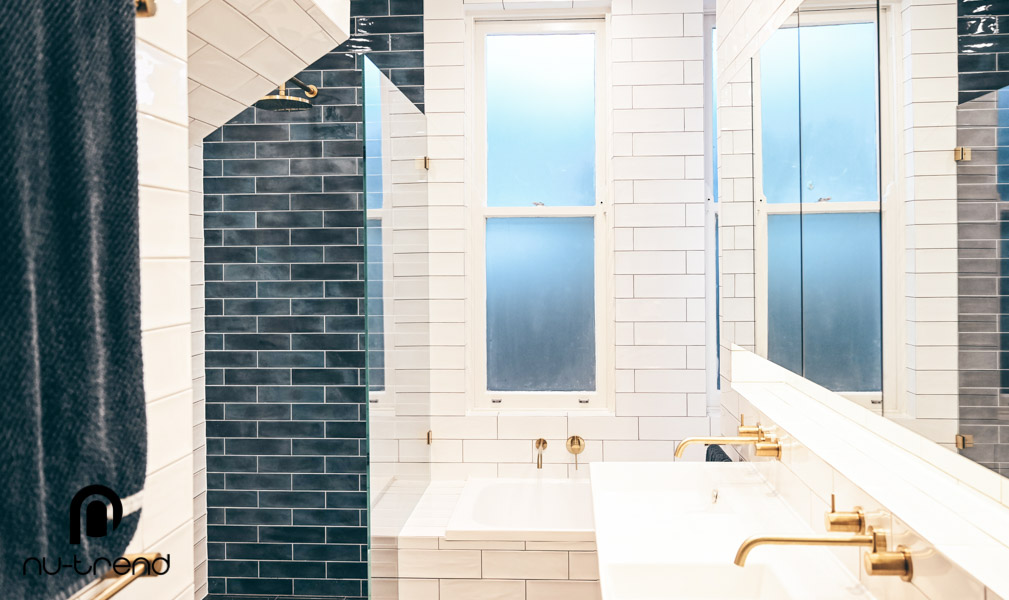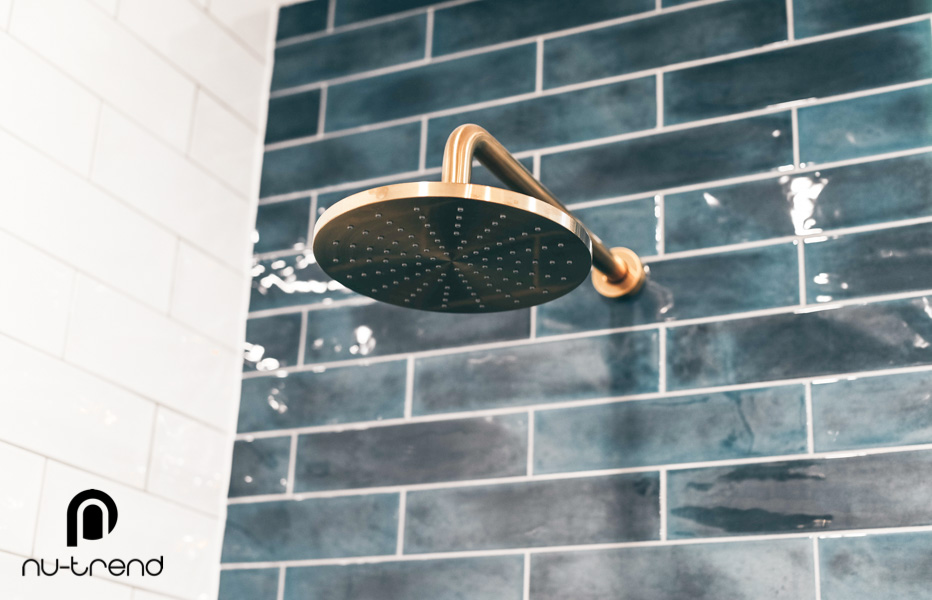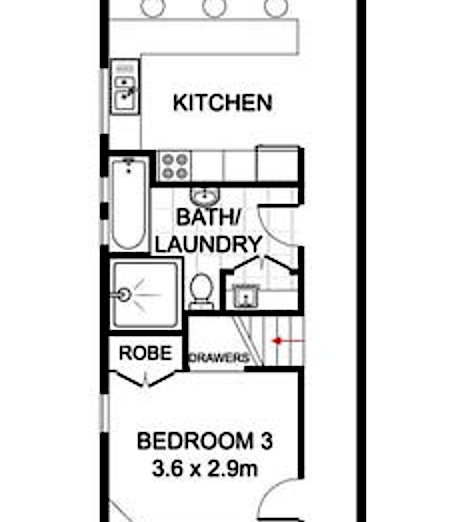 The property owner of this house in Randwick had already renovated the rest of their property & wanted to do update the downstairs bathroom. Situated in the middle of the terrace in Randwick, the bathroom was right behind the kitchen and one of the bedrooms that shared a wall with the stair case to the second storey of the house.
They wanted a complete bathroom renovation including new tiling (to match the ones used in the kitchen), and they also wanted to improve the usability of the limited space they had.
So, the decision was made to change the floor plan so that the laundry concealed inside the bathroom would be moved to a separate location, then the available space would be turned into a separate powder room with toilet.
By moving the laundry and changing the floor plan it creates a more functional living space; people can use the bathroom to wash their hands, take a bath or have a shower. If someone needs to go to the toilet, they use the new powder room meaning both rooms can be used by different people.
The products used in this renovation came from Reece Plumbing Rockdale and Amber Tiles in Sydney. Nu-Trend was chosen as the renovating contractor in Sydney to complete this project from demolition of the existing bathroom through to tiling, toilet, shower, vanity & bath installation.
Changing the floor plan
of this bathroom to move the laundry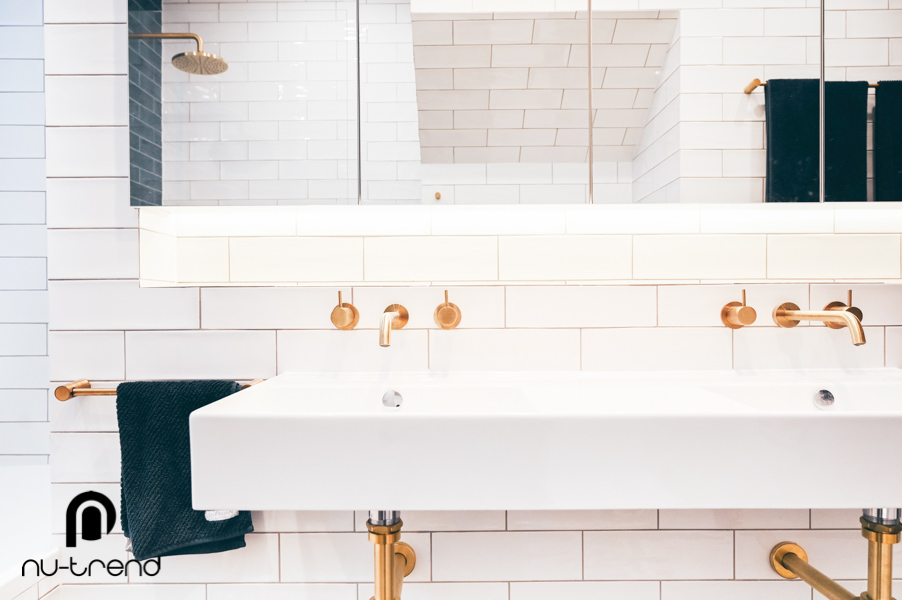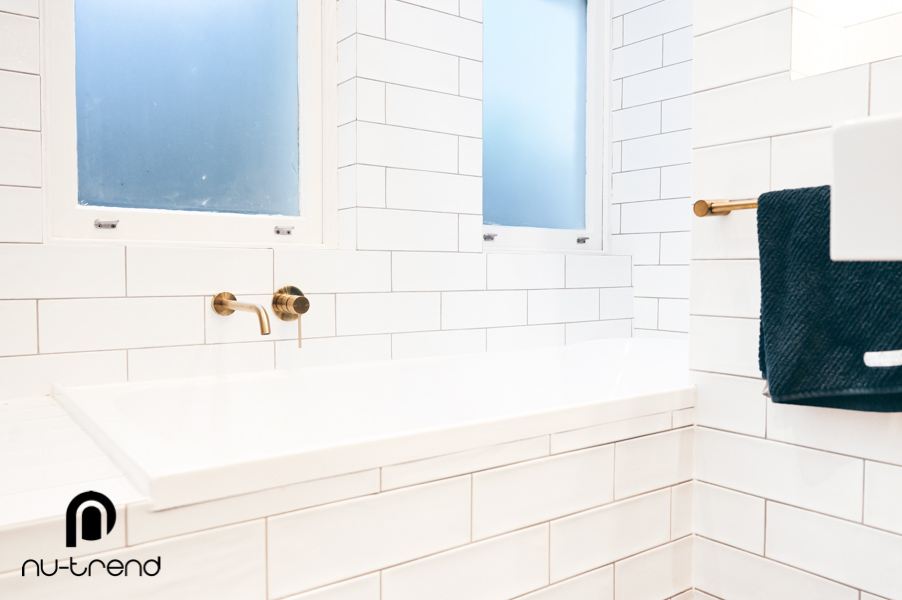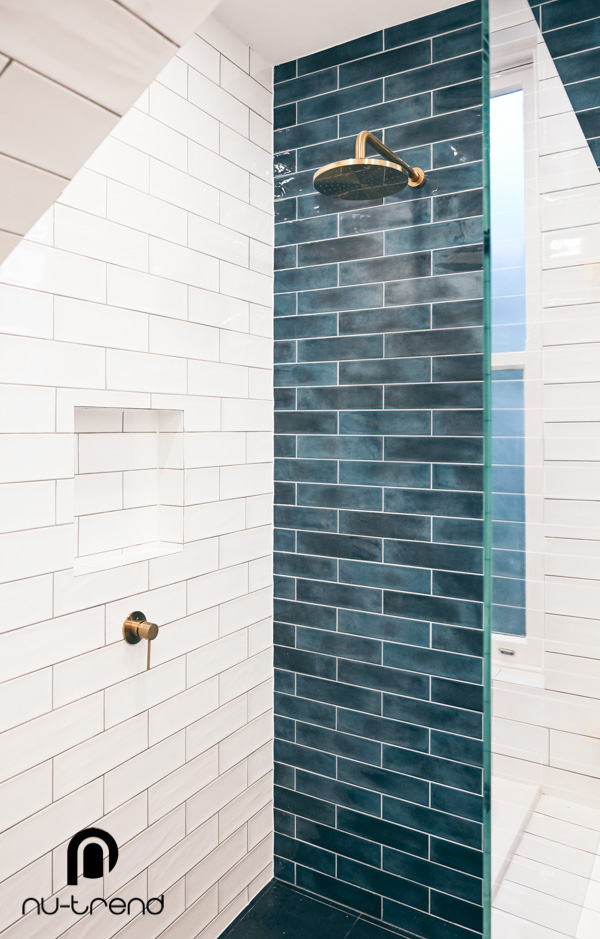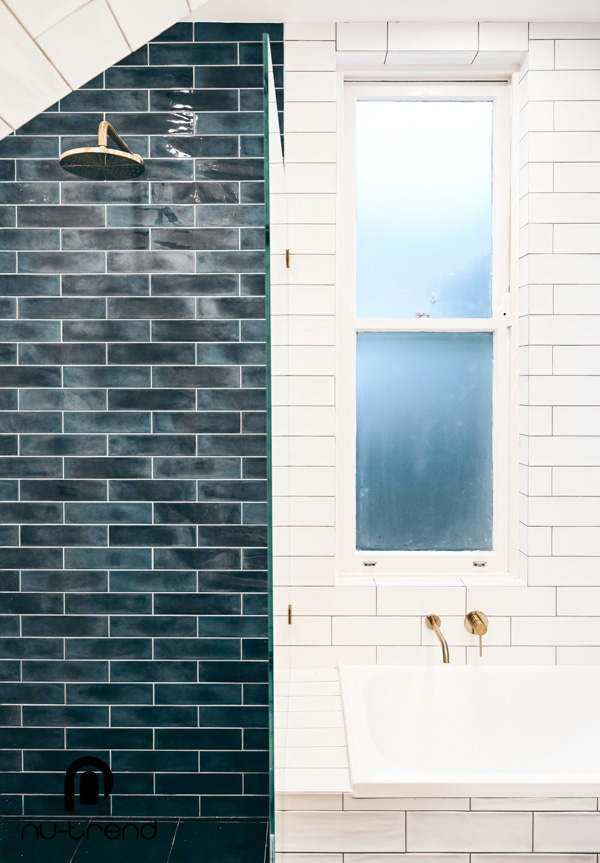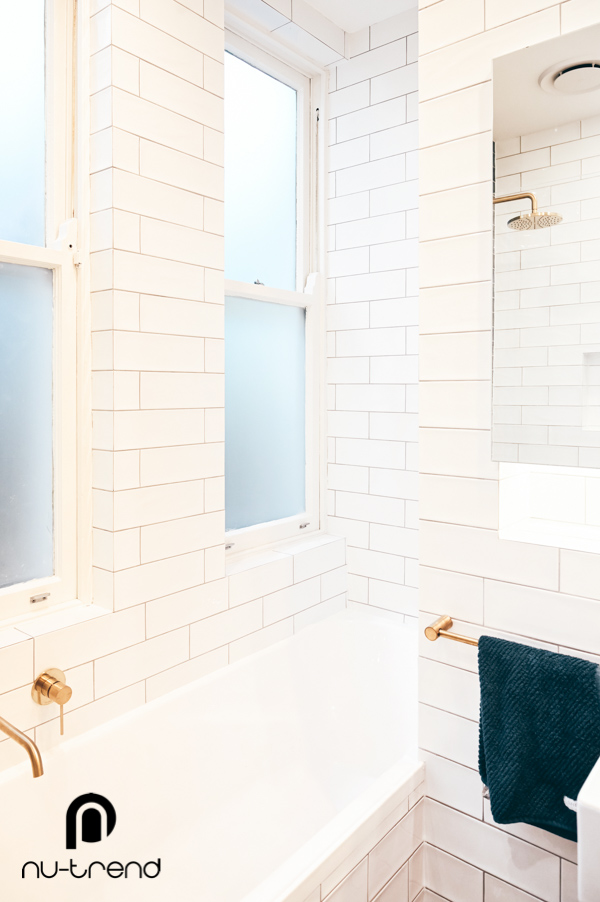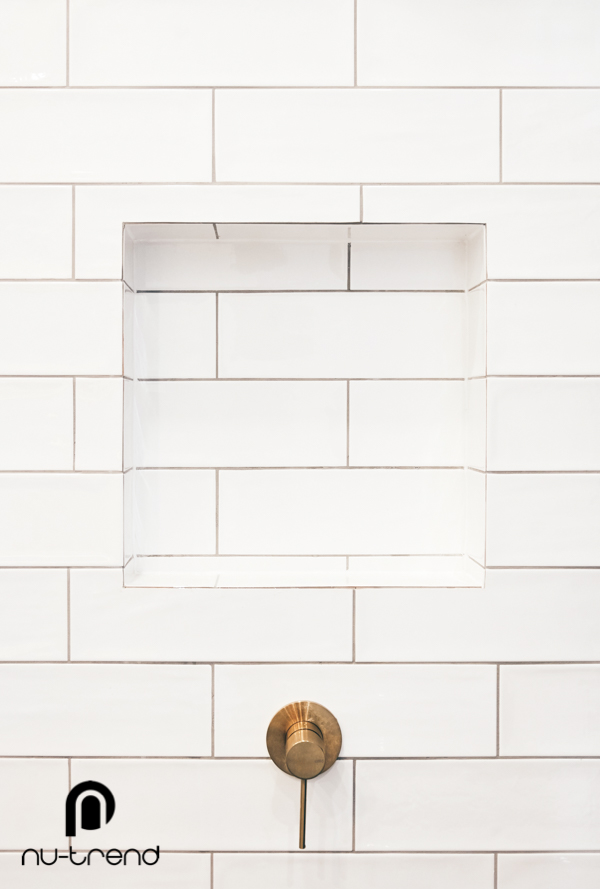 There were three phases to completing this renovation project. We often get asked about whether it is possible to move a toilet or add a bathroom into a laundry and we have some examples you can learn more about. Although in this situation it was about removing the laundry from the bathroom to then change the overall floor plan. 
So the first phase meant we had to demolish the room, then we had to re-instate the walls to create the new powder room & lastly complete the construction of the two new rooms. It is so important to choose great products when you are renovating your bathroom and this wasn't a cheap makeover – have a read of some of our tips in our Renovating Advice section. 
The room shape was constrained by the adjoining rooms and the staircase, although by using a single colour wale tile in white, it makes the room feel larger while bouncing light around the room throughout the day. We removed the glass shower screen frame and the nib wall next to the bath tub to create even more space. So as soon as you walk into the room it feels open and fresh.
The wall hung vanity unit with exposed waste piping also helps to make the room feel larger because there isn't any visual bulk sitting on the floor. You can see from the entry all the way to the new bath tub under the window and don't feel cramped at all.
The products, tiles and grout colour we used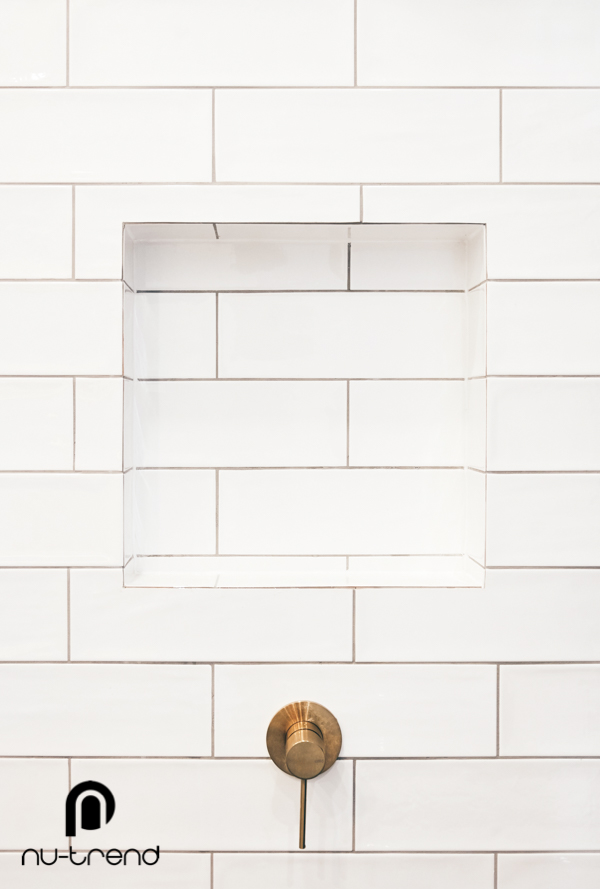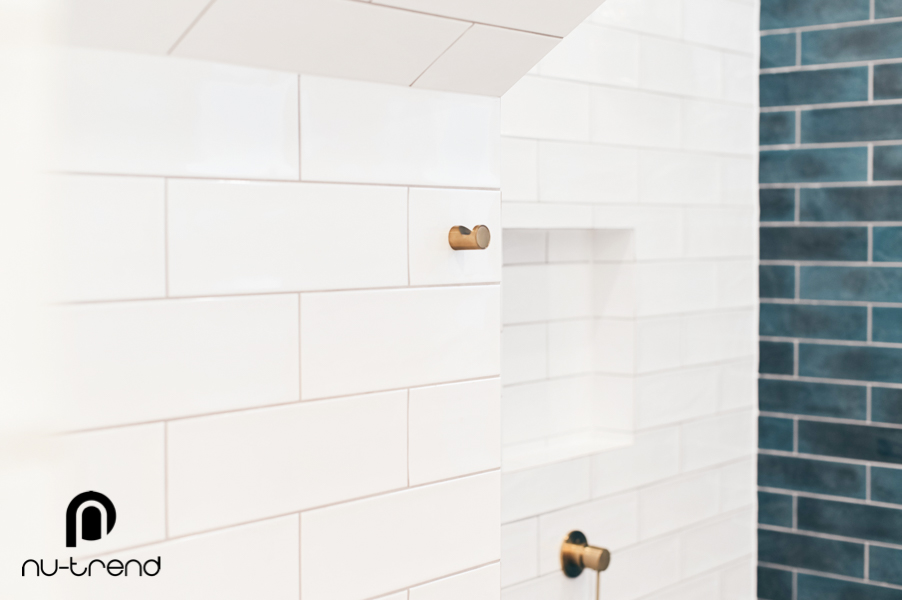 The tiles used in this bathroom renovation were the;
Linedn Black Matt floor tiles 300X600 RRP $64.95
White Subway wall tiles 75X300 $94.95
Green Subway wall tiles for the feature wall 75X300 RRP $94.95
For every renovation project we always give a client the choice of wall grout colour. We have a grout colour chart that you can look through and samples. So it means you can choose to use a wall grout colour other than pure white. Sometimes this can compliment the interior design choices of the room.
In this room they chose Margelin Grey wall grout & Chardash floor colour grout. In most cases people will choose white, but sometimes other colours can be a great choice to add visual interest to the room.
Some of the other products from Reece Plumbing Rockdale included;
Caroma Luna CF WF CC Bk/En Scs T/S
Posh Domaine Shave Cab 1800×800 4dr
Twenty 120 double bowl bench basin
Vivid S/Line Wall Top Assemblies B/Gold
Vivid S/L Basin O/L Curved 230 B/G
Vivid Round Shower Rose 230mm B/Gold
Vivid Round Shower Arm Only 400mm B/Gold
Vivid S/Line Shower/Wall Mixer B/Gold
Vivid Slimline Bath O/Let Curved 230 B/G
Posh Solus Mk2 Rect Bath Only 1675×755
Vivid sublime hand towel holder 350
Vivid sublime towel rail 800
Posh Solus Mini W/B W/Fix 485 1th Right
Phoenix Bottle Trap Brushed Gold
Our renovating scope of work
to remove the laundry from this bathroom in Randwick.
Nu-Trend has renovated lots of properties in Randwick and we have lots of experience working with terrace houses, apartments & units in the local area. Our scope of work for this renovation in Randwick was extensive and included the following items while the Client supplied all their own products;
Managing the strip and demolition of the existing bathroom & removing all the rubbish.
Re-instate plumbing hot and cold water with the drainage staying as is via the concrete slab

Waterproofing and certification processes.

Remove render and re-render all walls

Prime and waterproof bathroom with waterproofing to be applied below and under the screed with 3 days drying time in between.
Re-screed, sand and cement the new floor and allow 7 days to completely dry.
Tile all the walls and floors
Grout all the floors and walls
Paint the existing ceiling
Fit off the Client supplied items such as taps, accessories, pc fixtures, mirror etc.
Test and commission
Professional industrial clean of the room at completion.
See more examples of our bathroom renovations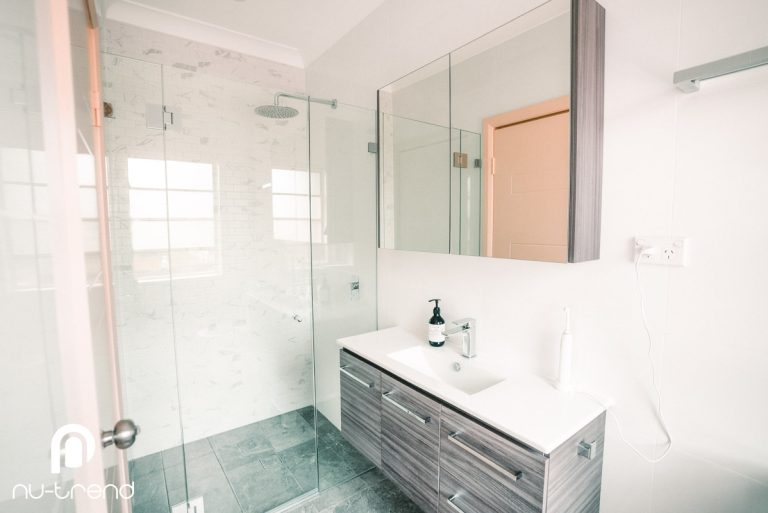 The ensuite bathroom in Mortdale needed an renovation to look and feel more modern, have more storage and more natural light.
READ MORE >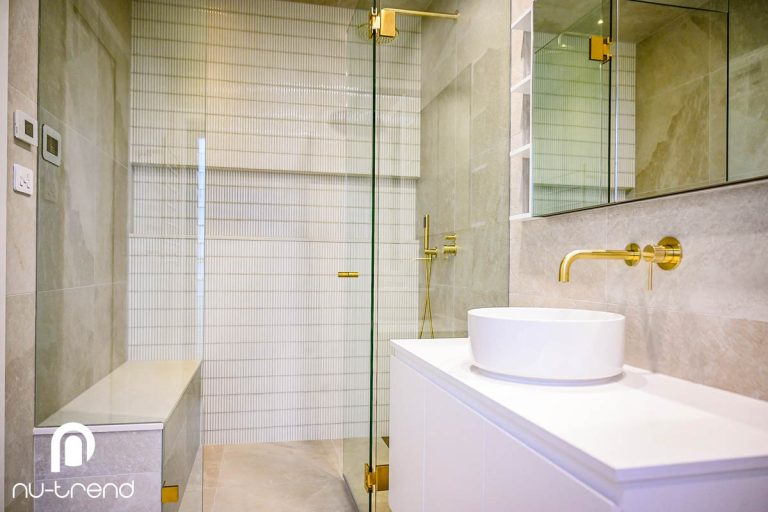 We converted this old bathroom to have a brand new steam shower room installed complete with custom hardware storage
READ MORE >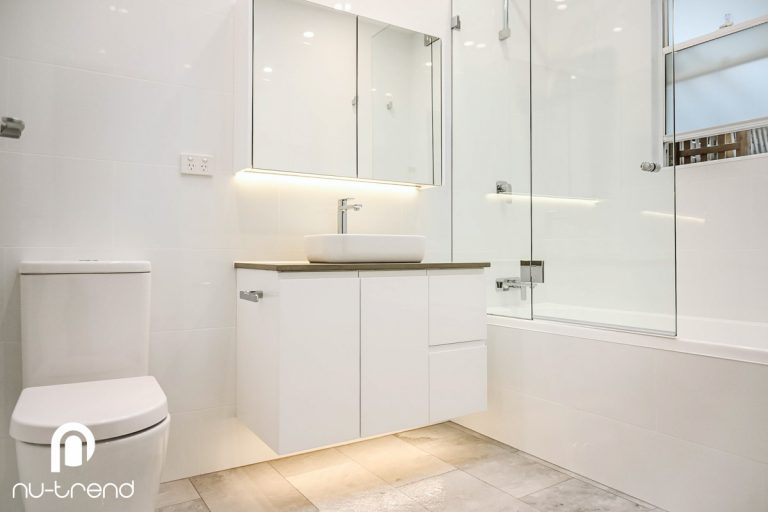 We renovated this bathroom in Leichhardt to install a new bathtub, tiling, vanity, toilet and repair the flooring that had asbestos in it, then built a new subfloor.
READ MORE >
What did we do in this bathroom renovation?
#1 PROTECTED THE PROPERTY
Doing as many unit renovation projects as we do, we understand how stressful they can be for people trying to live through them. Most tradies also make a big mess. We make sure we protect your property with floor and wall coverings to make sure nothing is damaged while we are renovating your house.
#2 PLUMBING & FLOORING INSPECTION
Nu-Trend is a licensed plumber which is an advantage when you are renovating a bathroom. For every project we inspect all the plumbing to make sure it is ready for use. When you combine this with our renovation expertise you get piece of mind.
Some renovation contractors will not include this in their service, they might leave the rubbish from the demolition in your backyard or on the street. Nu-Trend will make sure all the materials and rubbish that are not used are removed neatly ensuring your property isn't left in a mess and neighbours are happy.
We can install a toilet, bath, vanity or shower for all renovation projects.
#5 SHOWER SCREEN INSTALLATION
We can install a custom made glass shower screen into your bathroom if it is a house, unit or town house. We can make sure the flooring and plumbing is suitable and it is sized exactly to fit your space.