Repairing a bathroom renovation with combined laundry in Sydney
We had to strip and renovate an old bathroom in Sydney that wasn't built to Australian Standards.
Nu-Trend was engaged by this property owner who was in the middle of a NSW Civil & Administrative Tribunal (NCAT) case. NCAT provides a tribunal service to help people resolve any issues or disputes in a fair way and according to the current laws in place. Unfortunately for this owner there was an ongoing dispute with the previous renovation contractor they had chosen to use. It was another example of 'cheaper isn't always better'
The unit that needed to have the bathroom renovated was located in Kurraba in the Sutherland Shire of Sydney. The owner had just purchased the unit but the previous owner had paid for the bathroom to be renovated. Unfortunately it wasn't done correctly & did not meet Australian Standards. 
Essentially it needed to be completely renovated because it had plumbing that was illegally installed, the tiling was poor and the wall structures weren't even safe. The unit was located in a very difficult location with very limited access for things like parking, rubbish removal or for getting materials into the home. 
Our scope of work was extremely extensive because every step had to be documented for NCAT to use in the dispute. We had to do remedial work on the walls, install new plumbing and electrical sources and more. 
Hiring a reliable renovation company in the Sutherland Shire
Nu-Trend is a Sutherland Shire renovation contractor that does apartment bathroom renovations even if they are in small spaces. Most units in Sydney will have at least a master bathroom while larger apartments may have an ensuite on the main bedroom and then a separate bathroom for the rest of the house to use.
We don't win every single quote we send out because a lot of people choose a cheaper option, but in the last 12 months we have gone back to at least six properties to correct the work that was done by other contractors. Have a look at why you should avoid cheap quotes here.
Our company is a renovation specialist in Sydney that can be contracted to move a toilet or shower on an existing concrete slab to create a new floor plan layout in your bathroom. For this site we had to conduct a complete inspection of the room so that it could be used in the legal proceedings. We've been performing this type of work in Sydney since 2009 and have completed many different units, apartment & townhouse renovation projects in apartment blocks. Our renovating company can help you work out your interior design, demolish your existing bathroom, prepare the room to be waterproofed and tiled, then install all the new fixtures so that it is ready to be used.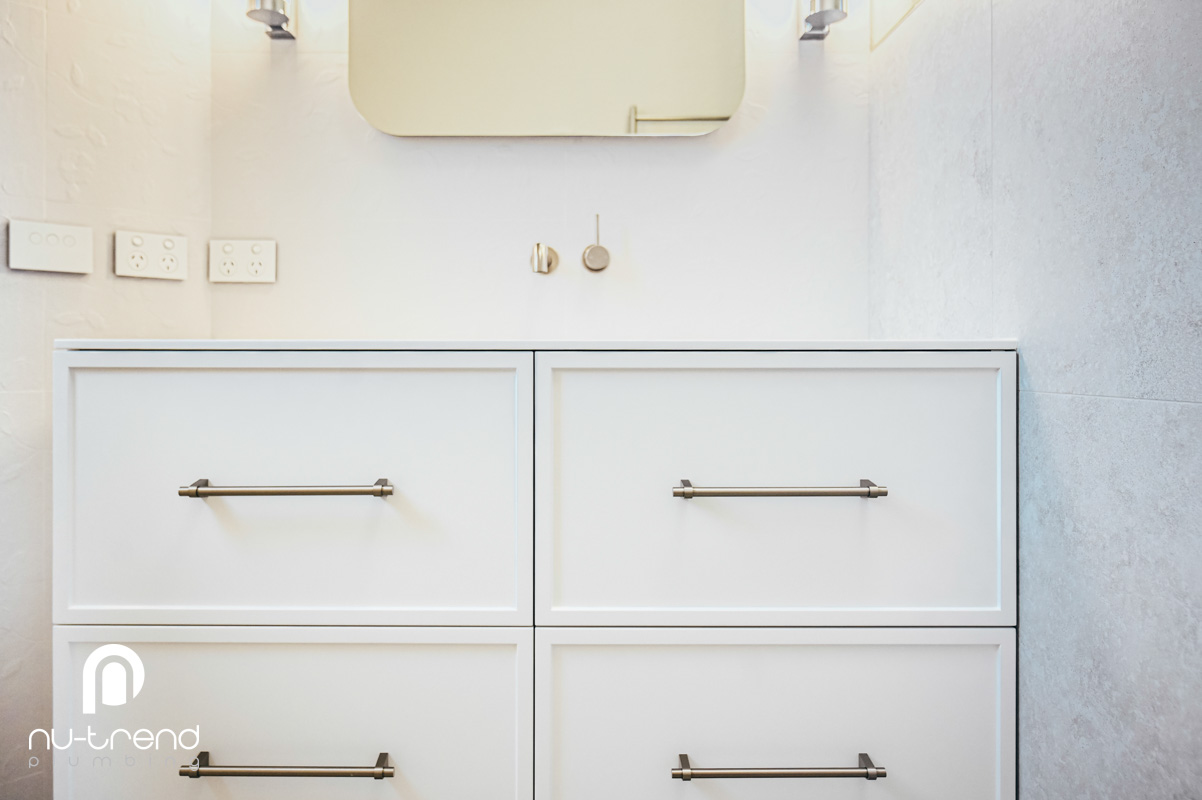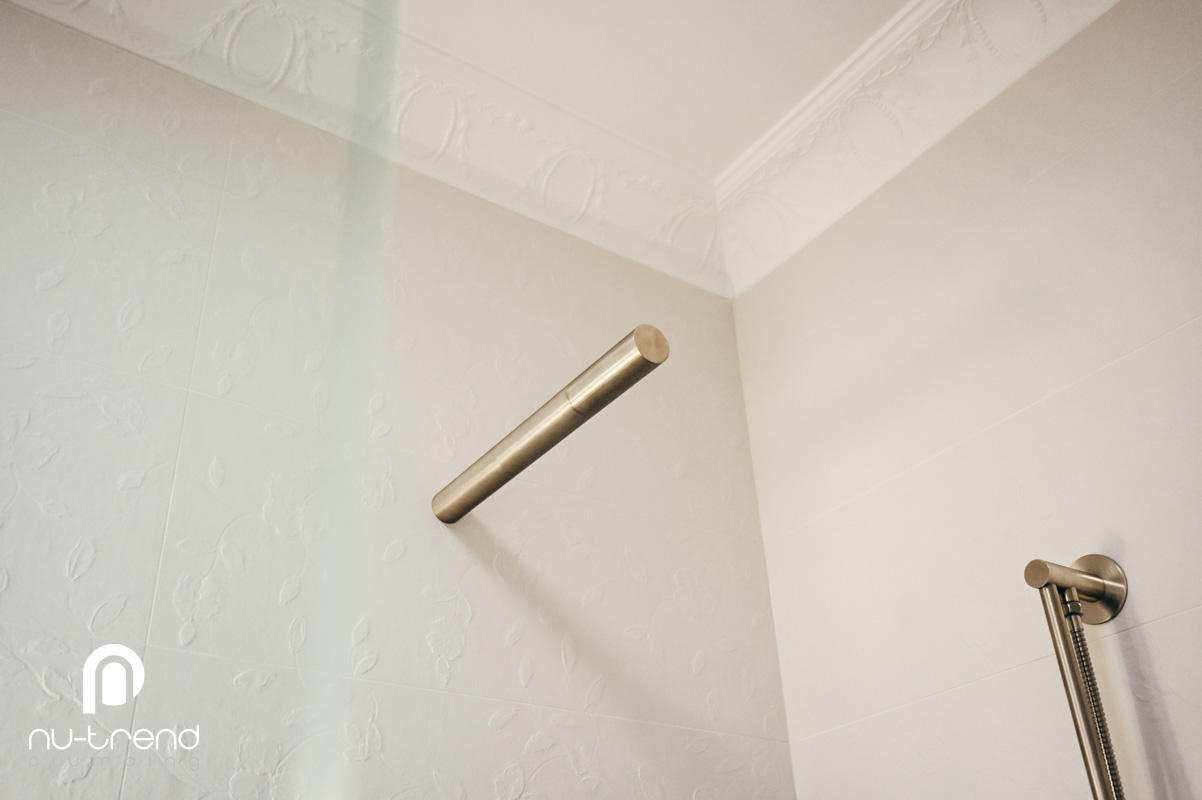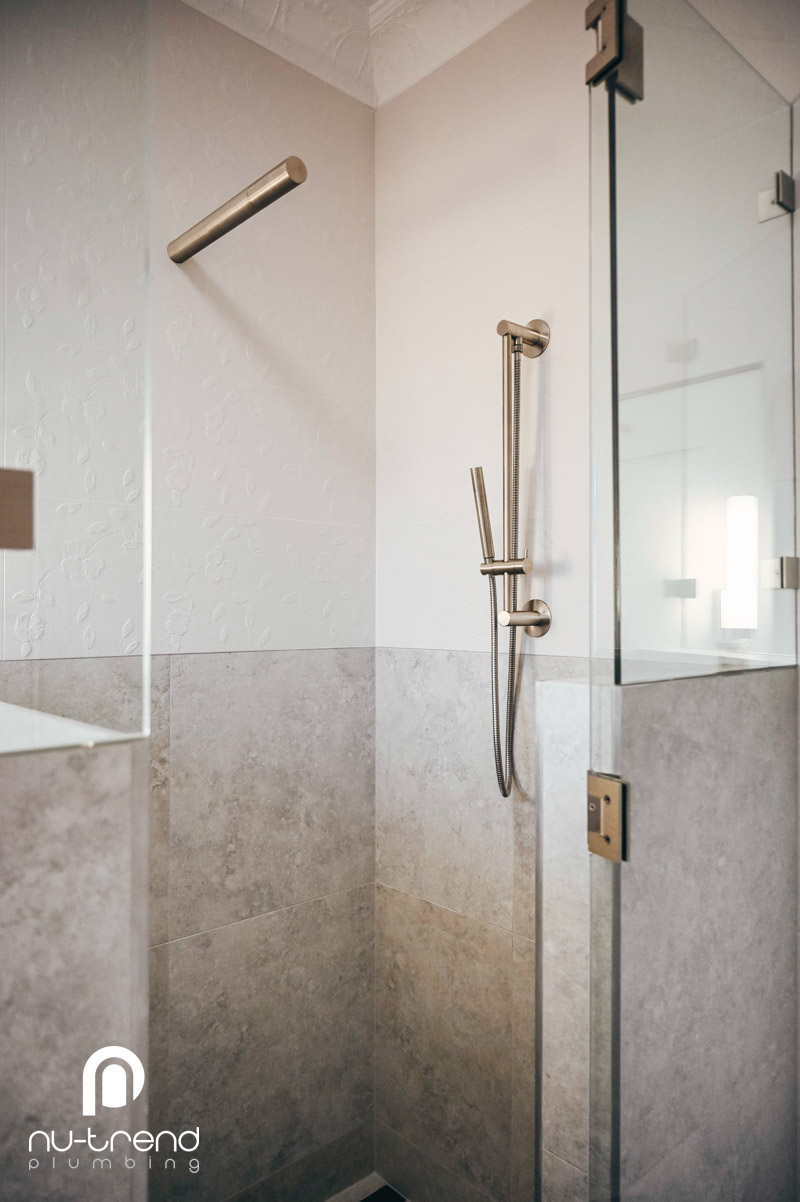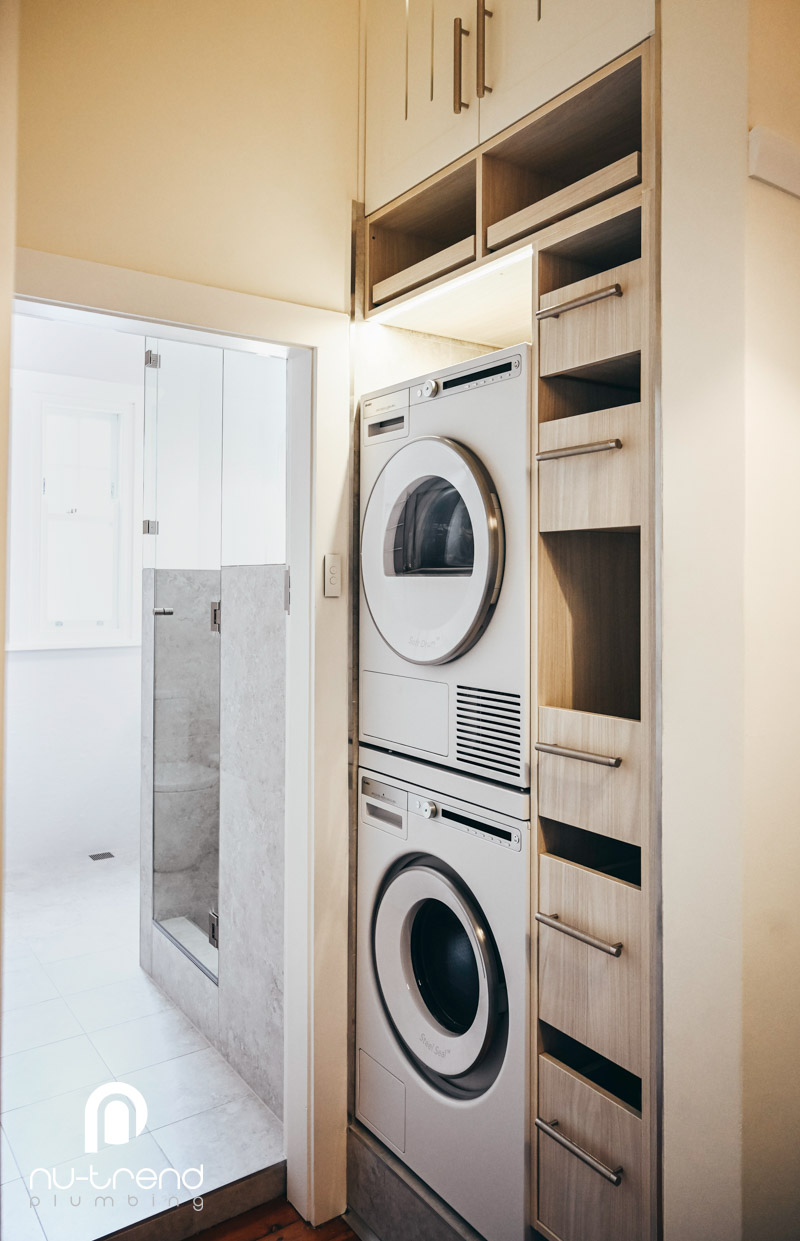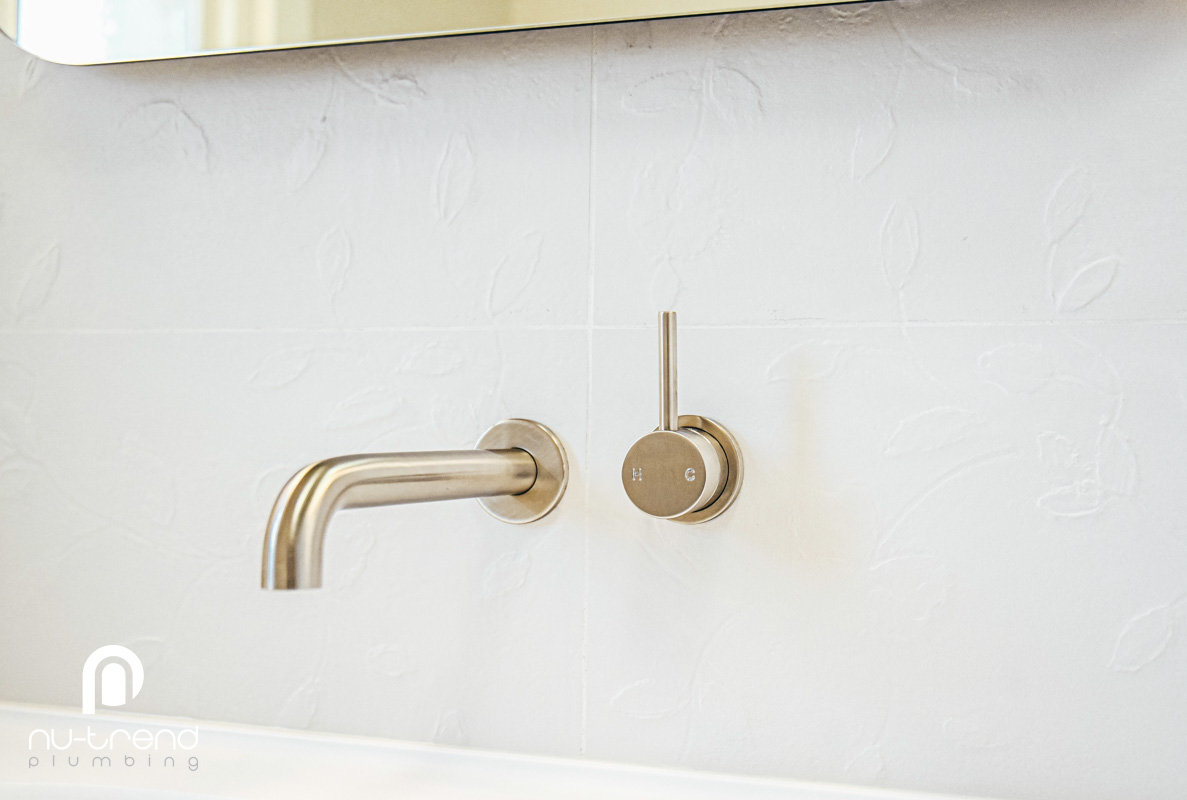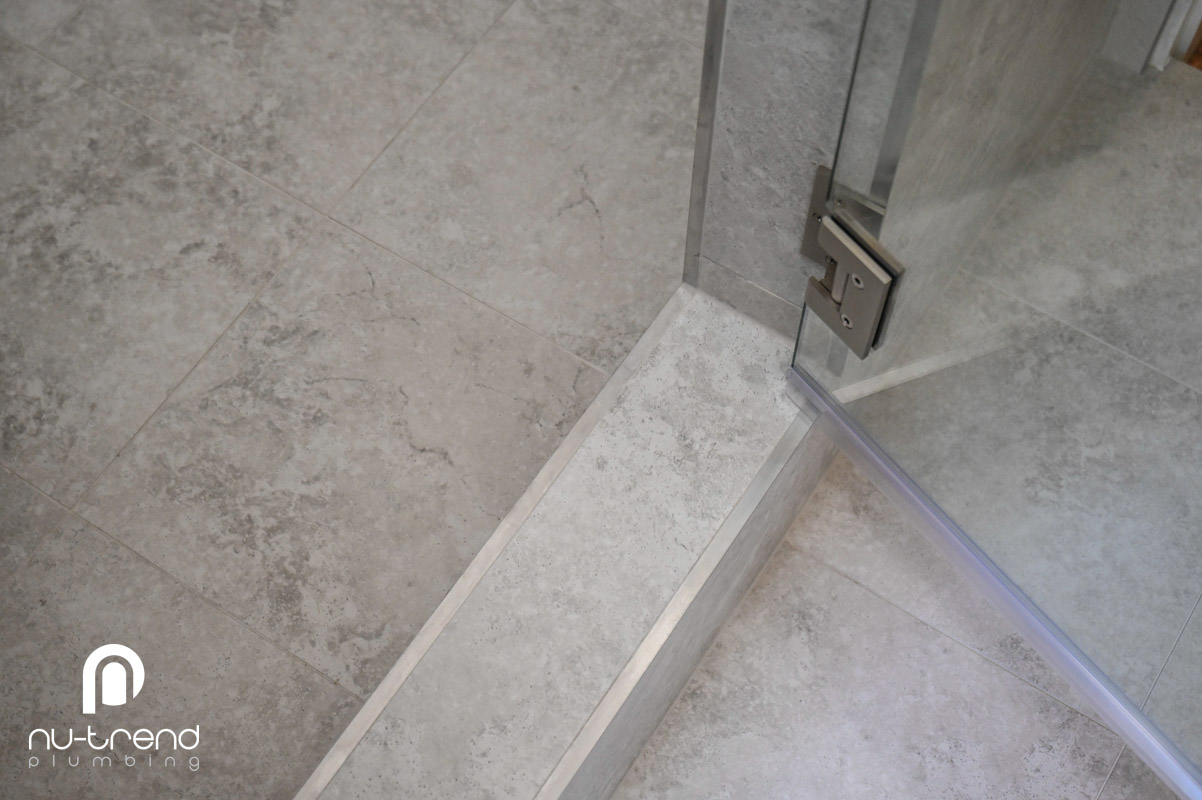 What were the defects in this bathroom?
Grab a cup of tea or cup of coffee because this is a very long list of defects. 
Plumbing
The existing PVC pipes in the floor were found to have been installed less than the gradient required by Australian Standards, meaning waste water was unable to drain away efficiently.
The piping used in the floor is too small for the distance required by Australian Standards. Pipes will need to be upgraded to 65mm minimum in the floor to meet requirements.
The existing floor waste was not charged by any fixtures, creating sewer smells in the bathroom. There is a trap on the external wall however this is not with the distance of 2.5m maximum required by Australian Standards.
The shower floor had no step down and was higher than the finished floor level outside the shower creating leaks when the shower was in use. This can be corrected by creating a tiled hob in the shower floor area if needed to meet Gully height requirements.
The existing vanity was installed higher than Australian Standards of 900mm to the top of bench or basin from finished floor. The height was 1100mm, which is way above the required height.
Existing original old copper pipes were left in the bathroom walls.
When the bathroom floor was removed it was found to have 120mm thick cement screed. It looks as though the previous renovator set a screed over the top of the old screed rather than removing to create a new one. As per the requirements the standard says to create a solid substrate that can be guaranteed. Double screed cannot be guaranteed as it will crack and move. All old screed has to be removed and started fresh from the slab, upwards. This is also a major waterproof concern.
All of these items should never have been signed off and approved. To rectify it, completely new plumbing and bathroom construction is required including new hot and cold water piping. 
Structural Integrity of floor and walls
The overall structural integrity of the floor is great however there is an unusual hole in the slab itself which needs to be closed.
The integrity of the slab was great however the screed itself which the tiles glue to were in extremely poor condition. The screed was installed at an illegal thickness of 130mm with no meshing or steel. A screed this thick can be applied with the appropriate channels and preparation however it is called an engineered screed and what we removed was not an engineered screed. 
During demolition, the existing screed almost disintegrated with a demolition bar where normally you would need a jack hammer. A screed so thick should have required concrete and steel however we wouldn't recommend concrete in this instance as you are in a unit block and concrete in this situation will weigh over 2 tonnes. The ideal set up should have been a suspended cement board flooring to meet all building and structural codes for the lay out required. Installing sand and cement so thick with no extra engineering will move, fall apart and crumble in time hence it could be removed so easily. In time your screed would have broken which would have caused your waterproofing and tiles to move and crack which would have caused major flooding concerns.
The brick work and existing render condition of the bathroom was extremely poor. It appeared that the existing render mix was incorrectly applied. It was weak and without the correct/legal amounts of cement/sand used. The render crumbling off the walls with little effort during demolition.
We also uncovered an unusual piece of newly installed timber that was used as bracing for a brick wall instead of the correct lintel and finished brick work. A structural builder provided an opinion and to rectify the issue required a steel lintel to support the weight of the bricked wall.
Electrical
Most of the existing electrical wiring was ok and complied with current standards.
There was a 

lighting cable which runs up the wall to the light fitting on the ceiling that wasn't mechanically protected and was directly buried into rendered / tiled wall. This should had been protected with conduit, same as the existing wiring.
What we discovered after the full demolition 
The brick work was in a terrible and an unsafe condition with loose as well as missing bricks in the wall.
There was an attempt to brace a wall using timber and strapping which was extremely dangerous. 
The wall render just crumbled in your fingers which reduces the structural integrity of the room.
Combining a laundry and bathroom in a unit
A lot of unit, townhouse and apartment home owners in Sydney are starting to ask us more and more about whether it is possible to combine a separate laundry and bathroom. The simple answer is yes – but it depends. Every property will have a different construction and therefore layouts that have load bearing walls in different locations. 
You might be lucky and your washing machine and sink is in the corner of the existing bathroom so we can strip the room and build a whole new one. In other situations there might be a wall niche that can be adjusted or for larger jobs the walls moved or adjusted. As you will see in the photos below your laundry can look as stunning as your bathroom.
How to choose beautiful tile combinations for your bathroom renovation
The owner of this unit engaged the team at Tiles By Kate to supply the wall and floor tiles. Look closely at the finished bathroom renovation photos and you'll see a great harmony in the colours and textures chosen. The Tiles By Kate team are great at pulling together 'mood boards' that can fit your colouring, texture and shape preferences. Using a clever tile supplier who has an eye for detail makes the task of choosing the right tiles for your renovation so much easier.
In this bathroom we installed
600×600 (m2) Stone Lk Grey
300×300 (m2) Floor Tile Stone Lk Grey
305×915 (m2) Flower White Walls
Grout – Flex 241 Misty Grey
Choosing products to install in your new bathroom
The products used in this renovation;
FL Traditional vanity, satin white, Corian top, 304 basin with n

o tap hole.
Halo Rectangle Radius Corner Backlight Mirror with Lightshade 720W x 900H
Circa Horizontal shower head in brushed nickel
VD rail shower with handheld head in brushed nickel
Pegasi M Wall Basin Mixer set 200
Abask 6 Heated Towel Ladder – 85x60cm 
Thermorail Touch Screen 7 Day Timer – White
VOLA A63-40 Unslotted push operated waste – Brushed 

Stainless Steel
VOLA VR1795-40 Spacing collar for A62/A63 – Brushed Stainless Steel
VOLA T17-40 Towel hook, 28 mm, 4 pcs – Brushed Stainless Steel
VOLA T18-40 Towel hook, 56 mm, 4 pcs – Brushed Stainless Steel
Artizen Toilet Roll Holder – Left Facing /Brushed Nickel
Universal Solid Surface Shelf – 45x12cm
Stick 65 Medium Wall Light 73 x 350 x 115mm
Triplex Opal Glass with Satin Finish, Chrome
Treviso Large Wall/Ceiling Light 600 x 115mm
Triplex Opal Glass with Satin Finish, Matte White
Pura Toilet Suite 68x36cm including Soft-Close Seat
What work did we complete unit bathroom renovation?
#1 PROTECTED THE PROPERTY
Doing as many unit renovation projects as we do, we understand how stressful they can be for people trying to live through them. Most tradies also make a big mess. We make sure we protect your property with floor and wall coverings to make sure nothing is damaged while we are renovating your house.
#2 PLUMBING & FLOORING INSPECTION
Nu-Trend is a licensed plumber which is an advantage when you are renovating a bathroom. For every project we inspect all the plumbing to make sure it is ready for use. When you combine this with our renovation expertise you get piece of mind.
#3 TAKING CARE OF THE PROPERTY
It is the small things that count. We will check things like how your pets get into the house, if neighbours require access to driveways or other things that are important to how you live in your home to make sure everything goes smoothly during a renovation. 
Some renovation contractors will not include this in their service, they might leave the rubbish from the demolition in your backyard or on the street. Nu-Trend will make sure all the materials and rubbish that are not used are removed neatly ensuring your property isn't left in a mess and neighbours are happy.
#5 INSTALLING NEW PLUMBING
With all the incorrect items installed in this bathroom we had to completely re-do all the plumbing. So we co-ordinated all our licensed trades to get everything installed and then build the rest of the bathroom.