A beach style ensuite bathroom renovation in Sydney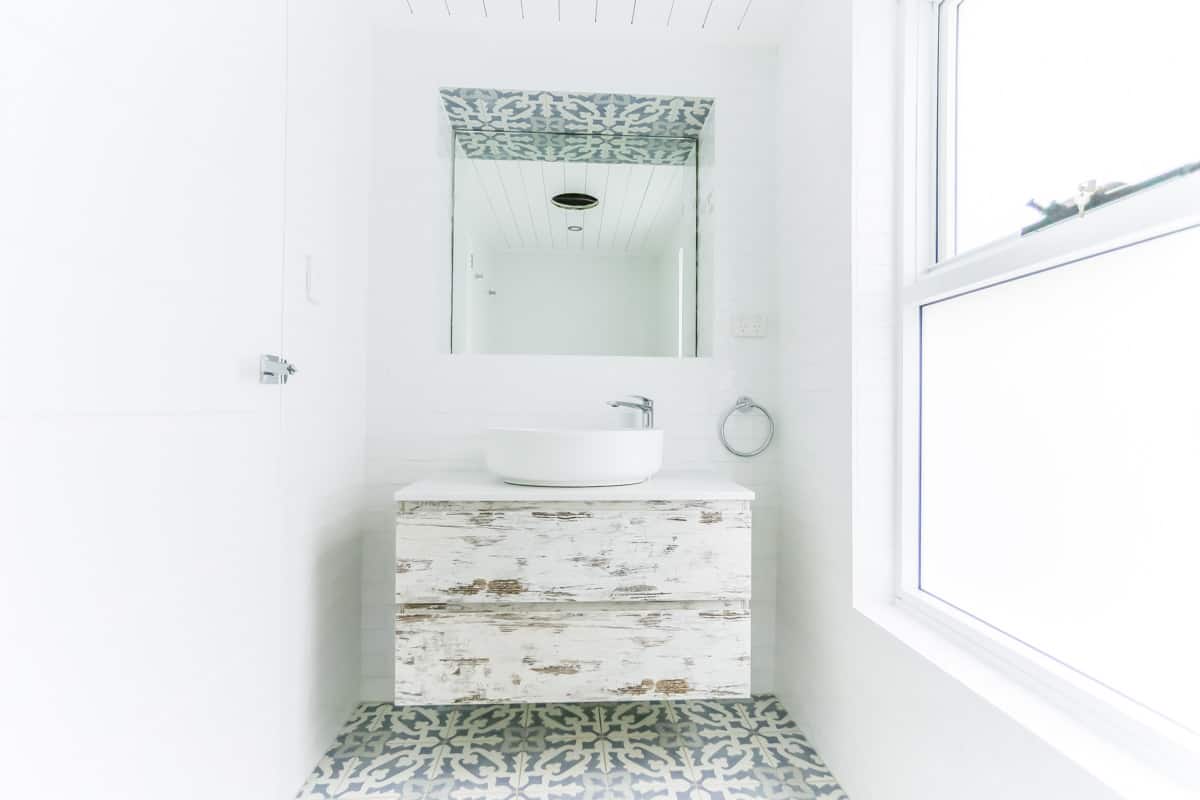 A beach style ensuite complete bathroom renovation in Sydney with wall hung timber vanity.
We took this 1970's style ensuite bathroom and gave it a complete makeover giving it a beach style look. We removed all the old tiling, plastic toilet system and vanity unit and completely demolished the old bathroom to start again. This ensuite was quite small but we made it feel spacious, bright and fresh by using clever interior design techniques like the wall hung vanity unit and wall niche with mirror and extra storage space. The owner of this house chose Nu-Trend because we are a small bathroom renovation specialist in Sydney and are renovation contractors who can also help with bathroom plumbing. They had been reading some of our renovating advice articles and decided to choose Nu-Trend as their local contractor.
Nu-Trend is one of the leading specialist bathroom contractors in Sydney that can help design a room that adds visual impact & value to your property.  We can use all types of materials to renovate bathrooms like marble, timber, glass or porcelain & use these in interior designs that can create functional spaces that kids or adults can use. Nu-Trend is a Sydney renovation specialist that take care of everything from the initial interior design, demolishing your existing bathroom, sourcing hardware products all the way through to the final clean up & rubbish removal. Have a look at our bathroom trends tips and hints. 
Timeframe: The time to complete this type of bathroom renovation is around 2-3 weeks and what can create a variance in the timing is access to the property, delivery of products or any changes made to the design during the build. 
Budget: For this complete bathroom renovation which included stripping back the walls etc it was $15,000-$20,000 in labour. The final budget depends on the products chosen for the room, the type of tiles etc.Our scope of work for this renovation included;
Protection of the property
Demolition of the old bathroom

Custom made shower screen

Bulk head wall fabrication

Exterior wall repairs & relocation of the entrance door

Replacing the vanity

Floor to ceiling tiling

Hot and cold water rough in

Fit off fixtures and fittings 

Screeding gradients to correct falls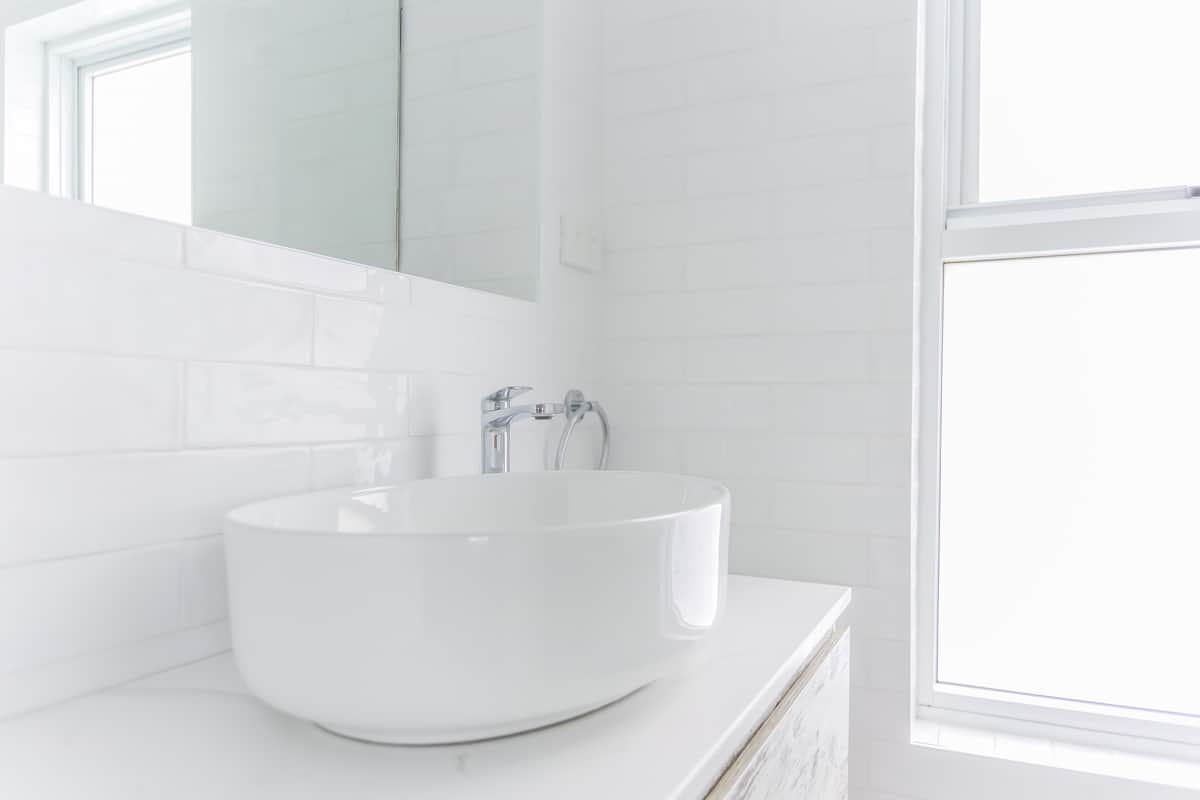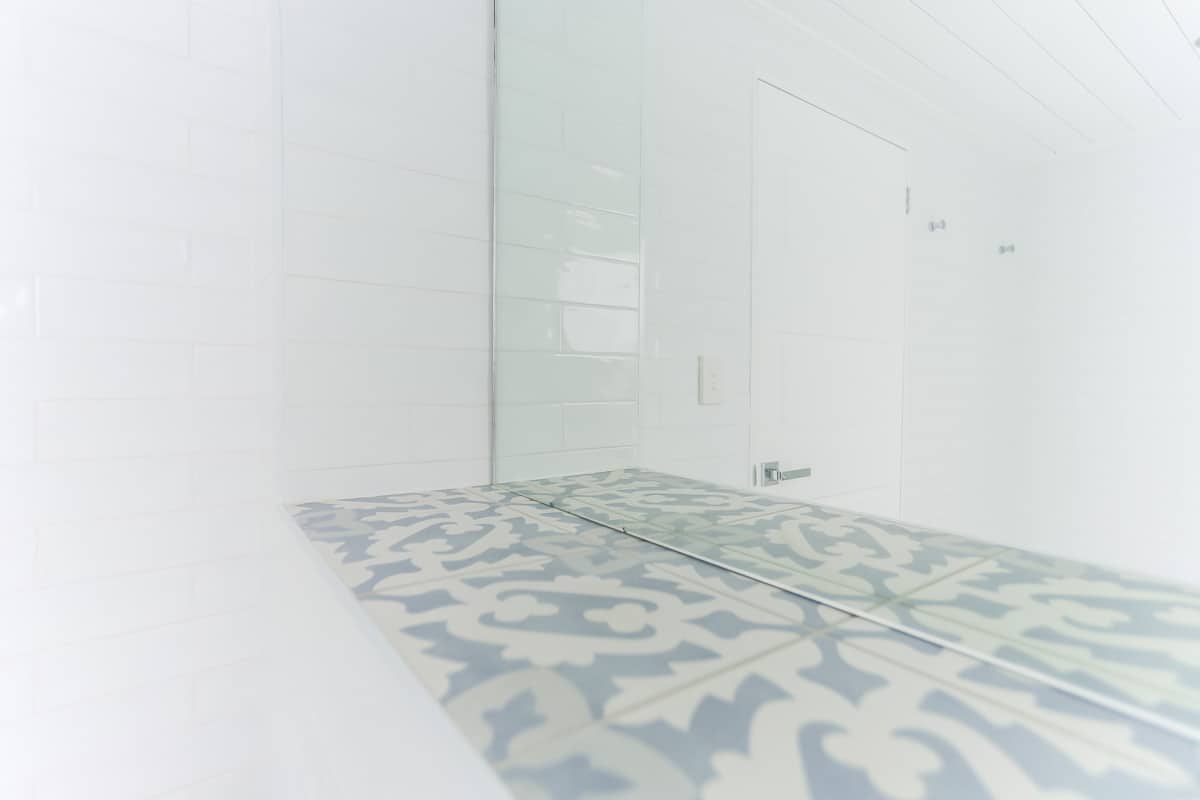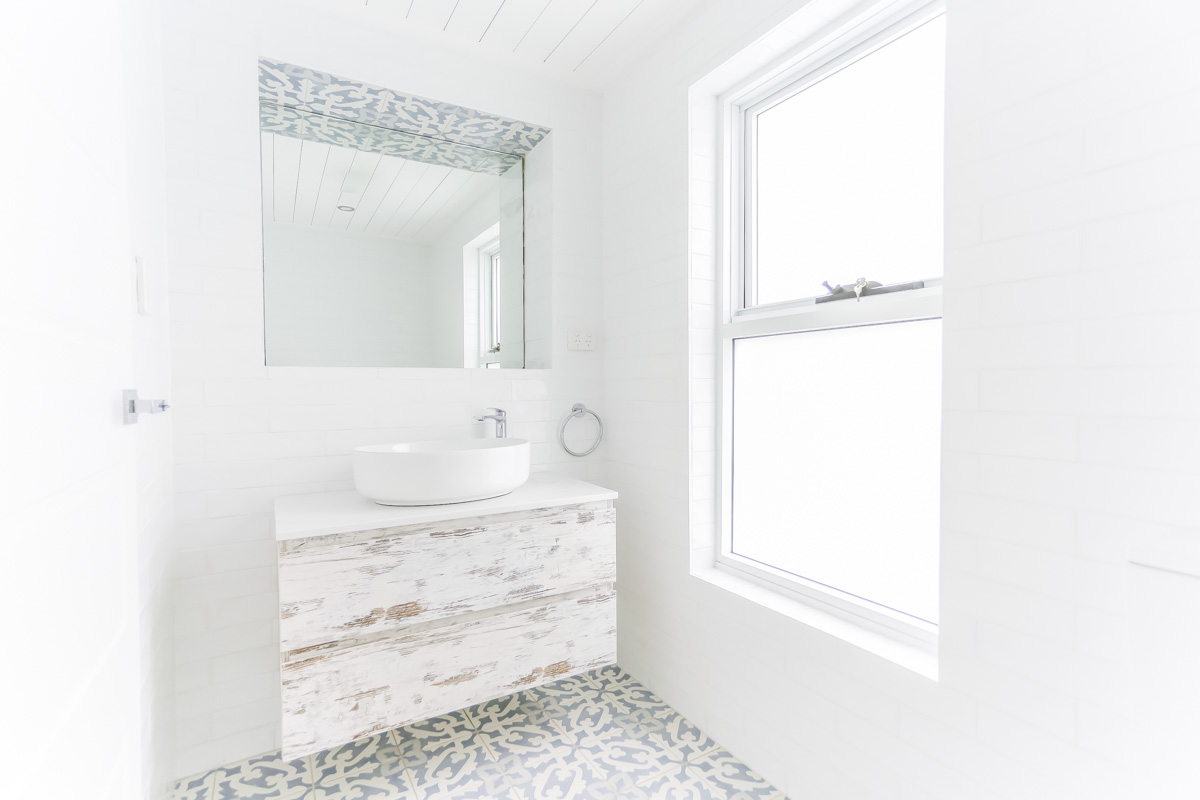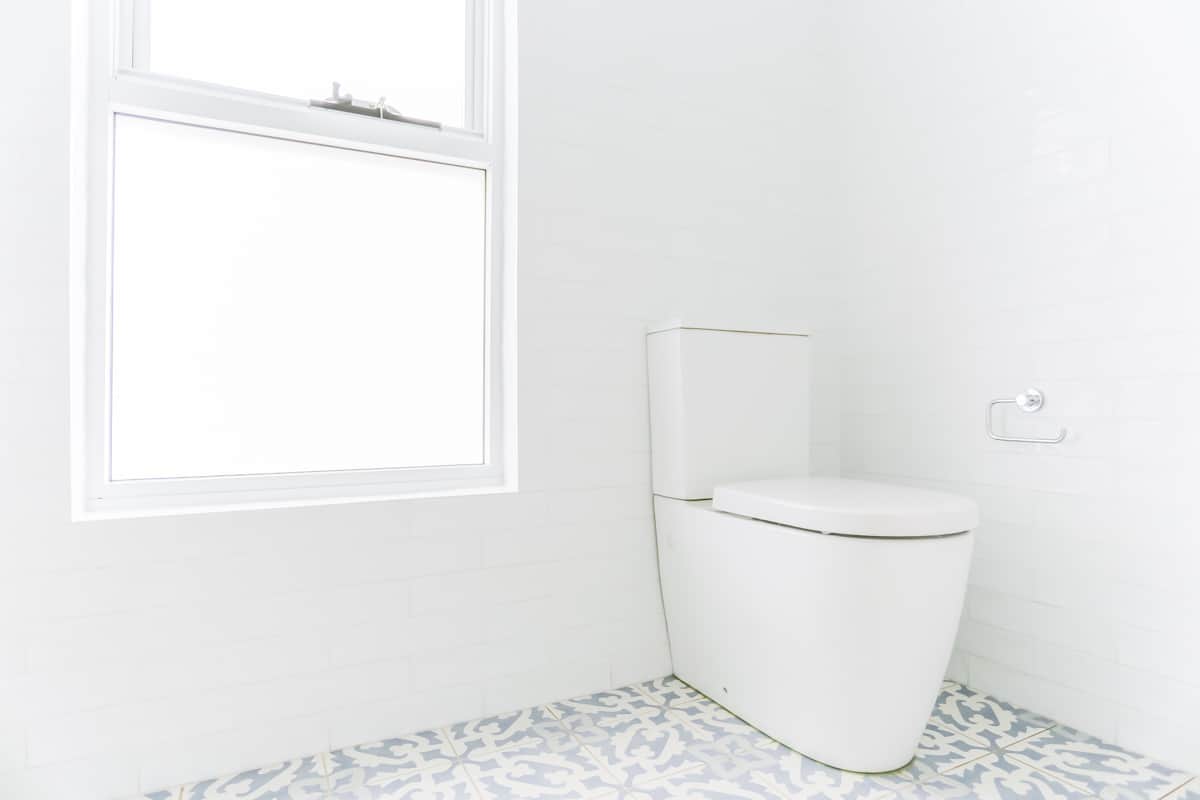 Beach style ensuite bathroom with shiplap cladding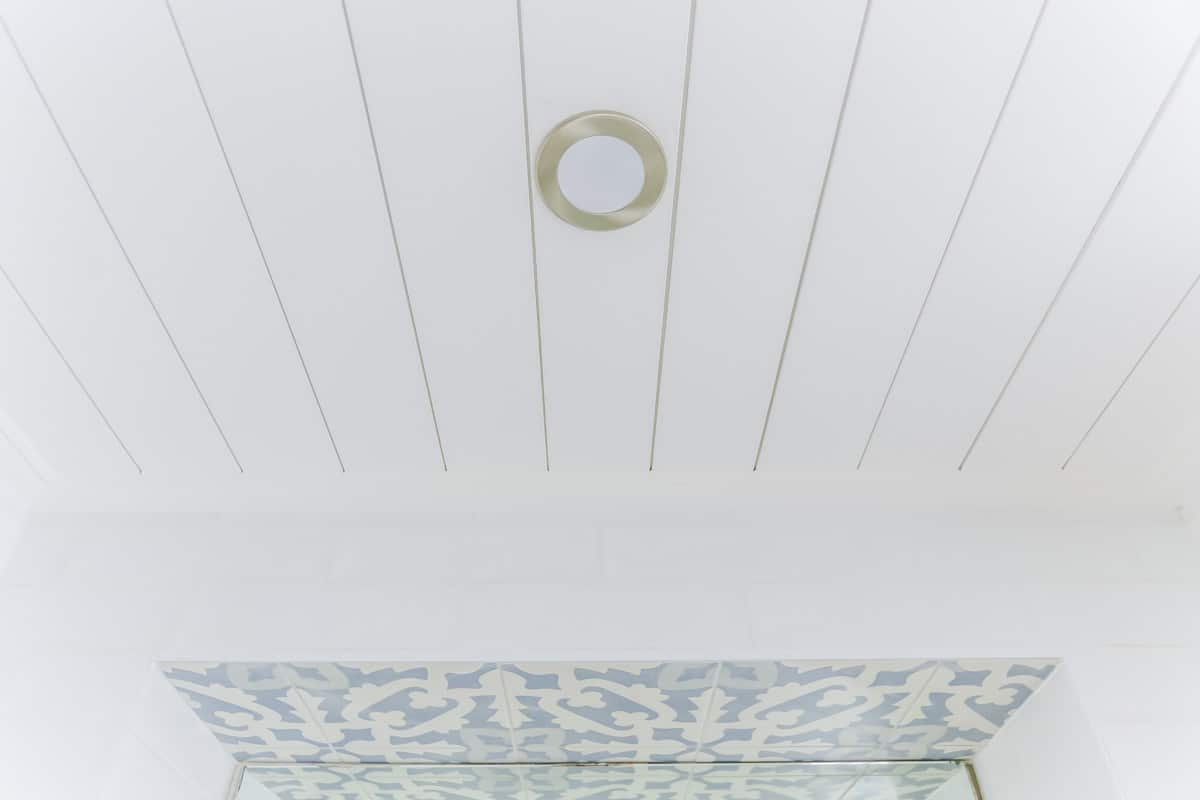 1. Timber shiplap roof cladding.
To give this ensuite bathroom a warm, welcoming feel the roof had white timber shiplap installed. Shiplap on a ceiling is not only beautiful but it can elevate the sense of style and quality for any interior space compared to a normal bare ceiling. This also helped reflect light in the room. In Australia shiplap cladding is also called beadboard which is created using a V joint or ship lap lining boards. A row of narrow wooden planks are fitted together and lined vertically on the wall or ceuling. Between each wooden plank is a little indentation or a ridge, also known as the 'bead'.
2. Single piece toilet
Choosing the right products for your renovation can make all the difference when it comes to interior design. For this renovation project a single piece toilet was chosen to that it didn't take up too much space in the room when you walked in. The owner didn't want to re-locate the piping so we worked around the existing waste locations. When this is combined with a wall hung vanity unit and large window it creates the sense of space even in a small ensuite room.
3. Floor to ceiling tiles
Using a floor to ceiling tiling can create a room that feels more luxurious and is easier to clean and maintain. This renovation used subway style white tiles for the walls and a decorative floor tile to create that fresh, bright beach feeling to the room.
4. Wall niche with mirror
Rather that take up wall space with a cabinet that had a mirror the owner decided to have a wall niche created so that there wasn't any wall space taken up in the ensuite. This meant a large mirror could be installed which would help bounce light around the room plus the niche created a bit more space to store toiletries.
5. Soft timber furniture
So that the room didn't feel too stark or cold with the white colour palette the vanity and glass cabinet were chosen with soft timber to give the room a touch of warmth.
What did we do in this ensuite bathroom renovation?
#1 PROTECTED THE PROPERTY
Doing as many unit renovation projects as we do, we understand how stressful they can be for people trying to live through them. Most tradies also make a big mess. We make sure we protect your property with floor and wall coverings to make sure nothing is damaged while we are renovating your house.
#2 PLUMBING & FLOORING INSPECTION
Nu-Trend is a licensed plumber which is an advantage when you are renovating a bathroom. For every project we inspect all the plumbing to make sure it is ready for use. When you combine this with our renovation expertise you get piece of mind.
Some renovation contractors will not include this in their service, they might leave the rubbish from the demolition in your backyard or on the street. Nu-Trend will make sure all the materials and rubbish that are not used are removed neatly ensuring your property isn't left in a mess and neighbours are happy.