A complete bathroom renovation in Sylvania with new plumbing
Nu-Trend is a renovating company in Sydney that specialises in complete renovations where the home owners want to make custom adjustments or changes to things like walls, plumbing, power outlets or even things like adding a bath tub. 
For this home in Sylvania the owners had just purchased the house and wanted to create a better connection between the swimming pool in the back yard and the spare room downstairs. 
It already had a bathroom but it was really old and tiny, so they wanted to completely renovate it to make it modern, have more space & compliment the rest of the interior design of their living area renovations upstairs. 
The goal was to create a really nice walk in shower that was easy to use after swimming in the pool. To achieve this we had to change the layout of the bathroom by moving the plumbing so that the toilet, shower and vanity were in different locations in the room. 
Nu-Trend's renovating team has licensed renovators and plumbers so we can do all of this type of work to create new bathroom layouts, change the bathroom plumbing and finish things off with new waterproofing, tiling, tap fittings and fixtures installed. 
Moving the bathroom plumbing to change the shower, toilet and vanity location
This home was built on a suspended concrete slab but the owners want to change the location of the shower, toilet and vanity to make it more usable and install a new walk in shower. 
To move things and change the layout of your bathroom requires moving the plumbing so that the pipes are located at different places on the walls. We achieve this by completely demolishing the old room so that we can access the bare wall frames and flooring. We can then re-route the existing pipes or add new ones as needed so that there is fresh water supplied to the room and waste services in place.
While it is easier to achieve this with homes that are built using timber flooring with crawl space, we can still do it for units, apartments or homes that are on concrete flooring by cutting into it to make new channels.
When required we can also route piping through brickwork when taps have to be installed on a wall or you are trying to move a shower head placement.
Moving the plumbing creates lots of scope to re-arrange the layout so that there is more space to move around or you can install different products as needed.
Changing the bathroom plumbing in a suspended concrete slab
We don't come across homes that are built using suspended concrete slabs very often, although this home in Sylvania was. Suspended slabs are not in direct contact with the ground. They form roofs or floors above ground level normally, but they are sometimes used for ground level too. Suspended slabs are grouped into two types: one way slabs which are supported on two sides. 
Its perimeter is, or at least two of its opposite edges are, supported on walls, beams or columns that carry its self weight and imposed loading. The floor spans between supports and will normally deflect under load to a dimension that is limited by the design used.
So the slab wasn't directly on the ground and usually we would wet saw cut the concrete to install the new plumbing. Although because this one was suspended and so many changes were being made it made more sense to remove the old slab. 
This was an unforeseen requirement as we are unable to see the slab under the tiling or waterproofing during our inspections or quoting stages. So it required a small variation to the renovation contract before work could be completed. 
Reinstating the slab with the required plumbing locations is relatively straight forward and much safer in this instance as well. Although it takes about 5-6 weeks to allow the concrete to cure completely which delays the renovation works. 
The alternative could have been to install new timber bearers with cement boards to then act as the new sub floor. Although this has different long term consequences vs using concrete foundations.
New stormwater pit and drainage
Nu-Trend's plumbing team was also contracted to install new stormwater drainage on the property to help accomodate the changes being made to the house. We dug new trenches so that new pipes could be laid and a new stormwater pit installed as well.
Nu-Trend's renovating team also installed a new exhaust fan, wall controls as well as replaced the old driveway to make sure access was safe for the property.
By contracting a renovating company like Nu-Trend we can help finish off other small jobs around your home to compliment your new bathroom. You then only need to deal with one contractor which makes things easier to manage.
A new bathroom with walk in shower
The primary task for this renovation project was to build a new bathroom with a walk in shower. Although we also helped by adjusting the stairs support structure that was shutting off the room. We restructured it to box in the stringer to then help open the room up with more space. It means they have two lounge room areas to use now.
A new custom made glass shower screen was installed in the bathroom together with a new toilet, new vanity, mirror, lighting, switches, floor tiles, wall tiles and painting. 
Our renovating scope of work
for this renovation
Nu-Trend has renovated lots of properties in the Inner West suburbs in Sydney with lots of experience working with terrace houses, apartments & units in the area. Our scope of work for this renovation in Ashbury was extensive and included the following items;
Management of all trades working on the project from initial demolition
Plumbing and flooring inspections
Strip and demolition of the existing bathroom
Removing all the rubbish.
Replacing the suspended concrete slab flooring
Adjusting the plumbing
Installing a new stormwater pit
Removing the old driveway and installing a new one

Waterproofing and certification processes.

Prime and waterproof bathroom with waterproofing to be applied below and under the screed with 3 days drying time in between.
Re-screed, sand and cement the new floor and allow to dry.
Tile all the walls and floors
Grout all the floors and walls
Paint the existing ceiling with shadow line cornice
Fit off the items such as taps, accessories, pc fixtures, mirror etc.
Test and commission 
Highlights from this bathroom renovation?
#1 PROTECTED THE PROPERTY
All the internal areas of the home from the front door entry to the bathroom were completely covered to reduce dust or debris spreading through the home.
#2 PLUMBING & FLOORING INSPECTION
Nu-Trend is a licensed plumber which is an advantage when you are renovating a bathroom. For every project we inspect all the bathroom plumbing and sub flooring to make sure it is ready for use. When you combine this with our renovation expertise you get total peace of mind.
Some renovation contractors will not include this in their service, they might leave the rubbish from the demolition in your backyard or on the street. Nu-Trend will make sure all the materials and rubbish that are not used are removed neatly ensuring your property isn't left in a mess and neighbours are happy.
#4 NEW FLOOR INSTALLATION
Dealing with less contractors makes renovating easier. So for this project we also ensured the new flooring was installed and ready to be used for the bathroom and plumbing.
#5 FLOOR WASTE INSTALLATION
The custom made floor waste is a stylish touch for any new bathroom. It looks better than a standard round drain grate. Our tiling installers even matched the vein pattern from the floor tile to the drain to help it blend in even more. It is this level of detail that helps make a bathroom look amazing.
Examples of our bathroom renovations in Sydney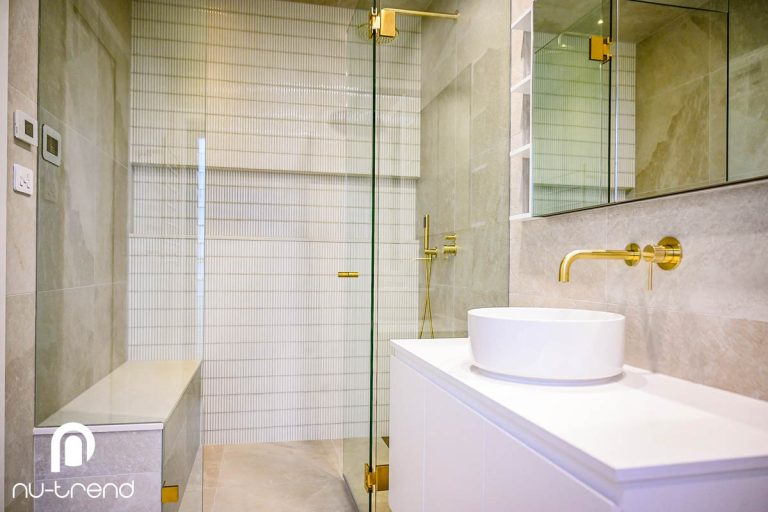 We converted this old bathroom to have a brand new steam shower room installed complete with custom hardware storage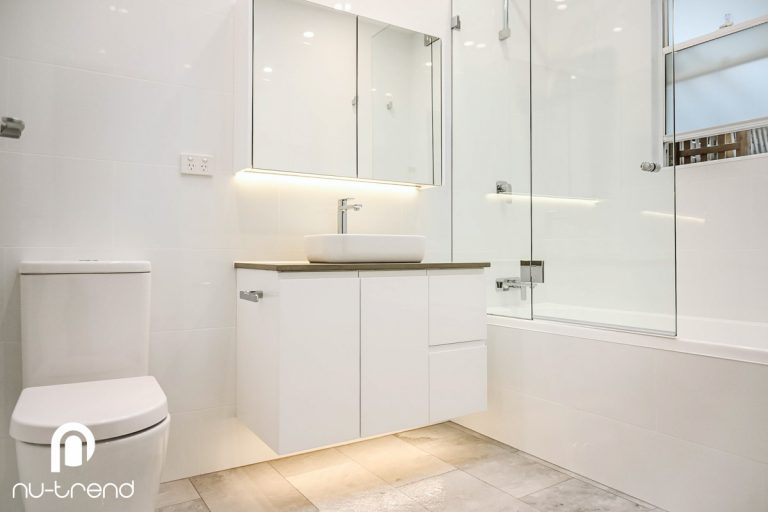 We renovated this bathroom in Leichhardt to install a new bathtub, tiling, vanity, toilet and repair the flooring that had asbestos in it, then built a new subfloor.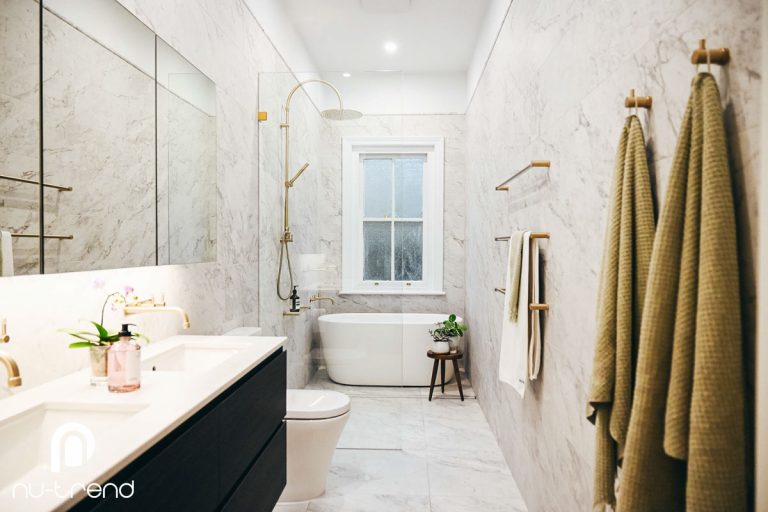 A complete renovation in Lewisham that also needed a new floor completely levelled before we could install the new bathroom.