Bathroom Renovation Examples
Design a bathroom any way you like.
Here are a few examples of the bathroom renovations we have completed for units, apartments, houses or even commercial businesses. 
There are billions of choices when it comes bathroom renovation design ideas with a wide range of tiles, taps, vanity units, shower styles or even mixers.
As professional renovators in Sydney we can help you make those choices to create a style that suits your renovation budget. We have created brand new bathrooms from scratch, working with designers, as well as crafting 'mood boards' to piece together a bespoke creation.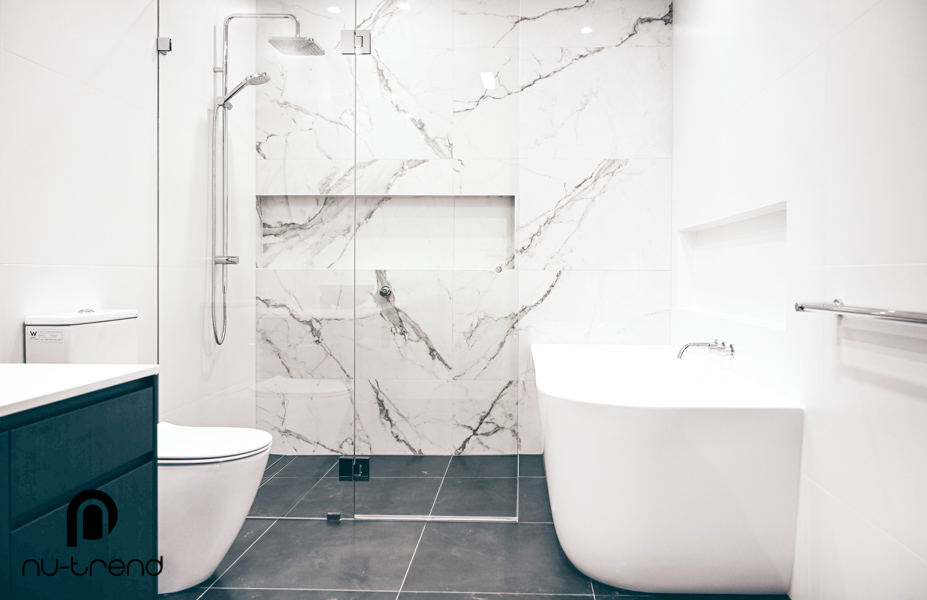 For this double renovation, we converted a powder room into a new bathroom & completely renovated the master as well with the ThinkDzine Interior Design team.
READ MORE >
Bathroom renovations available 7 days a week
A professional Renovation service.
The Nu-Trend Bathroom Renovation team can service any suburb in Sydney to complete a project or help with bathroom plumbing problems. A Bathroom renovation can add value to your property instantly.
Learn more About Our Plumber and Bathroom Renovations Team
They call us the 'yes' team
"The Nu-trend guys just completely renovated our bathroom - 3 bed 1 bath unit. They were quick, friendly and affordable. Very happy with the bathroom. Noticed that the water temperature fluctuated a bit in the shower the first few days. Let them know one afternoon and they came back the very next morning and found the issue (simple fix) and sorted it out while I was at work. Highly recommend these guys, all were a pleasure to deal with throughout"
Jacob
via Google
"The boys at NuTrend recently renovated my bathroom and I couldn't thank them enough! From start to finish the service was more than professional, every question I had they were more than happy to answer making me feel comfortable through the whole process. The site was always immaculate and the end of every work day there was never rubbish left behind. Everyone who has seen our beautiful new bathroom has complimented on every little stylish touch. NuTrend helped my vision for my bathroom come to life! Out of 3 quotes they were the most pricey however I had a gut feeling that they would be the best due to the reviews and recommendations! Can't recommend them enough!!"
Elle
via Google
"I cant give these guys enough praise. Ricky organised all the trades and managed my recent bathroom renovation with such care and professionalism, I wouldn't hesitate to use them again, or recommend them to friends and family. The attention to detail and dedication to their craft was wonderful to see and I am thrilled with my gorgeous bathroom."
Prue
via Google
EXPERIENCED & PROFESSIONAL
We provide bathroom renovation quotes in Sydney. We know it provides peace of mind to know exactly what will or won't be included. We guarantee our quotes won't include any fake discount gimmicks either.