A master bathroom with a beautiful Victoria Albert Bath Tub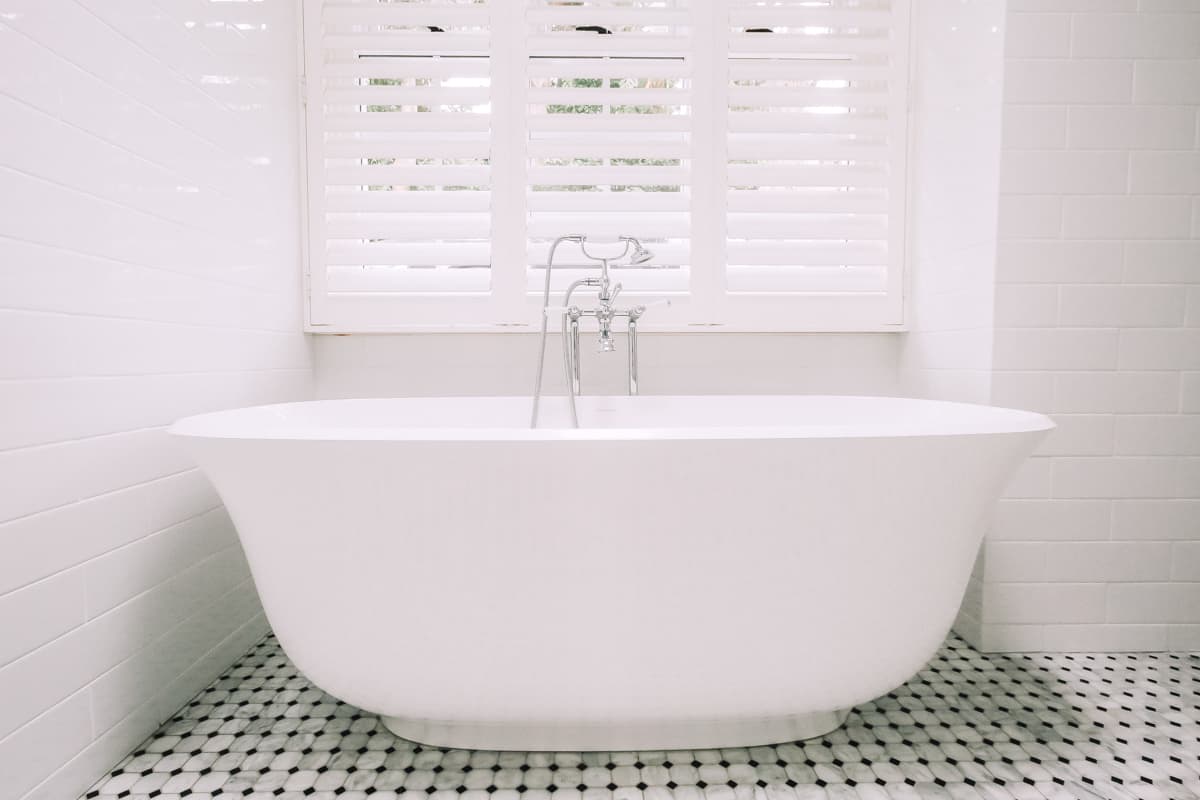 A master bathroom renovation in Sydney with a bath tub and heaps of wow factor.
When it comes to master bathroom renovations in Sydney, Nu-Trend is one of the leading specialist bathroom contractors that can help design a room that adds visual impact & value to your property. We can use all types of materials to renovate bathrooms like marble, timber, glass or porcelain & use these in interior designs that can create functional spaces that kids or adults can use. Nu-Trend is a Sydney renovation specialist that take care of everything from the initial interior design, demolishing your existing bathroom, sourcing hardware products all the way through to the final clean up & rubbish removal.
For this master bathroom renovation design the owner wanted a feature piece that would create stopping power as soon as you entered the room. The choice of Victoria Albert Amiata bath tub certainly does that. A room with beautiful marble hand cut Italian tiles is set off with plantation shutters and huge skylight giving the room a day spa feeling.
Using the existing plumbing we didn't need to move any of the piping on the slab to accomodate the bath or toilet. To give the room a sense of space the owner chose a concealed toilet cistern and walk in shower niche so that the room didn't feel cluttered with too many fittings. The incredible vanity is a marble stone finished piece with elegant design.
The timeframe to complete this type of bathroom renovation is between 4 and 6 weeks depending on access, delivery of products etc.
The budget: $20,000 – $50,000 depending on the actual hardware and tiling chosen, for example the price of the bath tub by itself is worth around $5,000 inc gst.
Our scope of work for this renovation included;
Protection of the property
Demolition of the old bathroom

Custom made shower screens

Replacing the vanity

Floor to ceiling tiling

Hot and cold water rough in

Fit off fixtures and fittings

Screeding gradients to correct falls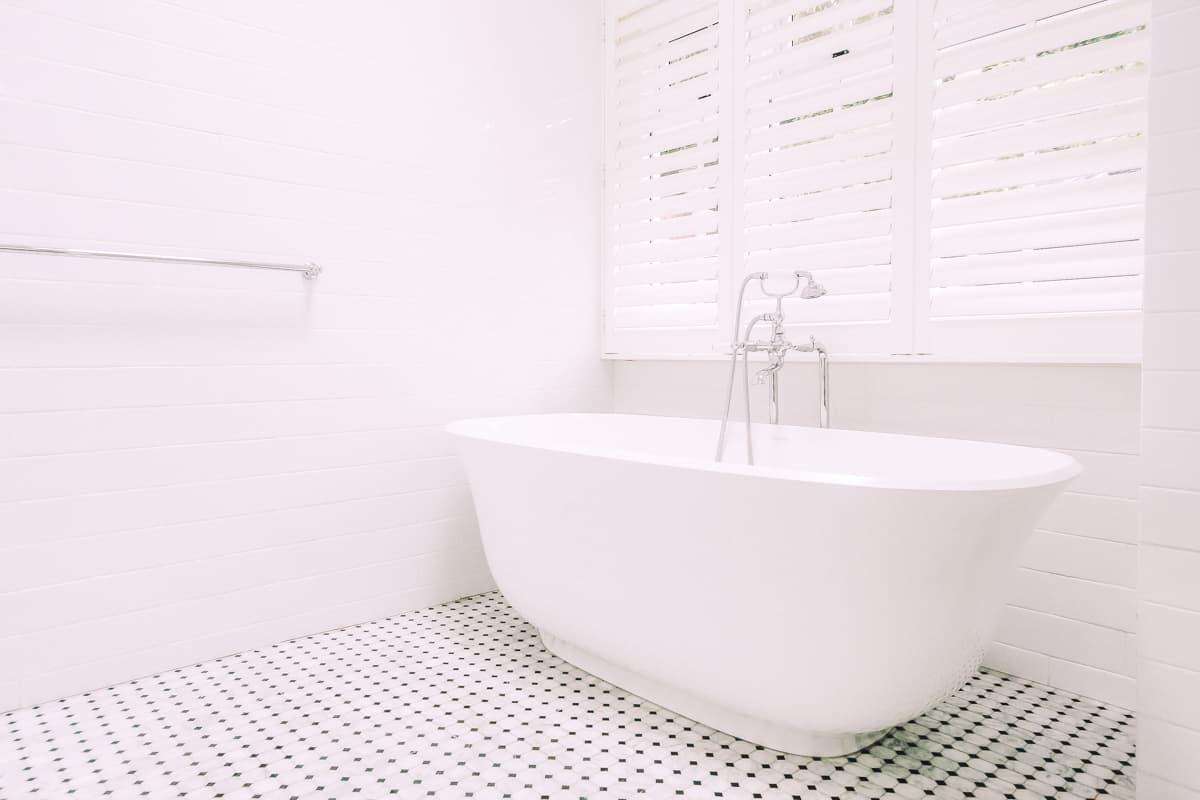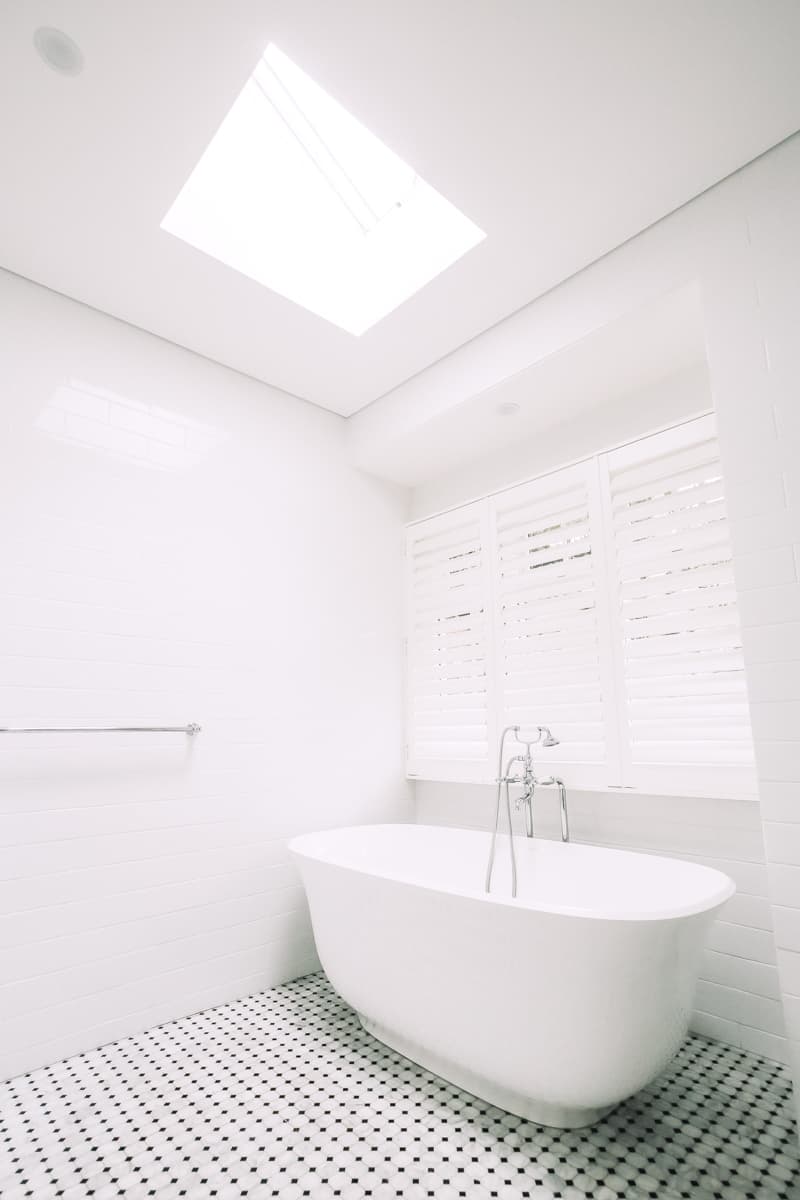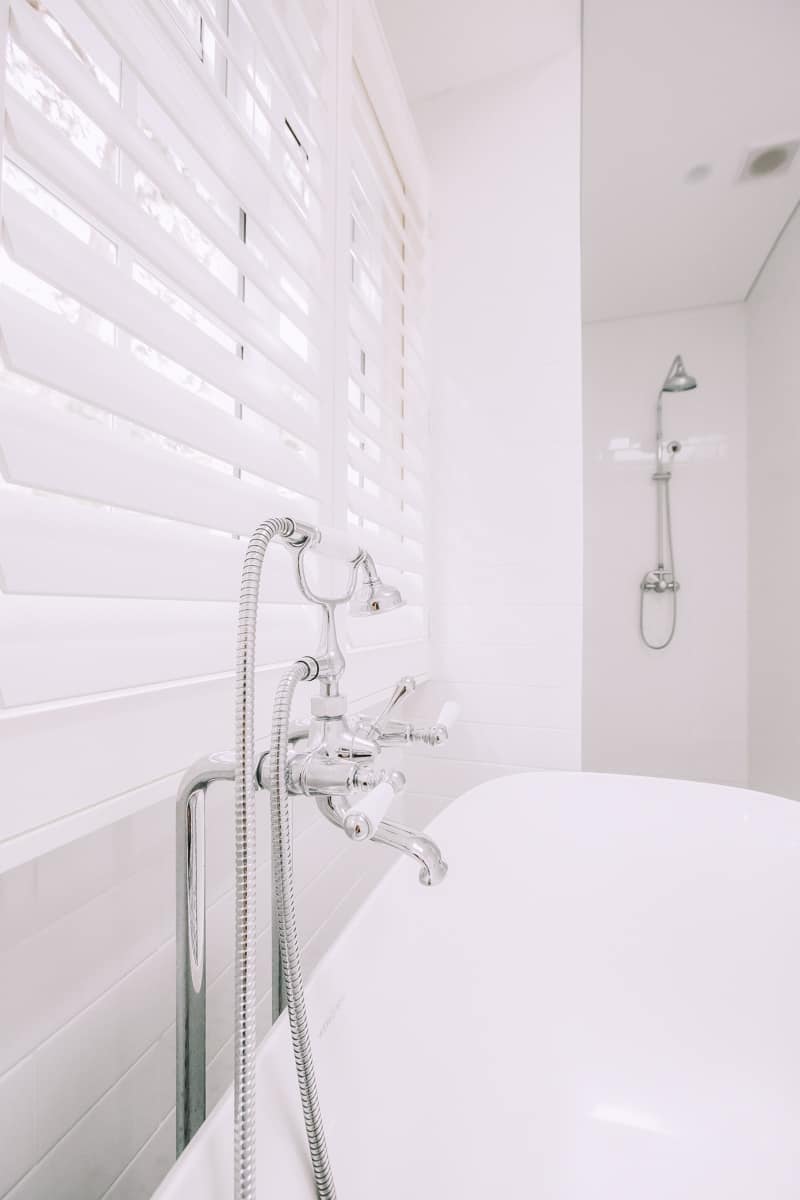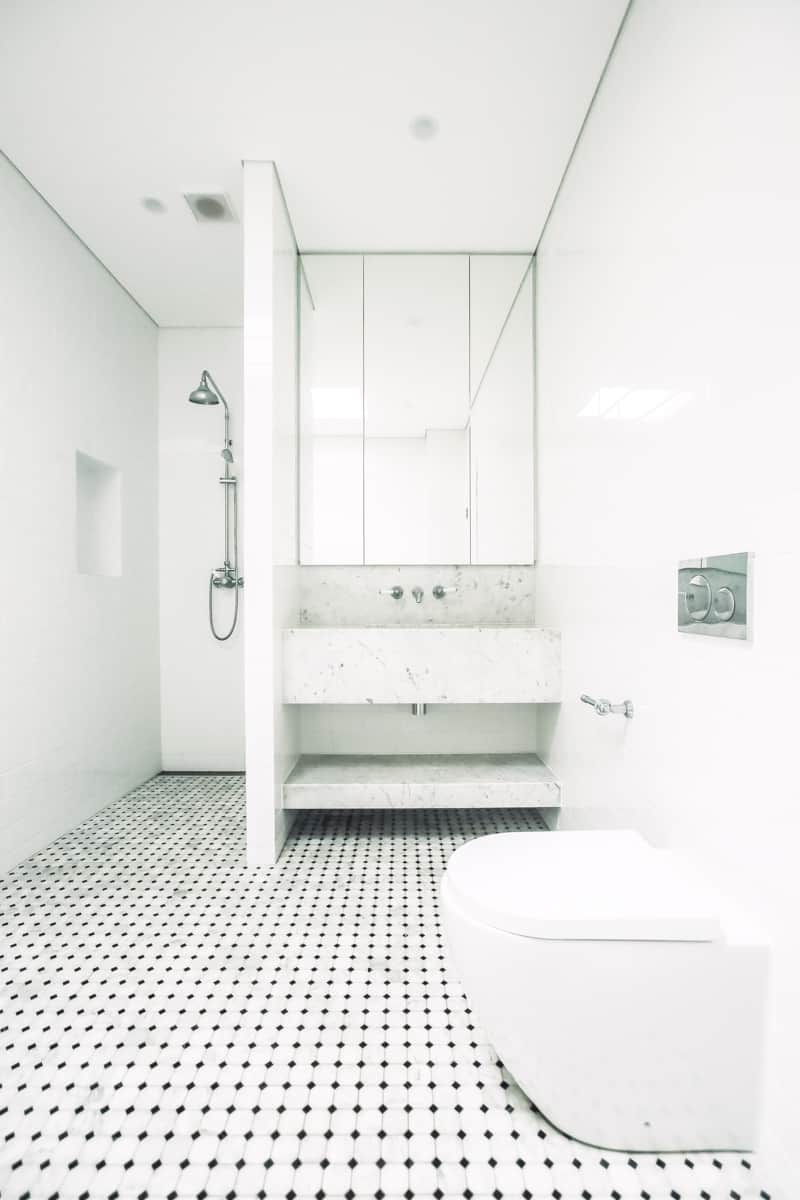 Master bathroom renovation design ideas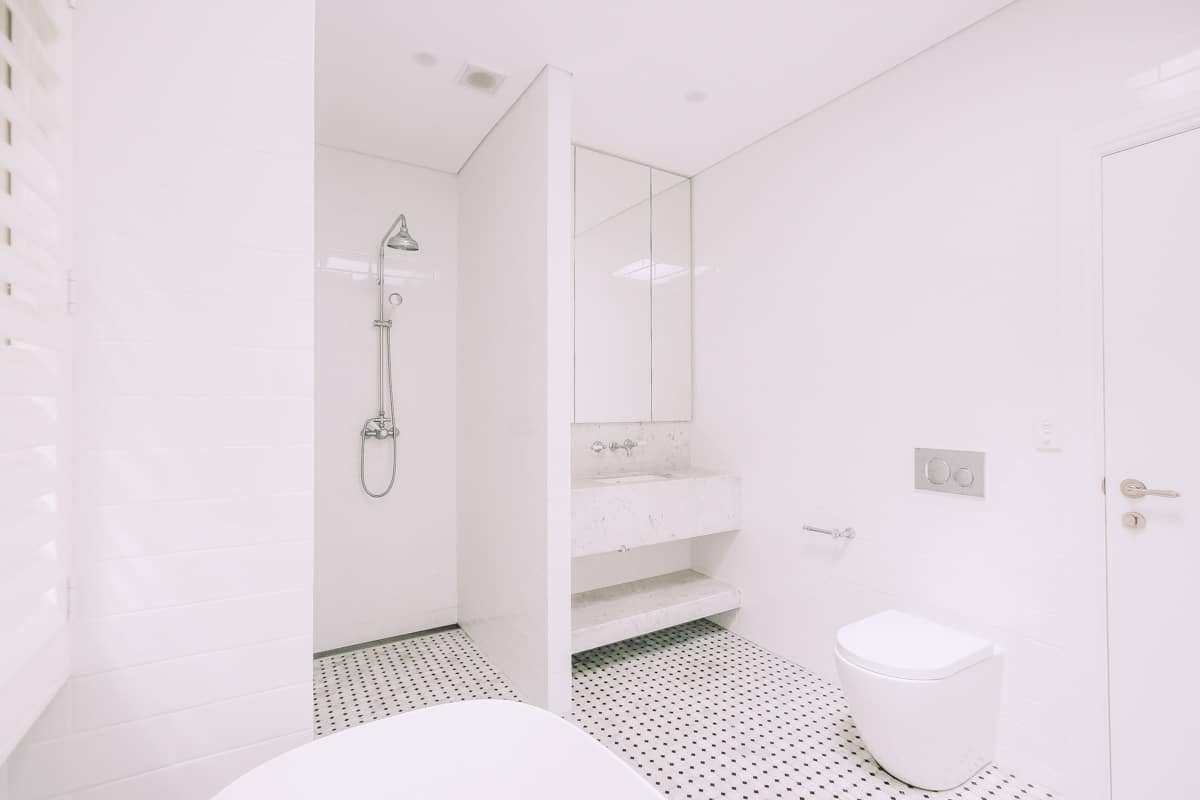 1. Single piece open vanity unit.
To keep the room feeling open and unclutted the vanity unit has been designed as an integrated piece of the room, blending into the wall structure itself rather than being a piece of furniture. The basin is recessed into the stone to complete the look and it is also raised off the floor which draws your eyes to the tiles on the floor making the corner of the room feel larger.
2. Concealed toilet cistern
To maximise space in the room even further the cistern for the toilet is concealed in the wall cavity. It saves maybe 20-30cm but it makes all the difference as it gives the walls of the room a clean, flush feel with lots of wide open wall space. So visually combined with the lack of cabinets in the room it instantly feels larger.
3. White walls and trims
The simple white colour palette not only creates a fresh, bright room but it reflects light into the room all day long. So it instantly feels inviting, fresh, open and spacious. The bathroom products almost blend into the walls rather than being features and so visually it feels less heavy.  The addition of plantation shutters and roof skylight give the room a bright feeling all day long.
4. Feature tiles
When the products and walls are so minimal it creates the opportunity to be a little creative with your tile choices. In this example the floor tiles chosen become a bit of a feature but don't overpower the room.
5. Walk in shower niche
The shower area is an open wall niche that is instantly inviting. You can imagine just having a long soak in the bath then a quick rinse in the shower by effortlessly walking under the large shower head. We also installed custom made stainless steel floor drains that won't corrode.
6. Amiata Free standing bath tub
Apart from being a visual master piece in the room the free standing bath tub creates amazing functionality with a simple elegant design making it easy to clean around the edges and floor. It also adds to the sense of space as you are able to see the floor tiles extend to the wall and there isn't a bulky frame in the way. It is proclaimed to be part of an award-winning collection designed by Meneghello Paolelli Associati. With very organic curves and elegant proportions it creates a sense of classic style in both traditional and modern spaces.
What did we do in this ensuite bathroom renovation?
#1 PROTECTED THE PROPERTY
Doing as many unit renovation projects as we do, we understand how stressful they can be for people trying to live through them. Most tradies also make a big mess. We make sure we protect your property with floor and wall coverings to make sure nothing is damaged while we are renovating your house.
#2 PLUMBING & FLOORING INSPECTION
Nu-Trend is a licensed plumber which is an advantage when you are renovating a bathroom. For every project we inspect all the plumbing to make sure it is ready for use. When you combine this with our renovation expertise you get piece of mind.
#3 TAKING CARE OF THE PROPERTY
It is the small things that count. We will check things like how your pets get into the house, if neighbours require access to driveways or other things that are important to how you live in your home to make sure everything goes smoothly during a renovation. 
Some renovation contractors will not include this in their service, they might leave the rubbish from the demolition in your backyard or on the street. Nu-Trend will make sure all the materials and rubbish that are not used are removed neatly ensuring your property isn't left in a mess and neighbours are happy.