Creating a Marble 'look' with porcelain tiles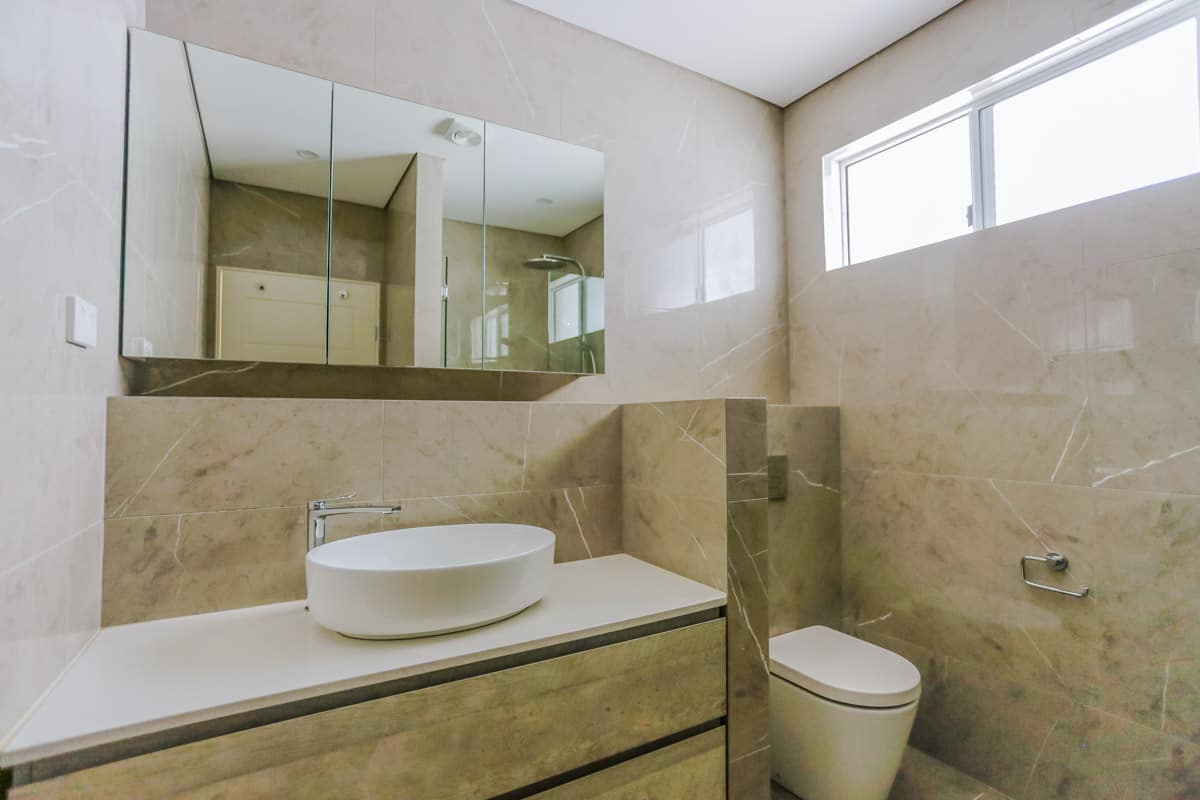 A bathroom renovation in Sydney using a soft earthy colour palette and marble effect with porcelain tiles.
Nu-Trend is bathroom renovation specialist in Sydney that can use all types of materials to renovate bathrooms like marble, timber, glass or porcelain. There are so many great materials available that you can work with to completely update your bathroom in a house, unit, apartment or townhouse. Nu-Trend is a renovation specialist that take care of everything from the initial interior design, demolishing your existing bathroom, sourcing hardware products all the way through to the final clean up & rubbish removal.
For this renovation project the owner wanted to create a style of bathroom that had floor to ceiling tiling which had a marble look and feel. To contain costs they sourced porcelain tiles with a neutral earthy colour palette that was complimented with a simple white round vanity basin and discrete toilet suite with hidden wall cistern. The layout of the plumbing didn't need to be changed and the property owner wanted a very open room with no walls or large divisions. So the interior design for this bathroom included a nib wall to conceal the toilet and a large open walk in shower area that included a frameless glass screen and built in wall niche.
The timeframe to complete this type of bathroom renovation is between 4 and 6 Weeks.
The budget: $20,000 – $30,000 depending on the hardware and products chosen.
Our scope of work for this renovation included;
Protection of the property
Demolition of the old bathroom
Moving the toilet on the concrete slab
Moving the shower waste and plumbing
Removing the bath tub
Replacing the vanity

Floor to ceiling tiling

Hot and cold water rough in

Fit off fixtures and fittings 

Screeding gradients to correct falls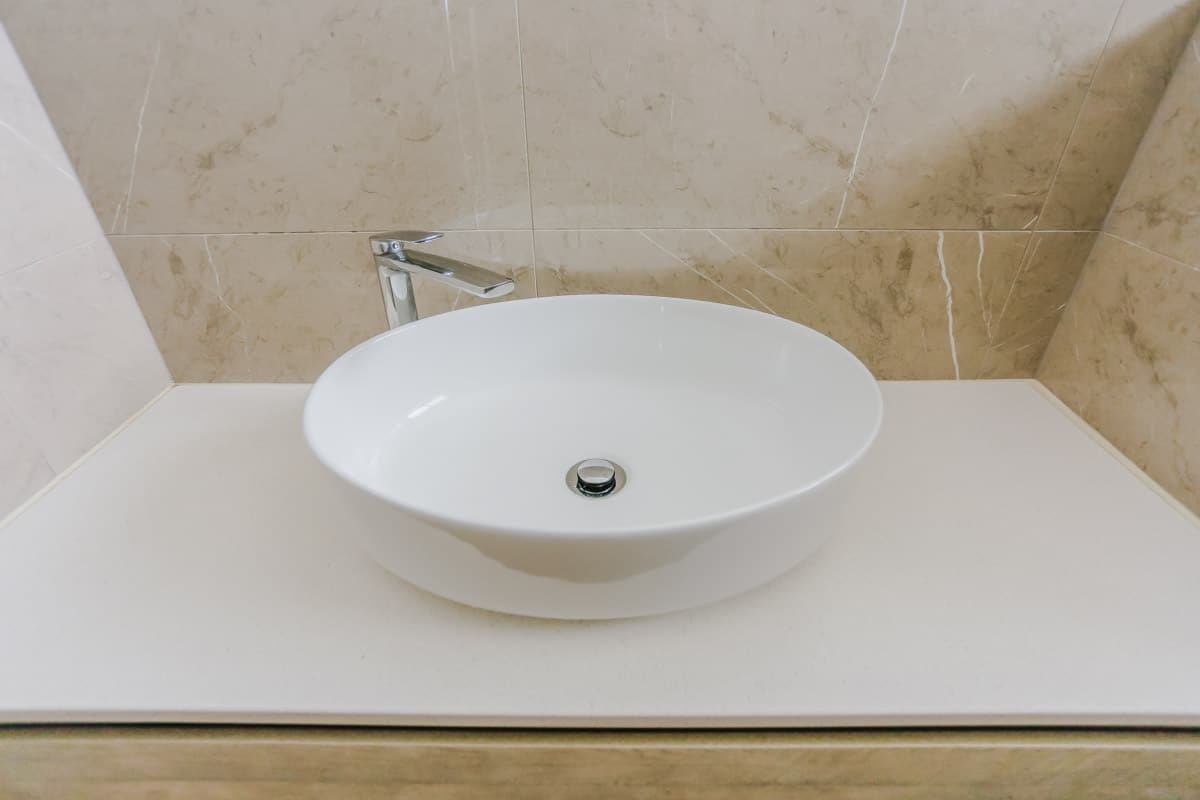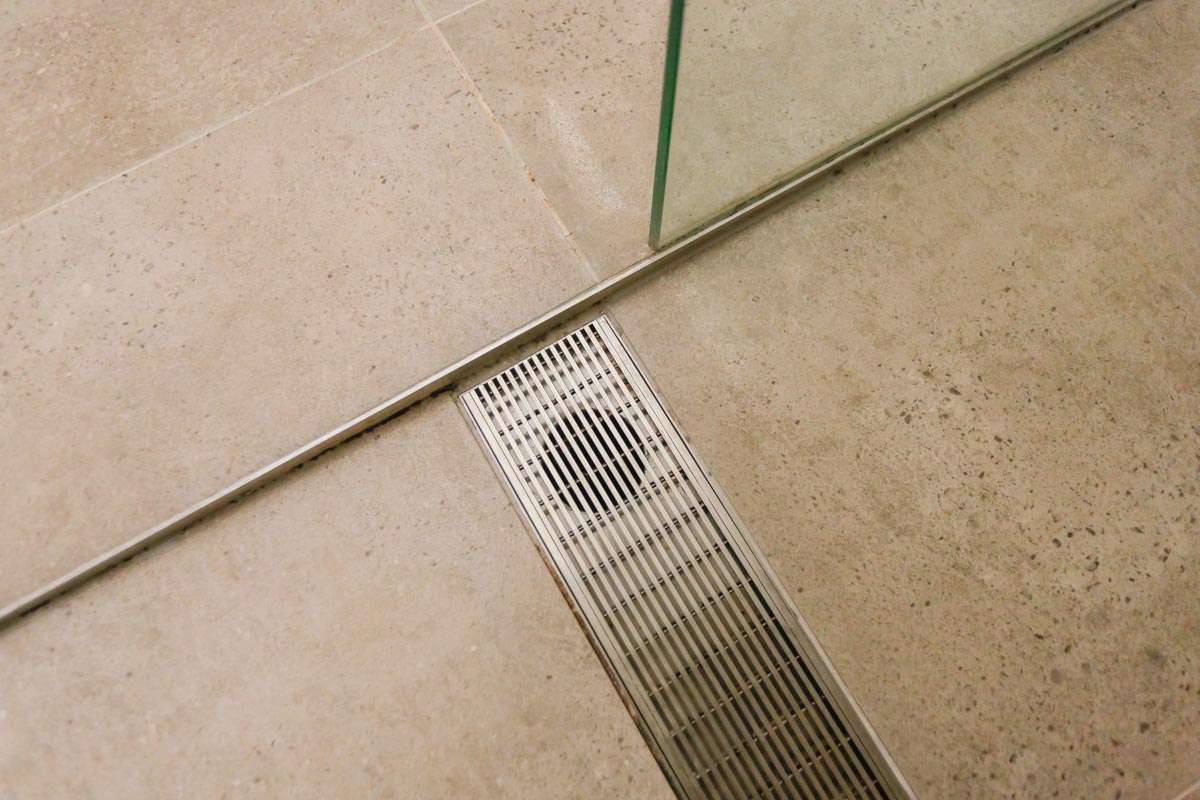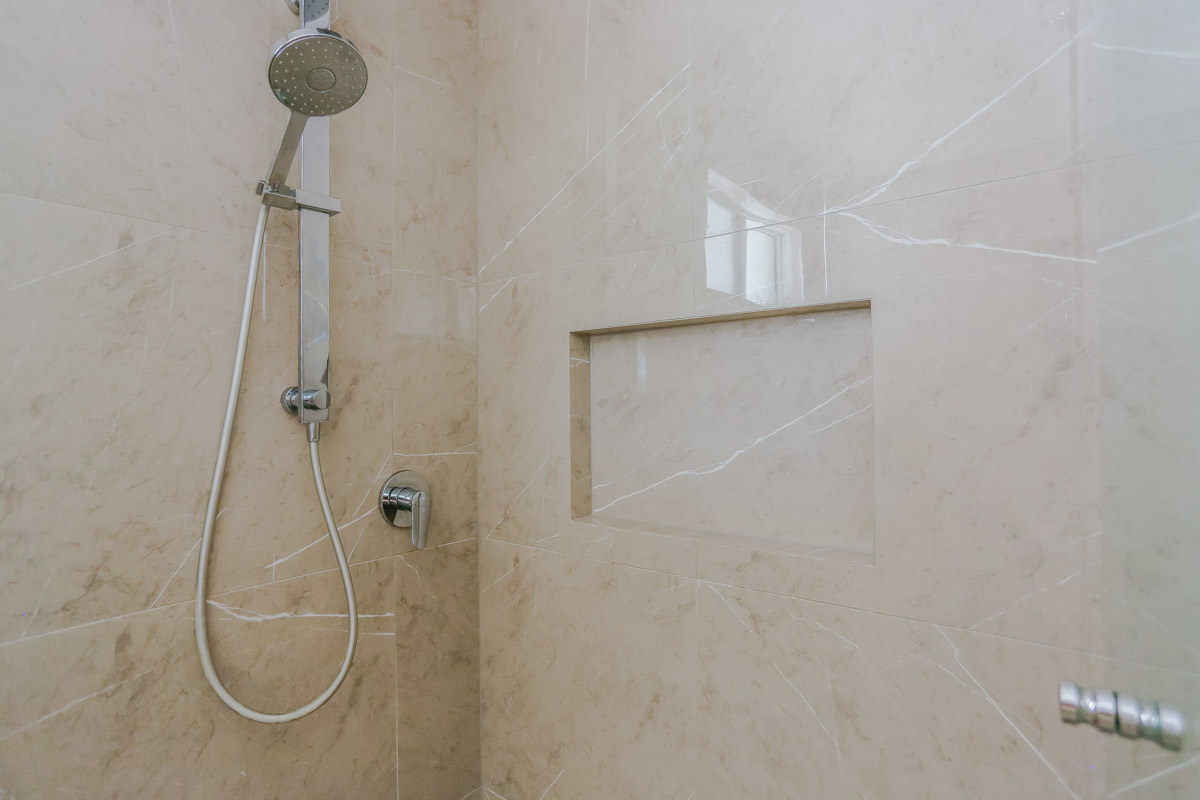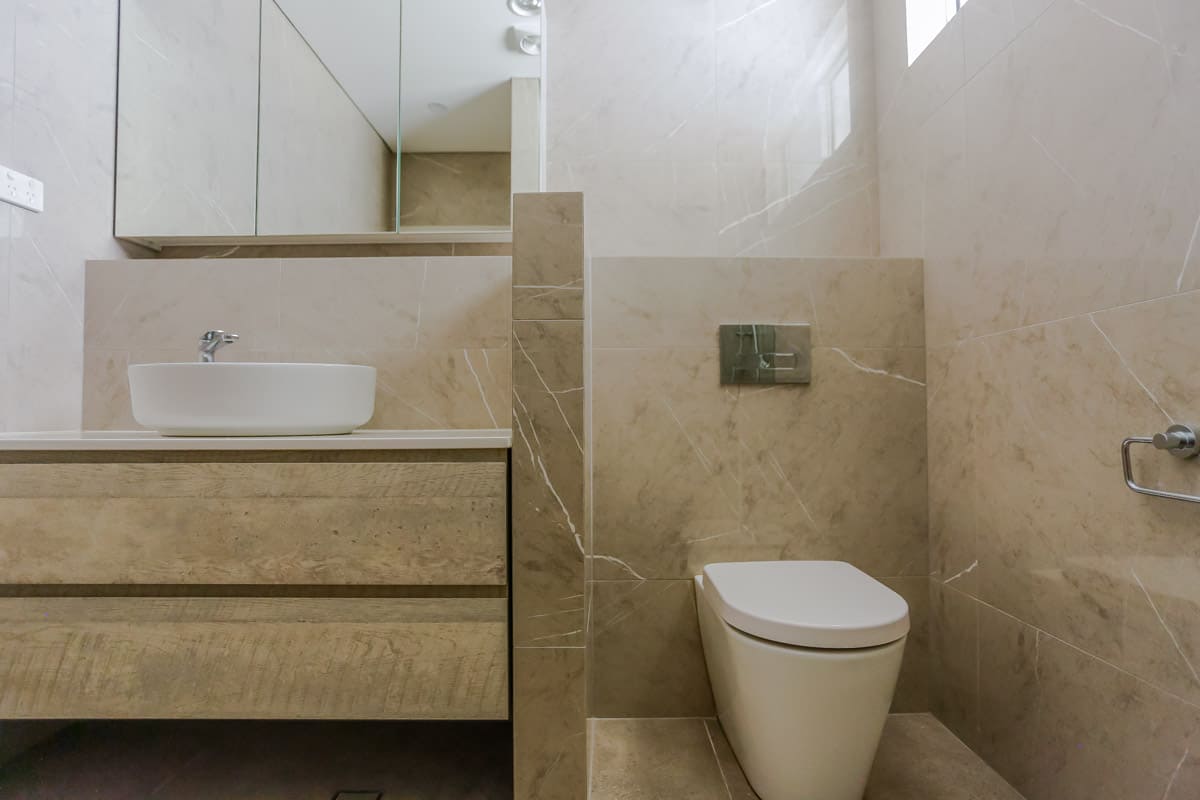 Using marble for bath renovations
Marble has been used by craftspeople throughout the ages to adorn palace floors, ceilings and walls.
Marble has always been seen as a symbol of wealth and prosperity over the years. In everyone's mind it is a very expensive and exclusive material that is typically used in Churches, palaces and other significant buildings around the world. Although over time marble has become more accessible and is being used in residential homes to create stunning, luxurious, bathrooms.
Is marble good to use in a bathroom renovation?
It is important to think carefully before using marble for your bathroom renovation. In its purest form marble is a metamorphic rock that's been used for thousands of years. One of the unique things about marble is that because it is pulled from a quarry, every single piece is different. It is not like mass produced products that are created using manufacturing processes to deliver finite tolerances, rather marble comes from the ground as it is, the variety that marble creates with its veining and colouring is often considered its best trait as it can create a stunning interior design impact.

It means that marble tiles can have an uneven or less uniform look & this will vary depending on the type and quality of marble you purchase. Most high-end marble has a very even colour palette with soft veining but it all really depends on the batch you are using and where they are sourced from. Extra time is needed when laying marble tiles to try and match up the patterns to create the right aesthetic effect.


From a renovation company's point of view we have noticed that the closer to Italy or Greece a stone is sourced, the better it will hold up in a wet environment, although this also depends on how much time and effort is put into the preparation and sealing of the tiles that are installed in the bathroom. We have noticed more veining often can indicate there is a higher iron content which can cause the stone to change in appearance over time as it ages. In the most extreme cases that iron can eventually turn to rust if the tiles haven't been sealed properly and regularly maintained.
The disadvantages of marble?
Marble is essentially a soft stone and very absorbent so even something like hair dye can potentially stain a marble shower floor if the tiles haven't been prepared for that type of use. You can also easily etch marble by using acidic materials like lemon or various harsh cleaning products and even some modern makup or lotions. This is why many people opt to either use marble in areas that won't receive any damp substances directly or they choose porcelain tile products that have a marble look.

Taking this approach with porcelain tile products can also be a more cost effective way to tile your bathroom & there isn't the same level of ongoing maintainence required.
What did we do in this unit bathroom renovation?
#1 PROTECTED THE PROPERTY
Doing as many unit renovation projects as we do, we understand how stressful they can be for people trying to live through them. Most tradies also make a big mess. We make sure we protect your property with floor and wall coverings to make sure nothing is damaged while we are renovating your house.
#2 PLUMBING & FLOORING INSPECTION
Nu-Trend is a licensed plumber which is an advantage when you are renovating a bathroom. For every project we inspect all the plumbing to make sure it is ready for use. When you combine this with our renovation expertise you get piece of mind.
#3 TAKING CARE OF THE PROPERTY
It is the small things that count. We will check things like how your pets get into the house, if neighbours require access to driveways or other things that are important to how you live in your home to make sure everything goes smoothly during a renovation. 
Some renovation contractors will not include this in their service, they might leave the rubbish from the demolition in your backyard or on the street. Nu-Trend will make sure all the materials and rubbish that are not used are removed neatly ensuring your property isn't left in a mess and neighbours are happy.