Converting a single toilet into an ensuite bathroom in Sydney
Ros and David had created a plan to renovate their home in Sylvania Waters instead of buying a new house. One of the challenges they wanted to solve was how to make the existing bathroom bigger & create more space for a new walk in shower & free standing bath. 
Their existing master bathroom had an unusual shape because of the floor plan of the adjoining rooms. So their walk in combination bath & shower was tucked away in a corner which didn't have a lot of space & the room felt cramped & dark.
They wanted to make the bathroom bigger by moving the existing walls to change the floor plan, move a doorway & have plenty of space to have an open walk in shower, toilet, large vanity & separate bath.
Once we completed our site inspection & all the products were chosen we helped to design a new floor plan that included cutting the ceiling downstairs so that we could relocate the plumbing upstairs.
Removing or adjusting walls makes it possible to then move a toilet, bath or shower to change the layout of a bathroom. This can help make it bigger, create a 2 way or 3 way bathroom or even convert a main into an ensuite for a master bedroom. There are so many options available when you begin adjusting walls. 
Once everything was finalised it would mean they would have brand new floor & wall tiling, new toilet, new bath & new vanity installed. Like always, our first step was to completely demolish the room back to the timber framing so we could make the wall adjustments. 
For some people they don't have the time or interest for working out a floor plan, materials, colours or products. That is perfectly fine, Nu-Trend also offers every client the option of professional interior design with each renovation which can take a lot of the stress away, especially when you are trying to make rooms larger.
Can a bathroom renovator in Sydney move walls to make rooms bigger?
Well, this depends. Every renovation company will have different qualifications and licenses and some may have a builder on staff. If the walls are considered structural or load bearing then typically you need to get a builder or architect to help you determine what can be done. 
Obviously making changes to such important elements of a building structure can have all types of problems so it isn't something that should be taken lightly.
Nu-Trend can make changes to walls, ceilings, windows & doors when they are not structural elements. This gives you lots of flexibility when thinking about your design and layout changes. This is why so many people ask us to convert a laundry into a bathroom or make a powder room into a small bathroom. 
Other clever ideas can be to make a window larger to let more light in or even move a doorway to create more wall space to hang a vanity.
Are walk in showers a good idea for properties in Sydney?
It is true, you can go to Bunnings and buy a low-cost pre-fabricated shower that can be installed into a bathroom fairly cheaply. Or you can buy kits that have a steel frame and a base. Although, just look at how stunning and functional a walk-in shower can be.
There is a seamless flow on the floor and wall for the tiling, it creates a sense of space and freedom & you don't have to look at ugly plastic moulds or joins. 
The other benefit is the single piece of glass is super easy to keep clean and the open area allows for great ventilation in the room. There is also less mould build-up due to the reduced number of surfaces, edges or elements for water to pool or sit after it is used.
The visual benefit is obvious, you can show off a feature wall tile, shower head & mixer tap to give any bathroom a feeling of more space. We even created a custom made wall niche for this design that makes it even more practical.
How to choose between a free standing bath vs built in bath
Well, not much to say here is there really, look at the difference it makes when you install a free standing bath into a room. It looks stylish, elegant & visually feels like there is more space in the room because you can see more of the floor tiles around it.
When you combine this with moving or adjusting walls it becomes easier to fit a large walk in shower plus a bath tub into a bathroom.
Changing the floor plan
to create a bigger master bathroom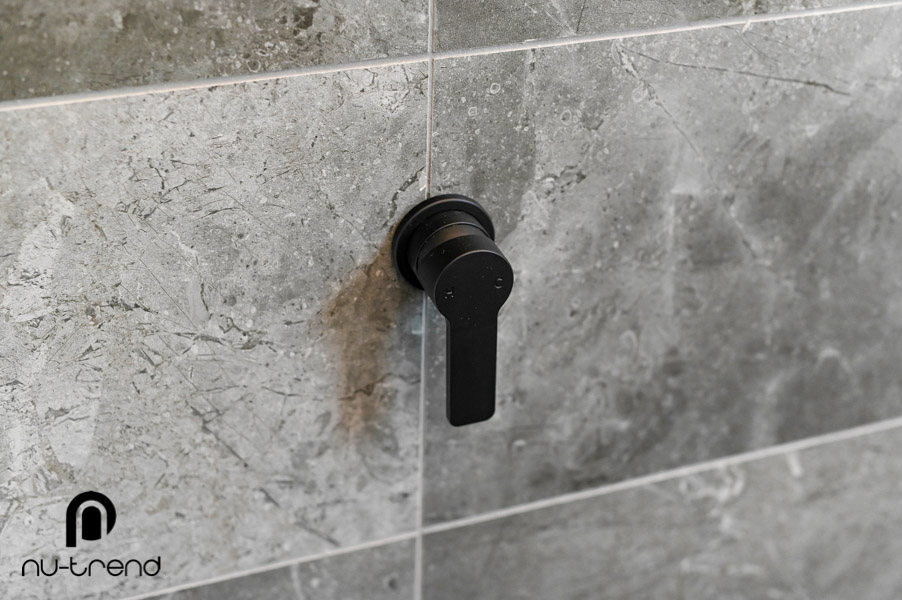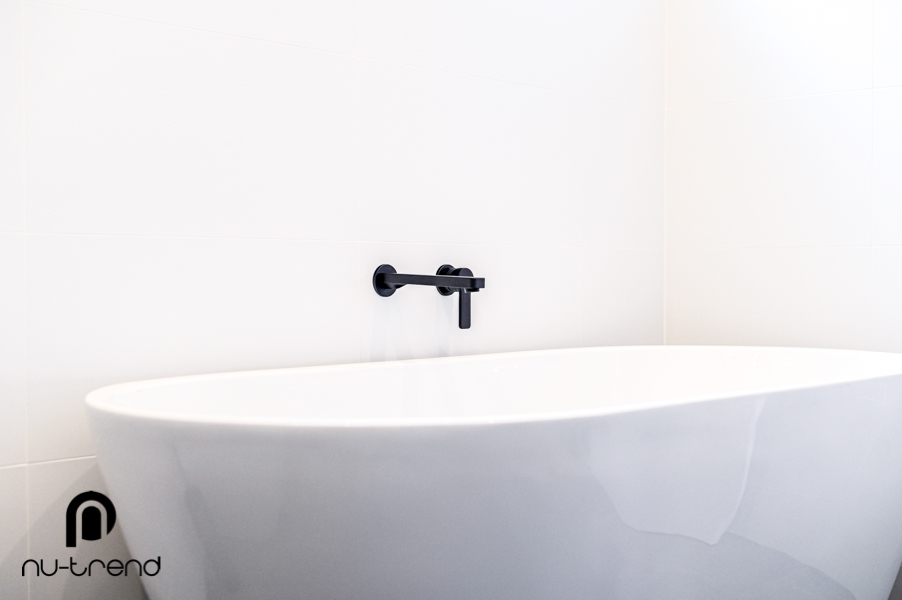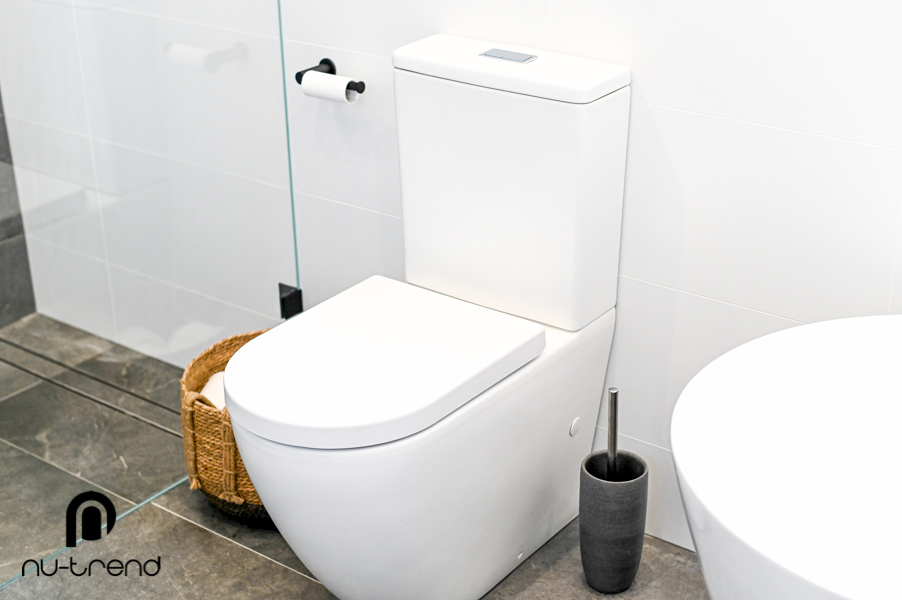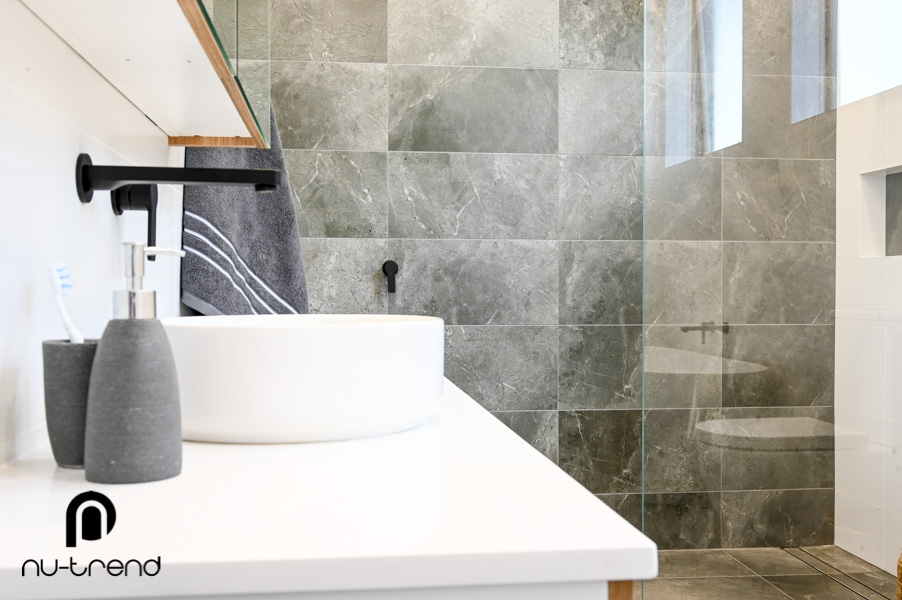 It is so easy to make a bigger bathroom by adjusting walls & being clever with your interior design lay out. The photos of this project highlight the amazing results that can be achieved with a complete bathroom renovation compared to a simple makeover. The cost difference might be $10,000 to $15,000 but the value it can add to a home might be $50,000 to $100,000 so it is a wise investment. 
Creating a modern bathroom can really transform how a property is perceived by potential buyers. More importantly for the owners of this house in Sylvania Waters they have not only added value, but functionality to their property with better use of space. The old combined shower & bath was a hassle to use, the room was dark & the old beige colour was quite out of date. The use of fresh white, charcoal and timber creates an earthy, timeless interior design that won't date. 
Once all the demolishing was completed we re-instated the walls with new formwork so that the water services could be set up, new flooring and walls plus waterproofing installed.
The products & design ideas used in this Sylvania Waters renovation
The products used in this renovation came from a number of different supplier including The Bathroom Collective. Everything was replaced – tiling, toilet, vanity, shower head, taps, mixers, floor and wall tiles. Some of the main products used included;
Toilet roll holder, taps, shower head, basin waste and mixers from Faucet Storeman
Timberline wall hung vanity unit
Koko back to wall toilet suite
Sirene Koy Bath
The existing window was retained which lets in an abundance of natural light. The old wall tiles were replaced with simple white tiles which will bounce light around the room & show off the feature wall. The toilet was concealed behind the vanity & a new walk in shower was installed. The single piece glass shower screen is super easy to clean & gives you an unobstructed view to the feature wall with charcoal wall tiles. It is a great way to add interest to a room and in this example complements the soft finishes from the timber vanity & mirror.
Our renovating scope of work
for this Sylvania Waters renovation
Nu-Trend has renovated lots of properties in the Sutherland Shire and we have lots of experience working with terrace houses, apartments & units in the local area. Our scope of work for this renovation in Sylvania Waters was extensive and included the following items;
Strip and demolition of the existing bathroom & removing all the rubbish.
Re-instate non-structural walls and ceiling to create the larger room space
Re-instate plumbing hot and cold water with new plumbing layout.

Waterproofing and certification processes.

Prime and waterproof bathroom with waterproofing to be applied below and under the screed with 3 days drying time in between.
Re-screed, sand and cement the new floor and allow 7 days to completely dry.
Tile all the walls and floors
Grout all the floors and walls
Paint the existing ceiling
Fit off the items such as taps, accessories, pc fixtures, mirror etc.
Test and commission
Professional industrial clean the room at completion.
What are some other ideas to make your bathroom feel bigger?
Apart from moving walls there are some other ways you can make a bathroom feel bigger
Lots of natural light – small bathrooms can often appear dark. Natural light makes the room look brighter and opens up the space so it appears larger.If you only have a small window, install a skylight or solar tunnel to bring more natural light into the room.A translucent window shade will also help more light to come in while still protecting your privacy.


Use a single colour – using lots of different colours and patterns in your bathroom makes it appear cluttered. It divides up the space so it feels smaller.Using a uniform, light colour throughout the room will open it up and create the impression of a larger, brighter space.


Use an all-white design – all-white bathroom designs never go out of style. They also have the added advantage of making the room look bigger as white reflects light better than any other colour.As most bathroom fixtures tend to be white, this also creates a more seamless, unbroken look throughout the space.


Paint the ceiling the same colour as the walls – a unified look doesn't have to stop where the walls end. Painting your ceiling the same colour as the walls will continue the seamless appearance throughout the entire space.If you really want a contrast, choose a slightly lighter shade for the ceiling. Ceilings tend to appear darker than the walls due to the way light is reflected so painting them slightly lighter can create a more unbroken effect.


Blend the tile and wall colours – if your bathroom is only part-tiled, paint the rest of the wall space the same colour as your tiles.This eliminates the dividing lines which can occur where the tiles end – these divide your walls into sections and make the room appear less spacious.Using grout that's the same colour as your tiles also helps to create a more unified look.


Install floor to ceiling tiling – Bigger Wall Tiles If possible, have the same tiles throughout your bathroom, all the way up to the ceiling.This way, you will have no horizontal dividing lines on your walls, which will help to open up the space by giving the impression of your ceiling being higher.


Smooth transition between materials – the key to making a small bathroom look larger is to create a cleaner, more expansive look.This is easier if you use the same materials wherever possible – for example, using the same flooring in the shower as you have in the rest of the space.The more different materials you use, the more it creates the impression of the room being divided into different sections.


Simple floor tiling –  It's a common mistake to use smaller floor tiles in a small bathroom. This actually makes the room look smaller as it creates more dividing lines between the tiles.Choosing a large, plain-coloured tile will give the impression of more floor space and a cleaner, less cluttered look.


Create long lines in the design – give the impression of more space, you need to draw the eye to the widest point in the room.You can achieve this by highlighting the longest line in the room, such as a clear wall without a window.Creating a horizontal line here with a shelf will make the room look larger.


Clear shower glass – shower curtains and patterned glass can have the effect of creating an extra wall, dividing your bathroom into sections and making it look smaller.Clear glass shower screens reflect the light more effectively and open up the space.For an even more seamless look, consider a frameless shower screen as this gets rid of all visual barriers.


Use lots of mirrors – The more light you can reflect, the bigger your bathroom will look. Instead of just hanging a small bathroom mirror above the sink, consider mirroring a whole wall, or at least a large portion of it.This acts like a window in bringing a lot more light into the room and creating the illusion of a much bigger room.


Reflect the views – ideally, your mirror should reflect a light source, such as a window or open door.However, if this isn't possible, don't reflect something mundane like the toilet.Make the mirror a design feature by reflecting a vase of fresh flowers or a beautiful ornament.


Recess shelves into the walls – building shelving into the walls is practical as well as aesthetically pleasing. It frees up space in your bathroom as nothing is protruding from the walls.It also keeps the lines unbroken, making the room look even larger.


Use wall hung furniture – suspended fixtures are a great way of creating more floor space.Bathroom vanities, cabinets and even the toilet can be attached to the wall rather than the floor, creating an unbroken line of flooring and making your bathroom easier to negotiate.


Combine your bath & shower – if there isn't room for a separate shower cubicle, install your shower over your bath.This still gives you both options, while only taking up as much floor space as the bathtub.
See more examples of our bathroom renovations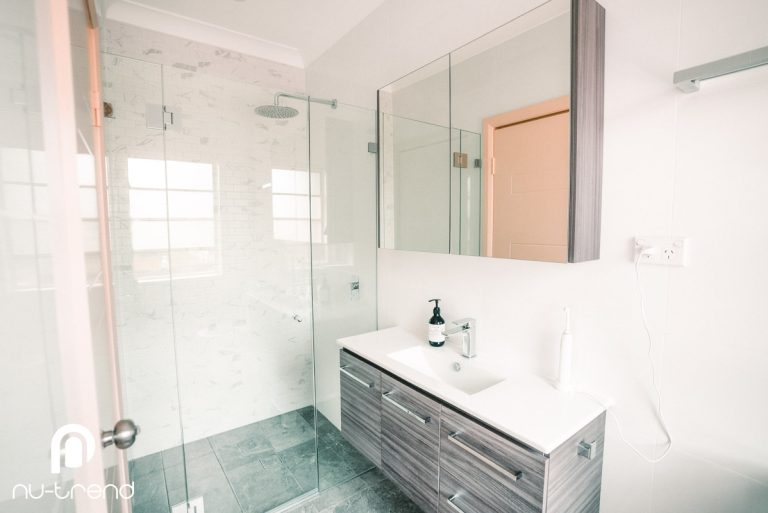 The ensuite bathroom in Mortdale needed an renovation to look and feel more modern, have more storage and more natural light.
READ MORE >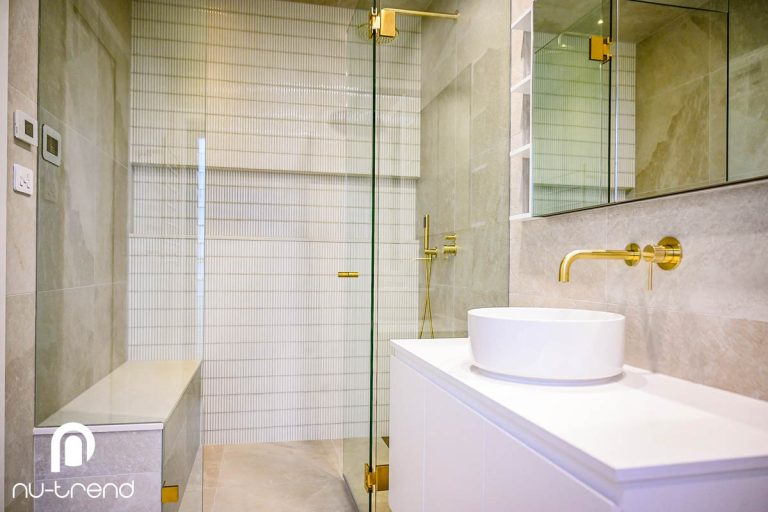 We converted this old bathroom to have a brand new steam shower room installed complete with custom hardware storage
READ MORE >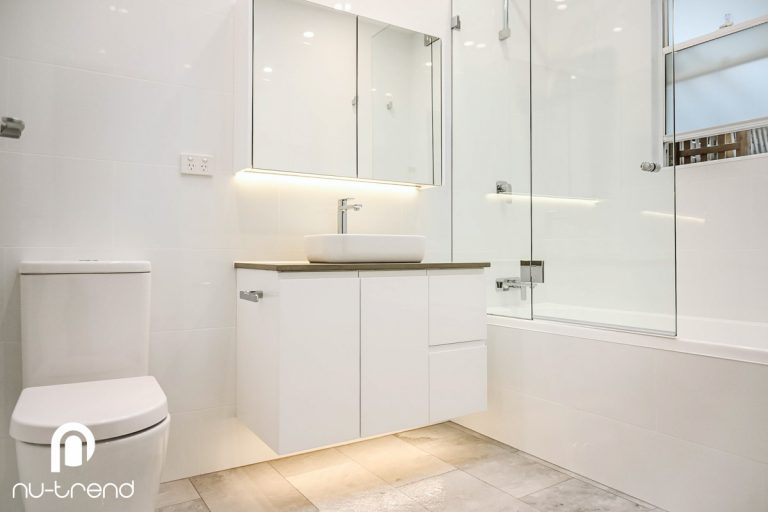 We renovated this bathroom in Leichhardt to install a new bathtub, tiling, vanity, toilet and repair the flooring that had asbestos in it, then built a new subfloor.
READ MORE >
What did we do in this bathroom renovation?
#1 PROTECTED THE PROPERTY
Doing as many unit renovation projects as we do, we understand how stressful they can be for people trying to live through them. Most tradies also make a big mess. We make sure we protect your property with floor and wall coverings to make sure nothing is damaged while we are renovating your house.
#2 PLUMBING & FLOORING INSPECTION
Nu-Trend is a licensed plumber which is an advantage when you are renovating a bathroom. For every project we inspect all the plumbing to make sure it is ready for use. When you combine this with our renovation expertise you get piece of mind.
Some renovation contractors will not include this in their service, they might leave the rubbish from the demolition in your backyard or on the street. Nu-Trend will make sure all the materials and rubbish that are not used are removed neatly ensuring your property isn't left in a mess and neighbours are happy.
#4 SHOWER SCREEN INSTALLATION
We can install a custom made glass shower screen into your bathroom if it is a house, unit or town house. We can make sure the flooring and plumbing is suitable and it is sized exactly to fit your space.
#5 WALL AND CEILING ADJUSTMENTS
Nu-Trend can make adjustments to walls and ceilings when they are not structural items for a property. This cosmetic change can create more space or change a floor plan for a renovation. If there are structural considerations to be dealt with then we can engage with a builder to assist.