A luxury unit bathroom renovation using products from Candana, Artedomus and Marble Works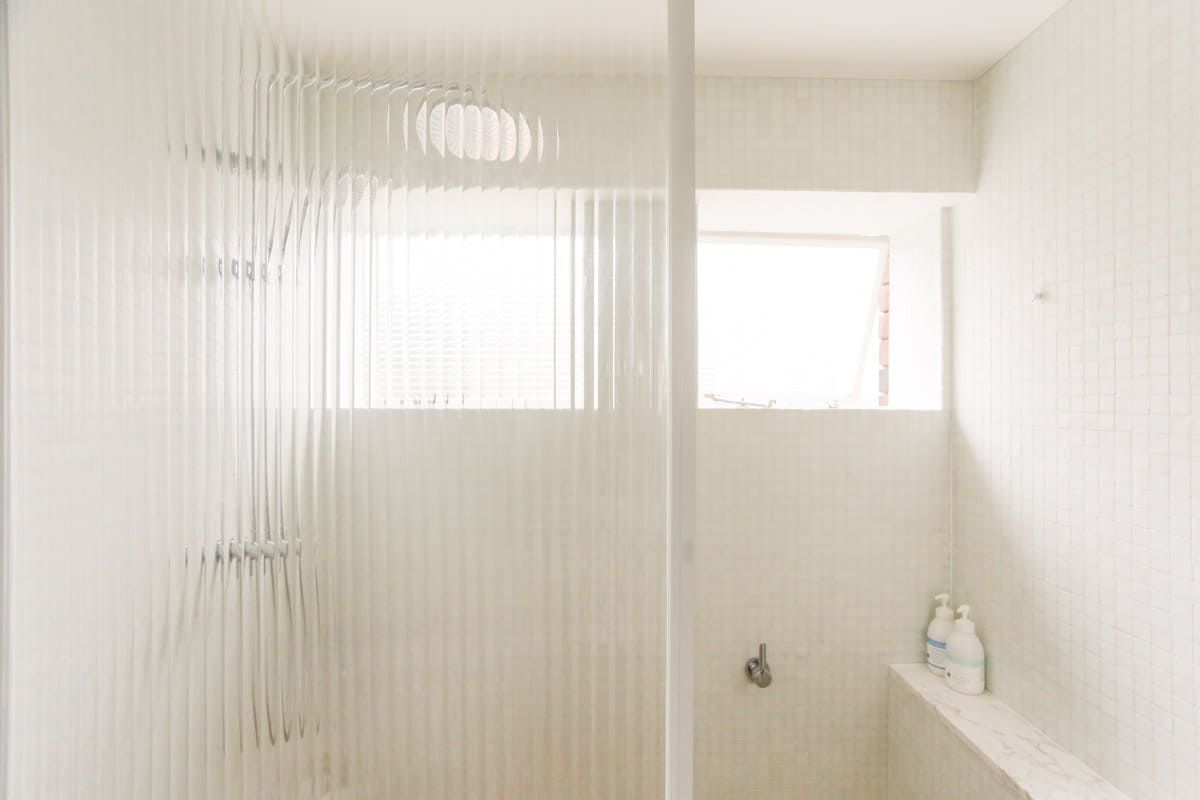 We changed the floor plan of this bathroom by moving the shower to create more space in this luxury unit bathroom renovation.
Nu-Trend can help property owners in apartment blocks to complete a luxury unit bathroom renovation. Nu-Trend is a local renovation specialist that has been operating since 2009 and completing bathroom renovation projects for houses, units, townhouses and hi-rise apartment blocks. We can take care of everything from the initial bathroom design, sourcing products all the way through to demolition & clean up. Our experienced team know exactly how to manage working in small spaces to transform your bathroom.  
For this small bathroom renovation project the client had selected products from Candana, Granite Marble Works and Artedomus with a custom made vanity unit. Our scope of work included;
Protection of the property
Demolition of the old bathroom
Re-locating the shower
Hot and cold water rough in

Fit off fixtures and fittings 

Screeding gradients to correct falls 
One of the major parts of this renovation project was to change the floor plan to make better use of the space and increase the amount of light in the room. TO achieve this we moved the shower, which also made it larger, while the colour palette for the glass mosaic tiles was white which helped to reflect light in the room.
Vanity top from Granite Marble Works with Candana Manhattan undermount sink
Choosing a vanity top, sink & wall tiles to create harmony in this luxury unit bathroom renovation.
The selection of products for this luxury unit bathroom renovation was pretty critical to get right because the space was quite small and the client didn't want to have any of the items competing with each other. Rather than have a feature piece in this luxury unit bathroom the idea was to create a space that just felt relaxing as soon as you walked into the room with a soft colour pallet.
The vanity top was made out of marble from Granite & Marble Works from the Carrara Giola marble range. It was hand cut with rounded soft edges to compliment the finish of the custom made timber vanity. Granite and Marble Works has been providing high-end residential properties with quality stone products in conjunction with Sydney's leading architects, designers and builders for many years. Their products have been used by many of Sydney's landmark residential properties with commercial job including Star City Casino, Establishment Bar and even he Sheraton on the Park Hotel.
The Manhatten 50 sink came from Candana's range and in their words represents the ultimate in drop dead chic and contemporary design. It is externally glazed and made in suitable dimensions for most bathrooms of 500mm w x 380mm d x 125mm h in a simple matt white made of vitreous china.
Inax Nuance glass mosaic tiles from Artedomus
Glass mosaic tiles from INAX with a long, rich history based in Japanese ceramic craftsmanship
The wall tiles came from Artedomus in Sydney who is considered Australia's leading supplier of unique, high quality stone, tiles, architectural surfaces, bathware and furniture for commercial or residential bathroom projects. They are a leading choice for luxury unit bathroom renovations in Sydney. They were founded in 1985 as Domus Ceramics and the company was built to import exclusive Italian floor and wall finishes to Australia. Their focus has always been on sourcing unique products that have a simple and natural intrinsic beauty rather than items for short-term fashion and trends. It means they have become a source for leading architects and designers.
The Inax Nuance range of glass mosaic tiles has a long, rich history based in Japanese ceramic craftsmanship and expertise. INAX is recognised for its innovative range of interior and exterior architectural ceramics that have superb manufacturing and leading designs used by traditional artisans. The quality of the production of INAX ceramics is incredibly high. Their manufacturing processes enable a level of precision and consistency, while also delivering the beautiful natural qualities for which Japanese ceramics are renowned. Their ceramics are baked for much longer than traditional tiles, creating a uniquely hard-wearing and durable product.The beautifully glazed range available in striking colours and 3 sizes.
For luxury unit renovations we spend extra time to ensure all the little details are taken care of, like making sure the tiles all match up. Sometimes you get batches that are made at different times or can have slightly different colours. So we ensure we mach up the sheets to ensure they are blended to give the best finished effect on the wall. We made sure the entire wall was notched with white adhesive as the glass mosaics are transparent so we wanted to minimise any potential  shadowing.
We also had to work with Terrazzo Pavlova stone floor tiles in this bathroom and it is critical to ensure it is sealed correctly. Each supplier has their own preferred treatment and application methods, but it is important to be done correctly to ensure the sealing is perfect. In some situations it has to be done after it has been laid & other times it is before / during and after. If not done correctly it can effect the finish of the stone and look quite worn or weathered.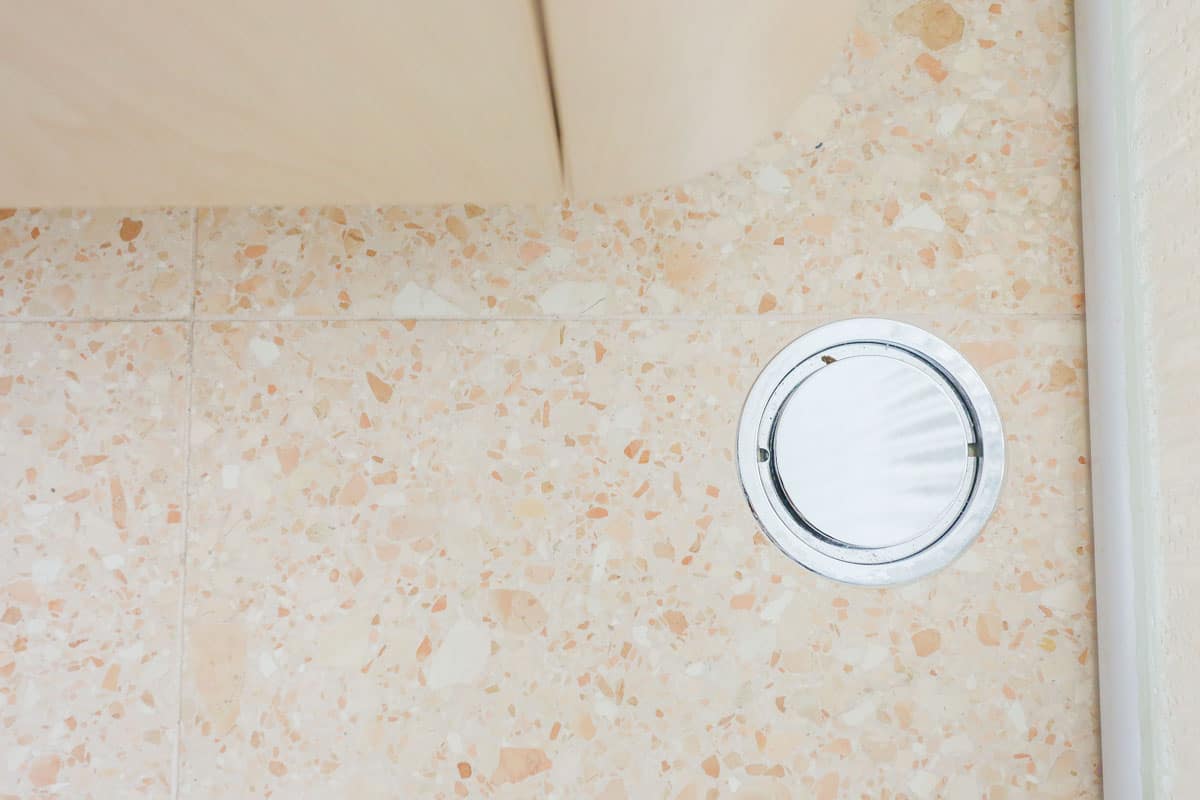 City Plus exposed shower rail and single level shower mixer from Candana
A contempary range of bathroom hardware from Candana.
The new open shower used products from Candana including the City Plus 300mm Shower Rose  and exposed shower rail. A a clean and contemporary series of tapware that is both practical and functional. Candana also have wall and floor mixers to allow greater design freedom in the bathroom in their City Plus range of products. Candana was founded in 1981 as a bathroom and kitchen renovating company. Over the years they decided to close down their building and design services to focus purely on developing reputable bathroom products with a flair for unique design and quality.
What did we do in this luxury unit bathroom renovation?
#1 PROTECTED THE PROPERTY
Doing as many house renovation projects as we do, we understand how stressful they can be for people trying to live through them. Most tradies also make a big mess. We make sure we protect your property with floor and wall coverings to make sure nothing is damaged while we are renovating your house.
#2 PLUMBING & FLOORING INSPECTION
Nu-Trend is a licensed plumber which is an advantage when you are renovating a bathroom. For every project we inspect all the plumbing to make sure it is ready for use. We conduct a CCTV Camera Inspection of your piping and if required a high pressure jet blast to make sure everything is ready.
#3 TAKING CARE OF THE PROPERTY
It is the small things that count. We will check things like how your pets get into the house, if neighbours require access to driveways or other things that are important to how you live in your home to make sure everything goes smoothly during a renovation. 
Some renovation contractors will not include this in their service, they might leave the rubbish from the demolition in your backyard or on the street. Nu-Trend will make sure all the materials and rubbish that are not used are removed neatly ensuring your property isn't left in a mess and neighbours are happy.
We know how important it is to get tiling done just right, so our team spends extra time checking how well they match, colour runs, matching patterns or textures to ensure a great final finish.