A luxury shower renovation including bath tub, washing machine & dryer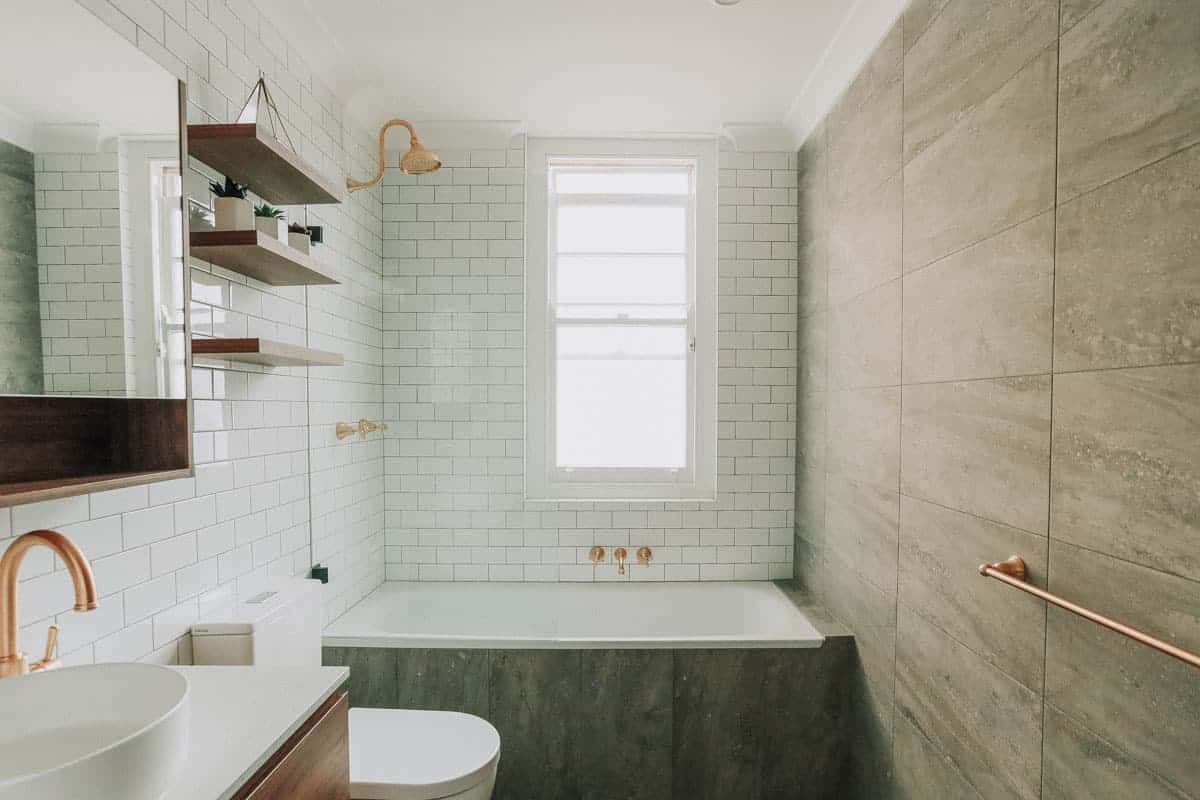 A luxury shower renovation that included a new floor plan to accomodate the addition of a bath tub.
Nu-Trend can help property owners in Sydney to renovate their shower or do complete bathroom renovations. Nu-Trend is a local renovation specialist that has been operating since 2009 and completing bathroom renovation projects for houses, units, townhouses and hi-rise apartment blocks. We can take care of everything from the initial bathroom design, sourcing products all the way through to demolition & clean up. Our experienced team know exactly how to manage working in small spaces to transform your bathroom.  
Timeframe: 3-4 Weeks
Budget: $20,000 – $25,000 depending on products chosen.
For this small bathroom renovation project the client had selected products from the amazing team at the Bathroom Collective in North Manly like the new Gala Fedra bath tub from Spain or the Nevada wall hung vanity unit. Our scope of work for this renovation included;
Protection of the property
Demolition of the old bathroom
Repairing the walls
Moving the bathroom plumbing
Hot and cold water rough in

Fit off fixtures and fittings 

Screeding gradients to correct falls 
One of the major parts of this renovation project was to change the floor plan and convert the existing wall in shower to accomodate a bath tub. We also discovered the room didn't have a floor waste & the walls had major water damage which meant to we had to also make adjustments to the bathroom plumbing to accomodate.
Using a bathroom plumber for a shower renovation
A bathroom plumber can help you uncover dodgy bathroom renovations & avoid future bathroom repairs or water damage.
We are very passionate about delivering high quality bathroom renovation projects in Sydney. So much in fact, we share lots of examples about how property owners are getting misled by cheap quotes or poor work – see our Bathroom Renovation Advice
When we began demolishing this room we discovered there had been a renovation that was previously done that was on top of the renovation prior to that. It meant the brick work was in terrible condition as you can see in the photo on the left, they were practically falling off the wall. It was so bad that the render on the other side of the walls was literally crumbling because all the surfaces were so loose.
There was also not a floor waste installed in the existing bathroom floor which is illegal, this would have saved money on the previous renovation quotes and made them seem cheap or good value. Although it creates potential safety and water leak issues as any overflow water has nowhere to run other than into the other rooms of the house. So we had to wet saw cut the existing concrete slab and expose the 100mm sewer line so that we could adjust the bathroom plumbing to accomodate a new floor waste.
So it meant there was either really poor work done previously or the room had seen major waterproofing issues. When people choose to do a bathroom remodel or a bathroom makeover it can hide underlying issues like this and it can cause water leaks or other forms of damage later on. 
So you save money on the renovation now but pay for it later.
Luxury bathroom products from the Bathroom Collective
A range of bathroom products perfect for renovating a modern bathroom with luxury finishes  
The Bathroom Collective is a leading showroom on the Northern Beaches of Sydney with one of the largest range of products for any type of bathroom renovation project including; taps, mixers, showers, baths, toilets and more. They have many years of industry experience with a passionate team that love sourcing high quality products.
The client had a very clear idea on the style and layout for their bathroom and had chosen products that included a range of items to create a modern, luxurious feeling to the bathroom with a touch of retro design;
Nevada 900mm wall hung vanity unit in Frozen Terra and Notalo Walnut Woodmatt
Sanremo shaving cabinet in matching Notalo Walnut Woodmatt
Fienza Bathware Lincoln back to wall toilet suite with a rimless hygienic flush pan and concealed design for easy cleaning. It also has a quick release soft close seat with easy-push chrome flush buttons.
Gala Fedra 1700 Bath made from porcelain on steel that is made in Spain. The 200 litre ergonomic shape gives you a very comfortable bathing experience and its manufactured from high grade porcelain with a scratch resistance surface. The dimensions are 170 x 70 x 40 making it an great fit for small to medium bathroom renovation designs.
Faucet Strommen Cascade Wall Tap with durable copper jumper valves
Faucet Strommen Cascade Basin Mixer Curve 160 with a swivel spot reach of 160mm and 2 stage Flowstep Valve & 5 star water rating
Faucet Strommen Cascade Bath Outlet 140
Faucet Strommen Cascade Shower Goosneck with 157mm shower head and swivel ball joint with 3 star water rating
Faucet Strommen Cascade Towel Rail Single 900 with robust forged brass mounting system that can be cut to custom lengths
Faucet Strommen Cascade Toilet Roll holder with forged brass mount system and swivel stirrup that can fit a single toilet roll
Nevada wall hung vanity with Sanremo shaving cabinet in notalo walnut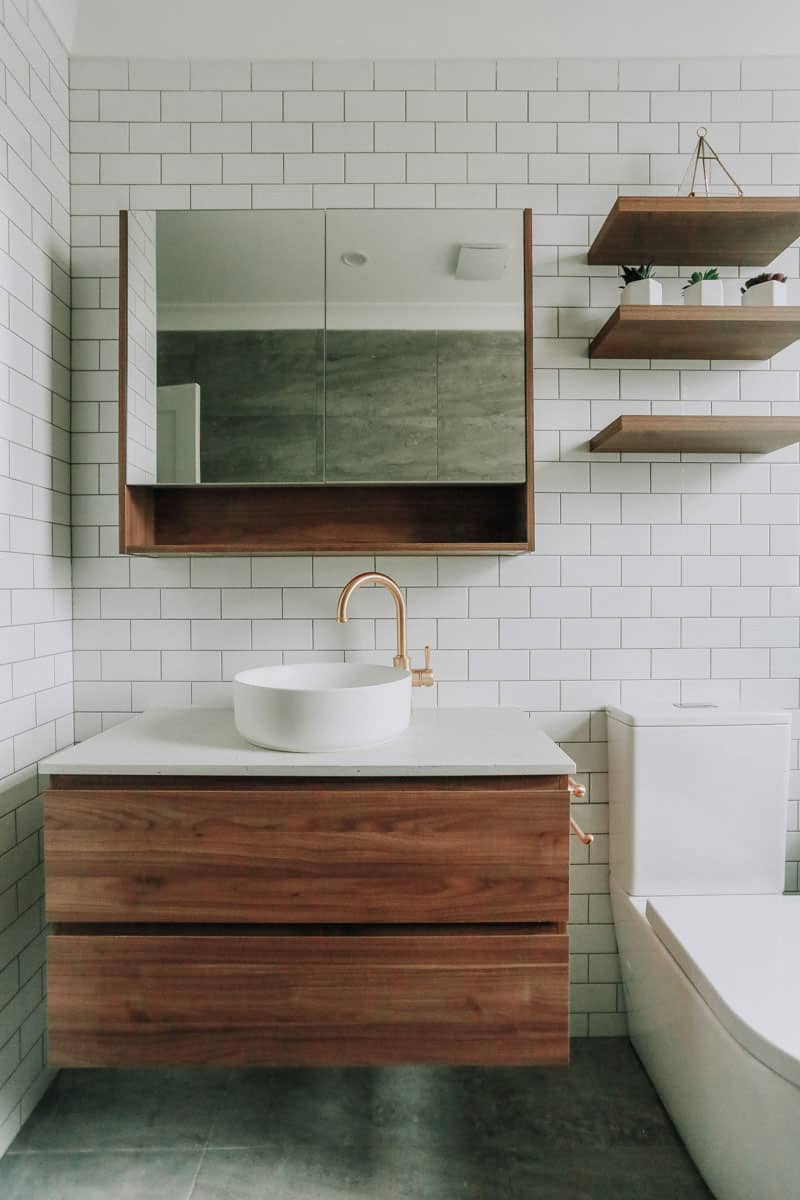 Soft wooden finishes on the vanity and shaving cabinet that adds a touch of warmth to the bathroom
We loved the combination in this room with the white subway tiles, large format wall tiles mixed with the wood finish of the vanity and shaving cabinet to give the room some warmth.
Gala Fedra porcelain bath tub from Spain
Changing bathroom plumbing for a shower over a bath tub
One of the priorities for this renovation was converting the walk in shower to be a combination shower over the bath tub. The client chose the  Gala Fedra 1700 Bath in porcelain on steel that is made in Spain. The shape gives you a very comfortable bathing experience with the high grade porcelain including a scratch resistant surface. It became a nice piece for the room that was combined with a custom made shower screen.
What did we do in this luxury unit bathroom renovation?
#1 PROTECTED THE PROPERTY
Doing as many house renovation projects as we do, we understand how stressful they can be for people trying to live through them. Most tradies also make a big mess. We make sure we protect your property with floor and wall coverings to make sure nothing is damaged while we are renovating your house.
#2 PLUMBING & FLOORING INSPECTION
Nu-Trend is a licensed plumber which is an advantage when you are renovating a bathroom. For every project we inspect all the plumbing to make sure it is ready for use. When you combine this with our renovation expertise you get piece of mind.
#3 TAKING CARE OF THE PROPERTY
It is the small things that count. We will check things like how your pets get into the house, if neighbours require access to driveways or other things that are important to how you live in your home to make sure everything goes smoothly during a renovation. 
Some renovation contractors will not include this in their service, they might leave the rubbish from the demolition in your backyard or on the street. Nu-Trend will make sure all the materials and rubbish that are not used are removed neatly ensuring your property isn't left in a mess and neighbours are happy.
#5 MOVING THE SHOWER PLUMBING
For this project we helped move the toilet on the concrete slab as well as the shower plumbing. Moving the plumbing helped to achieve the new floor plan that was needed for this renovation project.