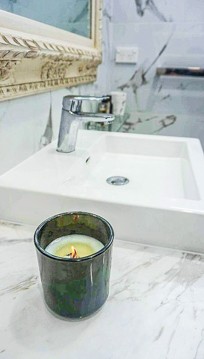 A luxury master bathroom renovation in Sylvania Waters
This luxury master bathroom renovation in Sylvania Waters was a little tricky as the Client couldn't quite decide on their fixtures and fittings which unfortunately slowed the job down a little bit. We worked around this by re-scheduling our workload to allow for the delays to ensure it was completed on time.
The idea was to create a 5 star hotel luxury feel to these rooms with a marble finish on all the surfaces. A little reminiscent of Roman Baths full of opulence, space and light. A luxury master bathroom is very typically spacious, grand and often has the aim of recreating the elegance and luxuriousness of a day spa. 
We create our master bathrooms so they can easily be used by two or more people so we try to include things like double vanities, mirrors or even shower heads where we can. In most cases these rooms will have a bathtub, separate shower, lots of storage and a semi-private toilet. Other things that can be added are things like underfloor heating, mood lighting, voice activated controls and more. 
We try and craft our work so that the design spoils the user, creating a peaceful space tucked away from the busy world for relaxation and solitude. This bathroom fit that bill with little luxurious touches with custom marble tiles and finishes.
We can complete luxury master bathroom renovations in Sydney for a house, unit or townhouse. We are able to work with all types of room shapes and sizes creating a design in collaboration with a designer or working with your ideas. For this particular project the home was located in Sylvania Waters in Sydney's Southern Shire. 
The owner was after a complete strip back to a bare room shell to start with a bare slab and timber frame structure. Taking this approach for a renovation project means everything is completely rebuilt and it reduces the chances of issues occurring over time as the room and building ages. We are able to get access to the entire wall cavity, services and apply our attention to detail from the ground up to install piping, electricity, water proofing, tiling and of course things like the shower, bath, vanity and toilet etc minimising any hidden surprises.
What did we do in this luxury bathroom renovation?
Our scope of work for this luxury bathroom renovation was quite extensive and included;
Managing the demolition of the existing bathroom.
Removing all the rubbish.
Concreting and slab preparation.
Some of the electrical work.
New Gyprock for the ceiling and walls.
Timber stud correction.

New door installation.

All the carpentry work.
Waterproofing and certification processes.
All the tiling.
Plumbing services.
Painting the room.
"The boys were referred to me by a good friend of mine. They completed two upstairs bathroom renovations for us which look IMMACULATE.

We were not the easiest clients to work with however the boys went to extreme lengths to please us daily!

They are everything from respectful, super clean, perfectionists and beyond. We were so happy we have decided to use them downstairs to renew all of our plumbing, renovate two old bathrooms downstairs and create a complete new bathroom and balcony area!! Anyone who would like to see the works please contact the boys and we can organise a site visit! A plus plus plus"
What was unique about this luxury master bathroom renovation?
We were able to use some of the best bathroom products with beautiful design features for this room like;
Marble look 600 x 300 porceline tiles.
600 x 600 concrete effect non-slip floor tiles.
Timberline vanity unit for the ensuite.
A bespoke vanity for the master bathroom.
Roca shower mixers.
Nikles twin rail shower head.
Villeroy and Boch toilet suite. 
The bathroom was completed in about 5 weeks which included the delays in the fittings being chosen. A similar room makeover costing between $50,000 – $60,000.
The space was completely transformed from a tired 70's looking bathroom to a modern looking place to relax in that felt like a day spa. The mitre tiling finishes, huge shower niches and rain shower heads have given the room 'wow factor' as well as a relaxing retreat for the owners. 
Photos of the completed luxury master bathroom renovation.
* Please note these before and after photos are not professional property images. They have been taken using a mobile phone making it quick and easy to show off some of our work without gimmicks or photoshop trickery.