Kid Friendly Bathroom Renovations Can Be Stylish & Functional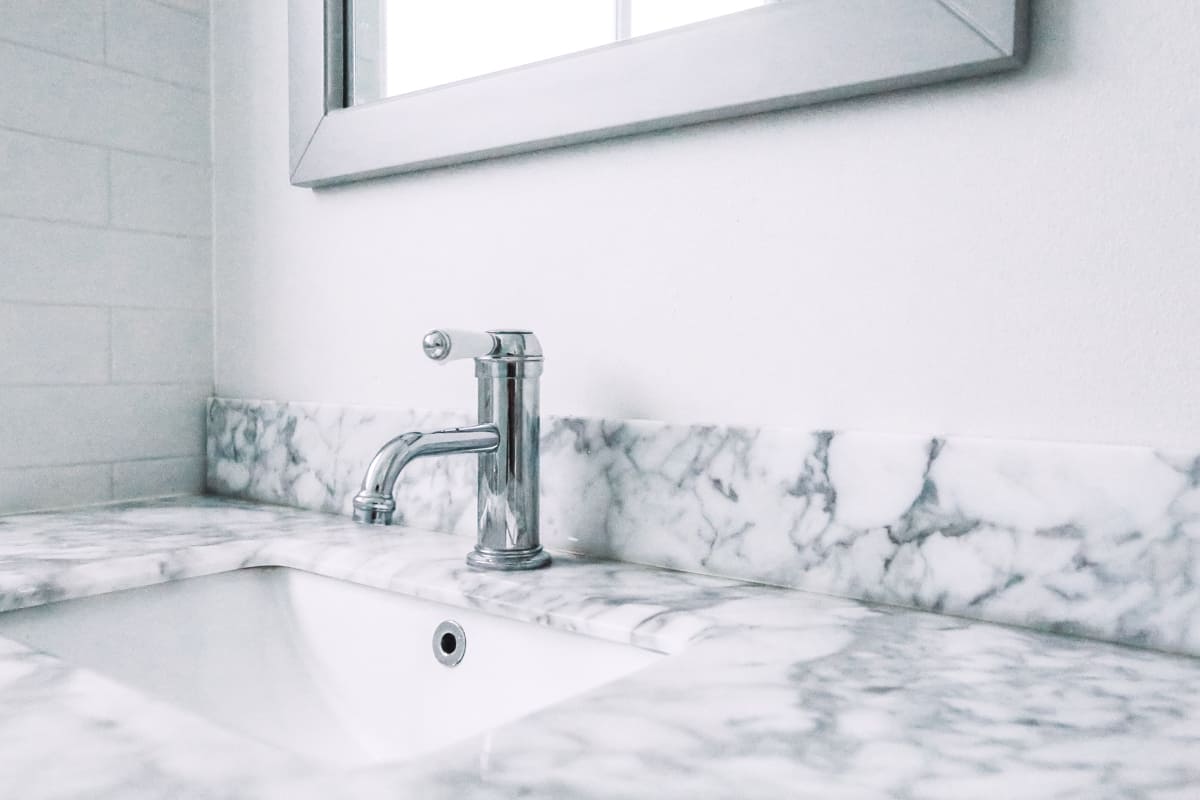 A bathroom renovation designed to be kid friendly but also have a stylish look to match the rest of the interior design.
Nu-Trend is bathroom renovation specialist in Sydney that can help design kid friendly ensuite bathrooms, second bathrooms or even master bathrooms that will be used to take care of the children. We can use all types of materials to renovate bathrooms like marble, timber, glass or porcelain & use these in interior designs that can create functional spaces that kids or adults can use. Nu-Trend is a renovation specialist that take care of everything from the initial interior design, demolishing your existing bathroom, sourcing hardware products all the way through to the final clean up & rubbish removal.
One of the directors, Rick, has children of his own, so when a property owner mentions they have kids and need a new bathroom designed that is suitable for them, Rick can empathise quickly. Rick is not only an experienced bathroom renovator but he is also a licensed plumber so it means you don't need to use multiple trades. Rick has also worked with lots of Sydney interior designers so has learnt about the best ways to design a kids bathroom to be stylish, functional and practical. 
For this renovation project the owner wanted to create a style of bathroom that had floor to ceiling tiling that would be simple to clean and maintain as the kids often make a mess. The layout of the plumbing didn't need to be changed and the property owner wanted a very large shower area to use where all the kids could get cleaned at once. Everything also had to be out of reach of the kids from the taps to shelving. 
The timeframe to complete this type of bathroom renovation is between 4 and 6 Weeks.
The budget: $20,000 – $30,000 depending on the hardware and products chosen.
Our scope of work for this renovation included;
Protection of the property
Demolition of the old bathroom

Custom made shower screens

Replacing the vanity

Floor to ceiling tiling

Hot and cold water rough in

Fit off fixtures and fittings 

Screeding gradients to correct falls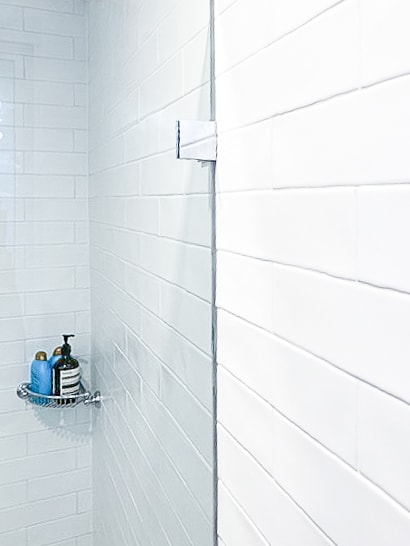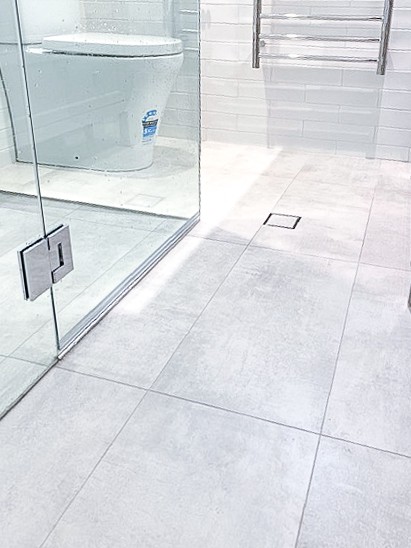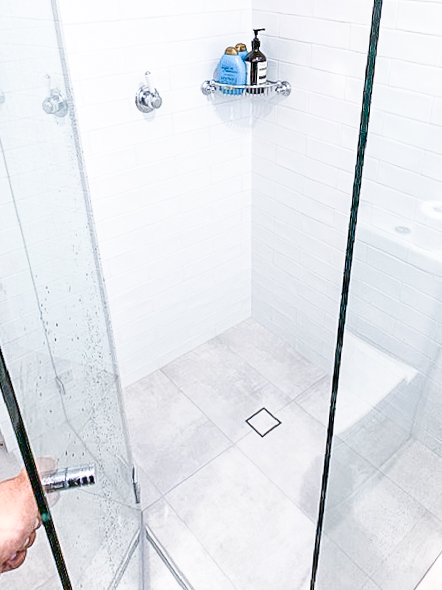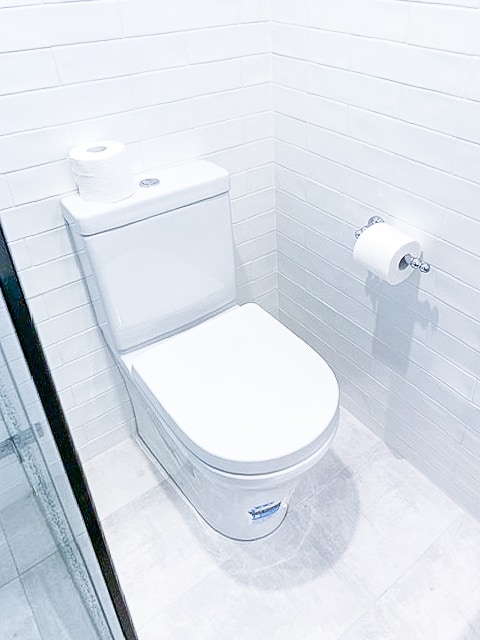 Clever kids bathroom renovation design ideas
1. Walk in shower with custom made screens
Most families might want to have a bath for their kids to get washed in but that can sometimes be impractical as they get older and has different design limitations for small bathroom spaces. So for this renovation we recommended very simple custom made frameless glass shower screens that provided the following benefits when trying to wash the kids;
– The shower screen is mounted to the floor so there is no step or wall to try and get over, the kids can walk straight into the shower.
– There are minimal joins and surfaces which makes cleaning the shower much easier and less chance for the kids to get soap or other things stuck.
– We could maximise the space available and create a larger shower area by not needing to create walls, frames or other things to hold a typical low cost shower screen.
We organised to have custom made drain grate covers made so that it would make it difficult for the kids to put things down the drains and create a blockage. They were designed to match the style of floor tiling to make them basically invisible while still delivering the required drainage for the room.
3. One piece toilet
We helped the owner choose to use a one piece toilet so that there are less surfaces around the seat and rear area around the cistern. Kids are prone to 'missing' when they go to the toilet so it would make it easier to keep the area around the toilet clean. The other benefit is less nooks, spaces, crevices for toys, food or other objects to be placed.
4. Heated flooring
Sydney winters can get quite cold so we also installed underfloor heating to help keep the kids from getting their feet cold in the cooler months. This also helps to heat the room and reduce the chances of the kids getting sick if they are standing around dripping wet waiting to be dried off. Read our guide on How To Keep Your Bathroom Warm In Winter
5. Heated towel rail
For similar reasoning to the heated flooring we also installed a heated towel rail which can be used to have the towels warm before use or can also be a handy way to get them dried quickly after being used. This can help reduce moisture in the bathroom to prevent harmful mould building up.
What did we do in this kids bathroom renovation?
#1 PROTECTED THE PROPERTY
Doing as many unit renovation projects as we do, we understand how stressful they can be for people trying to live through them. Most tradies also make a big mess. We make sure we protect your property with floor and wall coverings to make sure nothing is damaged while we are renovating your house.
#2 PLUMBING & FLOORING INSPECTION
Nu-Trend is a licensed plumber which is an advantage when you are renovating a bathroom. For every project we inspect all the plumbing to make sure it is ready for use. When you combine this with our renovation expertise you get piece of mind.
#3 TAKING CARE OF THE PROPERTY
It is the small things that count. We will check things like how your pets get into the house, if neighbours require access to driveways or other things that are important to how you live in your home to make sure everything goes smoothly during a renovation. 
Some renovation contractors will not include this in their service, they might leave the rubbish from the demolition in your backyard or on the street. Nu-Trend will make sure all the materials and rubbish that are not used are removed neatly ensuring your property isn't left in a mess and neighbours are happy.