Small bathroom renovations for units in Hurstville
Nu-Trend is the most experienced bathroom renovation company based in Hurstville. We weren't able to get professional photos for this unit that we renovated in Hurstville because of COVID restrictions but it is an example of the contracting work we are able to do for home owners.
1970's bathroom in a unit block


Renovation budget of $20,000 – $25,000


Two week renovation period


Scope of work that included full room demolition, new wall tiling, toilet installation, new shower, vanity installation
The project site for this small bathroom renovation was in a unit block in Hurstville, Sydney. Sadly the Client had already contracted another bathroom renovator and paid a seven thousand dollar deposit but then never heard from the company again. We made sure we could quickly rectify the situation and complete this renovation correctly.
The client had a bathroom that was a 1970's style, very dated and quite tired. They were on the upstairs level of a unit block so we quickly got to work by letting the neighbours know, placing warning signage and floor coverings to protect the property.
The client wanted a very simple, minimalist style to her bathroom that would be easy to maintain with a complimantary powder room makeover. The Client had already chosen all the materials from BBC Tiles and Bathware in Rockdale which was very modern large format white tiles and matt black fittings for the shower and vanity.
For Units the bathrooms generally fall into three categories;
Small bathroom for a unit with separate toilet – this would normally contain a combined shower and bathtub, vanity, mirror and window situated off the hallway. These rooms would typically be 3 metres square and need a renovation budget from $15,000 or more depending on size, fixtures, fittings etc.

 

Small bathroom for a unit with combined toilet – some units are a little larger so they may have separate bath and shower with a toilet in the same room. These rooms would typically be 4 metres square and need a renovation budget from $2,000 or more depending on size, fixtures, fittings etc.

 

Ensuite bathroom – some units will be large enough to have a stand alone bathroom, but then a small ensuite off the main bedroom. Typically this would be 3 bedroom units that are larger format. These rooms are normally 4 metres square or smaller with a renovation budget of between $20,000-$40,000 depending on size, fixtures, fittings etc.
For some units it could be possible to renovate the bathroom for less than $5,000 but this will typically be a makeover that uses existing walls, tiles and hardware rather than being a complete re-do. By doing a complete renovation you get to start from scratch and make sure the room is stripped bare to avoid any unforeseen surprises. 
In this situation that was the case, once we had stripped the room we showed the Client the poor standard of their plumbing. It wasn't sized correctly and it had become quite corroded with poor bracketing. What can happen with simple makeovers is the underlying structure isn't inspected or updated which can lead to leaks or other problems later on.
Our renovating scope of work for this renovation.
Our scope of work for this renovation in Hurstville was extensive and included the following items while the Client supplied all their own products;
Managing the strip and demolition of the existing bathroom & removing all the rubbish.
Re-instate plumbing hot and cold water with the drainage staying as is via the concrete slab withing the ceiling space of the neighbour downstairs.

Waterproofing and certification processes.

Remove render and re-render all walls

Prime and waterproof bathroom with waterproofing to be applied below and under the screed with 3 days drying time in between.
Re-screed, sand and cement the new floor and allow 7 days to completely dry.
Tile all the walls and floors
Grout all the floors and walls
Paint the existing ceiling
Fit off the Client supplied items such as taps, accessories, pc fixtures, mirror etc.
Test and commission
Professional industrial clean of the room at completion.
The simple black and white style chosen by the Client meant that this bathroom would be sleek, simple and age very well due to its simplicity. Using large floor to ceiling tiles would also mean lots of light is reflected to help give the room a bright, fresh, spacious feel.
Before and after photos of the completed small bathroom renovation.
Unfortunately we were limited with the photos we could take as this small bathroom renovation was completed during the COVID 19 outbreak, so we needed to finish and leave the site as quickly as possible.
See more examples of our renovations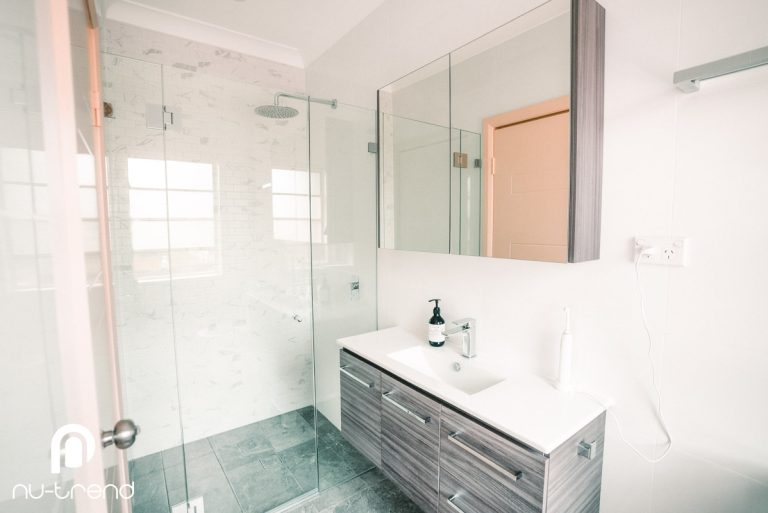 The ensuite bathroom in Mortdale needed an renovation to look and feel more modern, have more storage and more natural light.
READ MORE >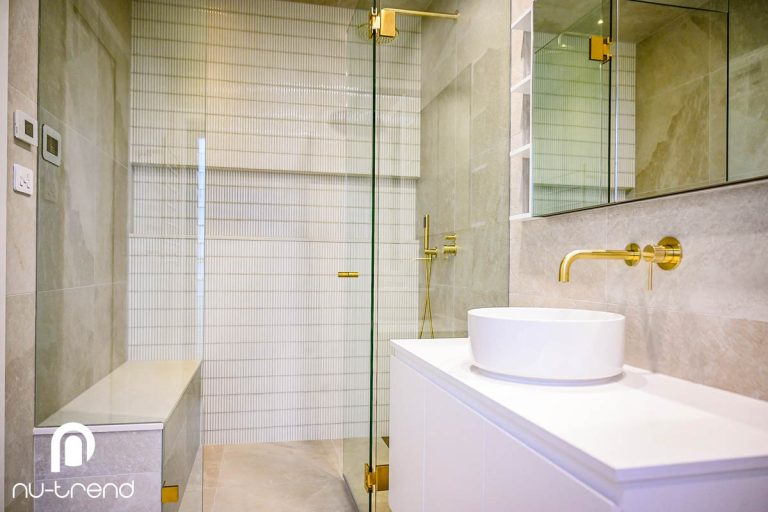 We converted this old bathroom to have a brand new steam shower room installed complete with custom hardware storage
READ MORE >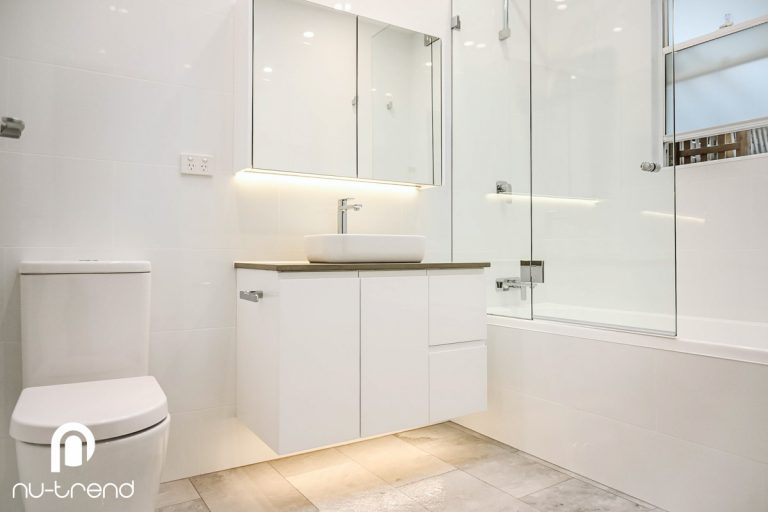 We renovated this bathroom in Leichhardt to install a new bathtub, tiling, vanity, toilet and repair the flooring that had asbestos in it, then built a new subfloor.
READ MORE >
Clean and tidy Hurstville renovation company
These are the things you don't often see or read about, but even when we do our small bathroom renovations we take extra steps to make sure your property is protected. We purchase extra materials to protect floors, seal other doors of the property from dust and keep carpets or floorboards clean. We also make sure our tools are kept tidy and in place during the project.  
How to save money on bathroom repairs in Hurstville
The single biggest discovery with this property was the poor state of their existing plumbing. Luckily this Client had requested a full strip back of the room. Being an older unit block it was a wise decision and meant we can work from a fresh base rather than assume all the existing services were in good condition.
This single decision has saved the owner money on bathroom repairs down the track. We were able to identify the problems which included;
Corroded pipes
Poor sizing and joins.
Bracketing that wasn't done correctly.
Pipe movement that was wearing away at joins & would eventually lead to leaks.
While it was an unforeseen issue to discover, by going the extra step we could ensure everything was corrected before all the new renovation work started. What can happen later on is that a water leak may start in another location like the vanity or floor or even in the wall. To isolate it could mean tearing down parts of the room again, even more complicated with the property being in a unit block.
Once we presented all our findings, we walked through each step with the Client who agreed to have everything corrected. So we got to work and completed this renovation within 2 weeks with a similar room reno costing between $20,000 – $40,000 depending on materials. Best of all the Client has complete peace of mind knowing their new bathroom is visually stunning but also has the right framework underneath it.