A complete renovation of a small bathroom with Terrazo floor tiles inspired by Adore Magazine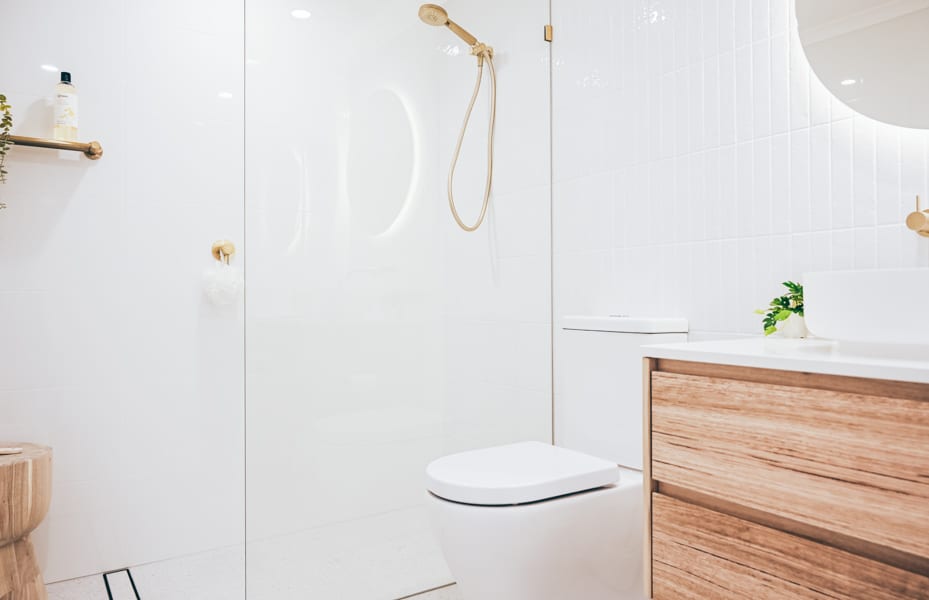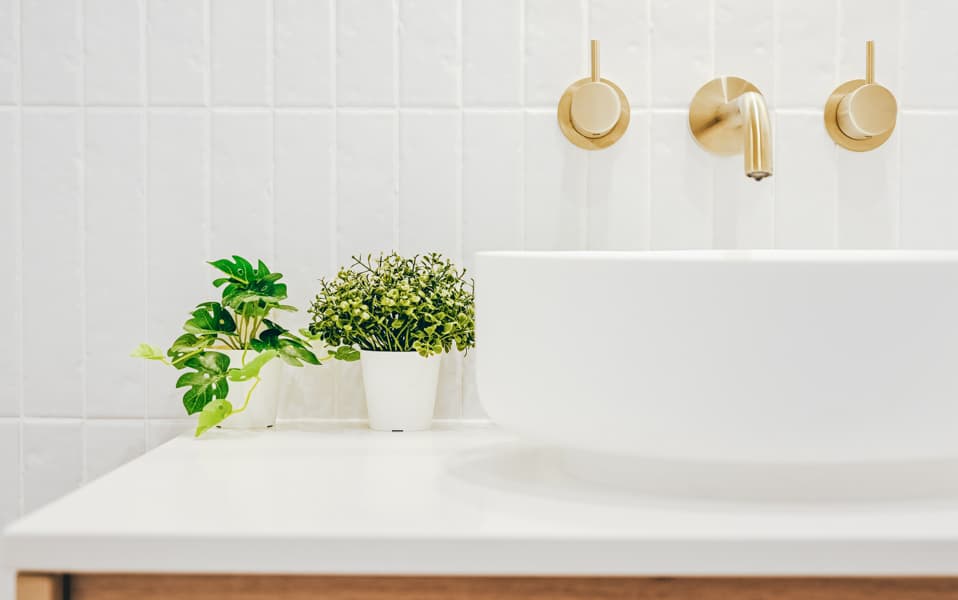 Using inspiration from Adore magazine can create great looking interior designs for bathroom renovation projects.
The photo of the old bathroom on the left says it all really – old, tired, cold, boring and a very common bathroom interior design for properties built in the 80's and 90's in Sydney. This small bathroom in Alexandria had a single entry with no windows; when combined with the slightly off white wall tiles, dark flooring and cheap laminate vanity cupboard, it immediately felt cold and uninviting. 
The latest bathroom renovating trends that we are seeing people use include;
– matte finishes on taps and mixers
– soft wood textures being used for cupboards and vanity units
– frameless glass, single piece, shower screens
– soft mood lighting that uses warm colours
– natural plants
For the interior design of this bathroom the owners got inspiration from a room that was featured in Adore Magazine, Quite literally in fact, with all the same products used except for the wall mirror with LED lighting. So the renovation brief was to completely demolish the old bathroom and re-create a new interior design using all the design elements from the magazine article.  
As you will see from the before and after photos, using an interior design idea from a magazine is a great way to save money instead of paying for an interior designer. In some cases, like this project, all the products were also listed in the magazine so it made sourcing quick and easy.
The other benefit from using magazine articles for renovation inspiration is that you can instantly see the required budget for all the items as most will publish the RRP pricing of each item. This means everything from tiling, taps, mixers, vanity, sink etc are listed out so you can get a guage on the cost to renovate a bathroom.
Nu-Trend was chosen as the preferred renovation contractor to complete this project and our first step was to demolish the old bathroom by removing the old tiling and waterproofing to expose the bare walls and piping. 
Timeframe: The time to complete this type of bathroom renovation is around 2-3 weeks and what can create a variance in the timing is access to the property, delivery of products or any changes made to the design during the build.
Budget: For this complete bathroom renovation which included stripping back the walls & floors was $25,000-$30,000 in labour. The final budget depends on the products chosen for the room, the type of tiles etc. Our scope of work for this renovation included;
Protection of the property
Demolition of the old bathroom
Custom made shower screen
Bulk head wall fabrication
Exterior wall repairs & relocation of the entrance door
Replacing the vanity
Floor to ceiling tiling
Hot and cold water rough in

Fit off fixtures and fittings 

Grouting 

Wall tiling 

Floor tiling 

Waterproofing 

Screeding gradients to correct falls 

Painting
Interior design and products used in this complete bathroom renovation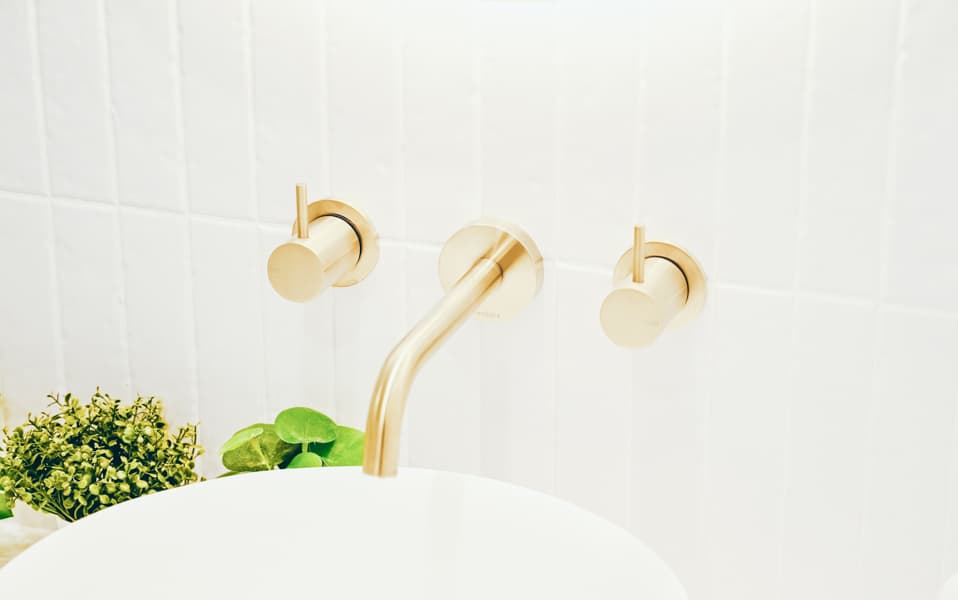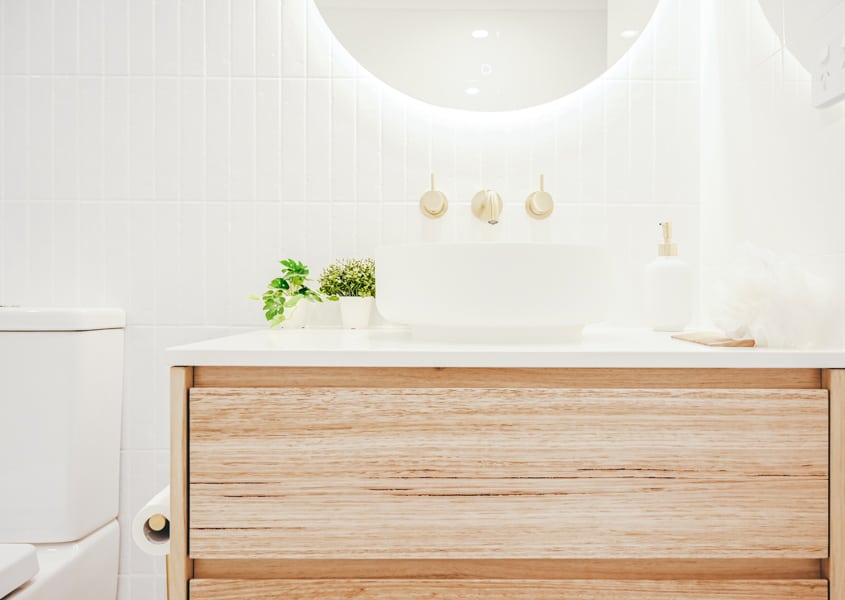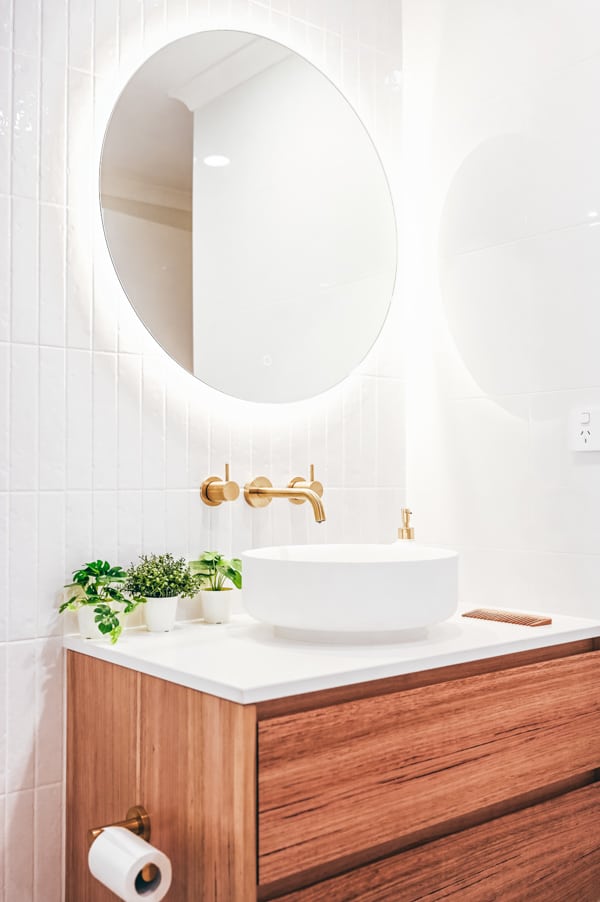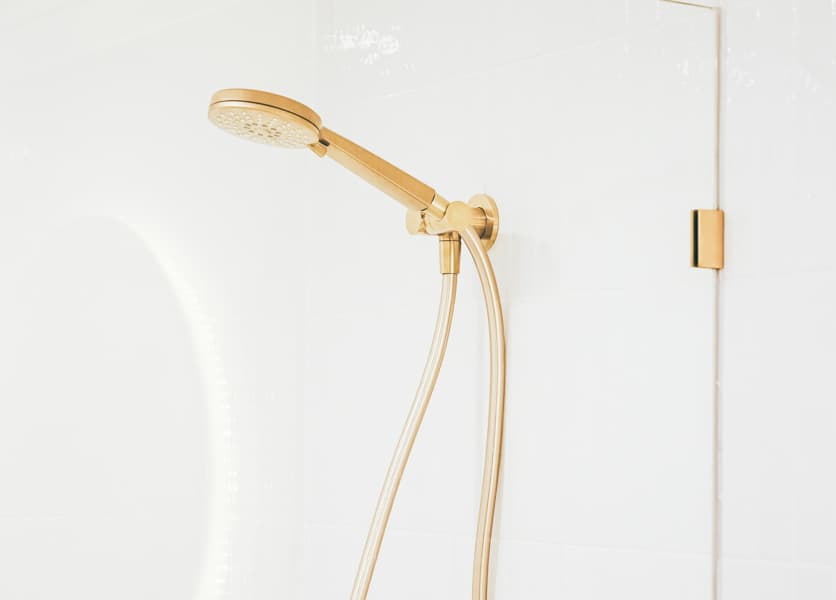 By using the Adore Magazine article the owners of this property had a really easy time selecting the products and they didn't even have to worry about the colours or textures working together. The hardest decision was what plants and hair care products to put into the bathroom for the photo shoot. This is what was used in this bathroom.
The other elements in this interior design included
Custom made glass shower screen; the frameless design reduces the visual clutter and is custom made to suit the room vs pre-made fixed shape designs. There are no clumsy tracks or messy frames required just a single sheet of glass that is easy to clean and very safe to use

Custom made shower drain; created using a matching floor tile it blends into the floor and you hardly notice it.

The other unique element were the feature wall tiles that are 

hand made which means no two tiles are the same. It creates a subtle texture to the wall which adds interest to the room & adds to that warm, inviting feeling. Tile Cloud also lets you select 5 samples on their website for just $15 which makes decision making even easier as you can sample them in your property. 
To save money on the tiling the plain white gloss tiles on the other three walls were from National Tiles and cost around $10 per square metre. By using a cheap tile like this on most of the walls you can save money and allocate that to a feature wall either behind the vanity or the main shower area to give the room a splash of colour or texture.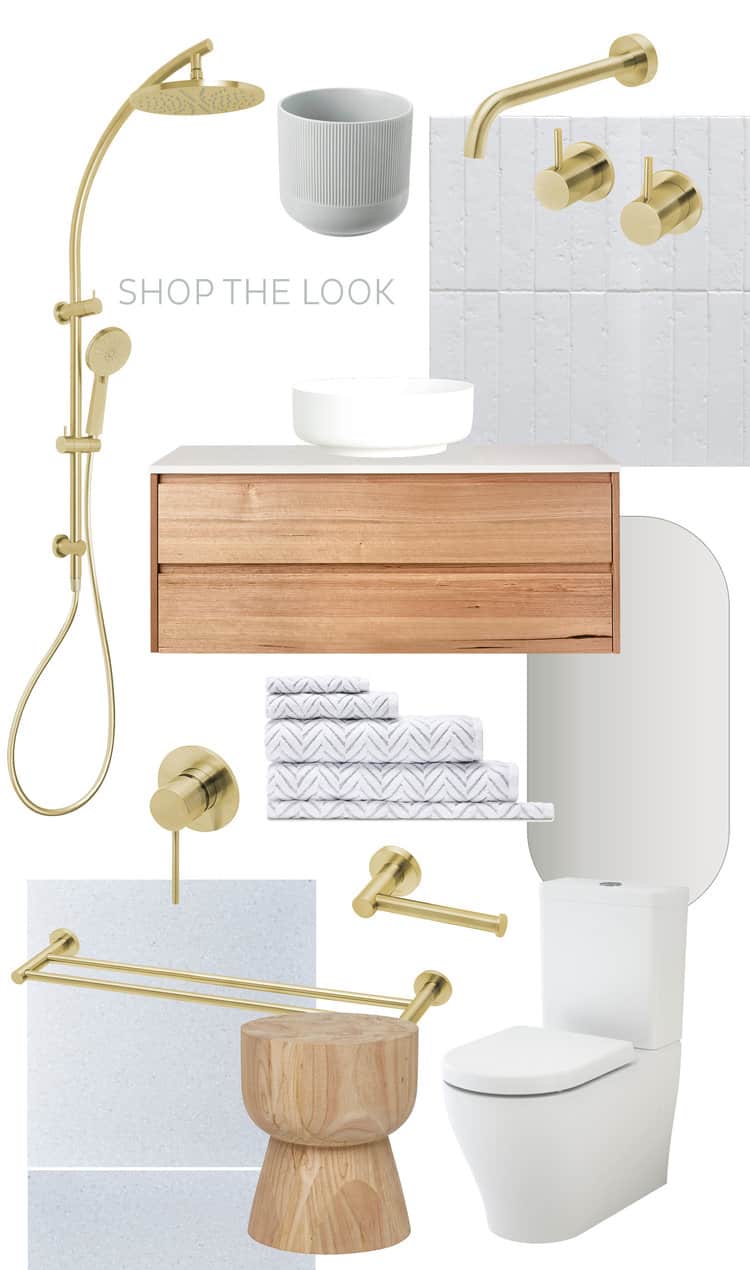 Why stripping a room to the bare walls is the best way to complete a renovation in Sydney.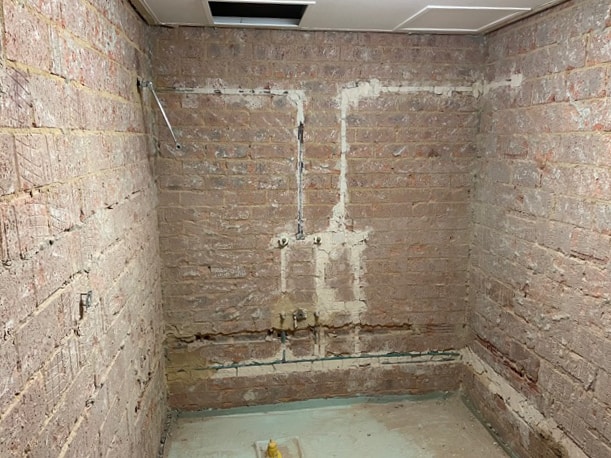 We wish we could earn a dollar for every person that asks us for a renovation discount or whether we can renovate a bathroom for less than $5,000. Have a read of some of the problems this can cause in our Renovating Advice section. 
The thing to consider is that if you are investing money to improve the value of your home, it pays to do it the right way and this means stripping a room back to the bare walls. When you do a bathroom makeover you could simply be covering over existing problems with waterproofing or tiling without even realising it. Sure you save money but you can't really deliver a high quality bathroom renovation that will stand the test of time. You are also limited with what you can do as you are forced to use the existing placement of fixtures.
By stripping a room back to the bare walls we can ensure that everything from the piping, waterproofing, floor or wall levels all the way through to gradients and tiling are perfect. That is why a complete bathroom renovation can make so much more sense compared to just a makeover.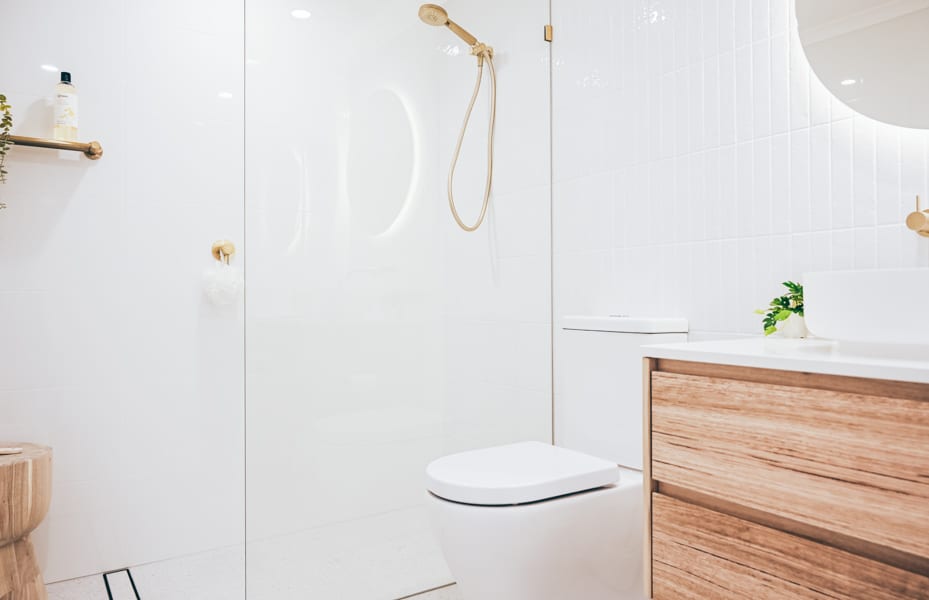 What did we do in this renovation project?
#1 PROTECTED THE PROPERTY
Doing as many unit renovation projects as we do, we understand how stressful they can be for people trying to live through them. Most tradies also make a big mess. We make sure we protect your property with floor and wall coverings to make sure nothing is damaged while we are renovating your house.
#2 PLUMBING & FLOORING INSPECTION
Nu-Trend is a licensed plumber which is an advantage when you are renovating a bathroom. For every project we inspect all the plumbing to make sure it is ready for use. When you combine this with our renovation expertise you get piece of mind.
Some renovation contractors will not include this in their service, they might leave the rubbish from the demolition in your backyard or on the street. Nu-Trend will make sure all the materials and rubbish that are not used are removed neatly ensuring your property isn't left in a mess and neighbours are happy.
We can install a toilet, bath, vanity or shower for all renovation projects.
Yes, we make sure from start to finish your property is kept clean and returned to its original state once we have completed the project. We know how much of a hassle renovating can be but we look at all the little things to try make it more pleasant.