Renovator in Seaforth for master, ensuite & kids bathrooms
Nu Trend regularly renovates bathrooms on the Northern Beaches in Sydney, in fact most of the renovation contracting work we do is for complete bathroom renovations in Sydney in the Sutherland Shire, Eastern Suburbs & suburbs like Seaforth. We are local renovating contractors that are licensed plumbers and bathroom renovators which means we handle everything from end to end.
We love working with this client and the project scope including renovating three rooms in this Seaforth property. The home owner is a talented designer and knew exactly how she wanted to style and present each of her bathrooms. We were fortunate to be able to draw on her design skills and place our focus on the renovation build to deliver the separate rooms that included a new master with bath, ensuite & kids bathroom with huge shower.
We renovate bathrooms in Sydney whether it is a house, unit or townhouse. We are able to work with all types of room shapes and sizes creating a design in collaboration with you, working off your ideas or engaging with an interior designer. For this particular project the home was located on the Northern Beaches in Seaforth and the owner wanted to renovate their;


Master Bathroom – a complete bathroom renovation which meant a complete stripping back of everything in the current room and starting with a bare slab and timber frame structure.



Ensuite Bathroom – we did a remodel of this room using the existing structure, services etc and replaced all tiling, toilet, vanity, sink etc.



Kids Bathroom – this design was a little unique and the shower had to be large enough to easily accomodate the parents and children to make it easy for them to shower together. So the design used an over-sized shower area, underfloor heating and a layout that would be suitable to manage kids using it.
So our approach for this site was mixed with a complete rebuild reducing the chances of issues occurring once the room ages. We are able to get access to the wall cavity, services with attention given to install piping, electricity, water proofing, tiling and of course things like the shower, bath, vanity and toilet. For the bathroom remodel of the ensuite we didn't encounter any nasty surprises so it meant the project was completed smoothly and on time.
In the end it has been one very happy client who has now used us for a few different room renovations over the last few years. On this particular project we also had to be very mindful of the kids in the house, so we took extra steps to keep them safe while working on site or leaving the property each night.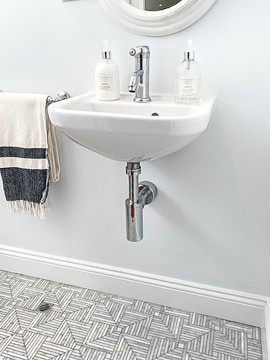 What was involved with this Sydney bathroom renovation project?
Our scope of work for this renovation was quite extensive and included;
Managing the demolition of the existing bathroom.
Removing all the rubbish.
Concreting and slab preparation.
Some of the electrical work.
New Gyprock for the ceiling and walls.
Timber stud correction.
New door installation.
All the carpentry work.
Waterproofing and certification processes.
All the tiling.
Plumbing services.
Painting the room.
What were the unique interior design elements of the bathrooms?
We were able to use some great products in these bathrooms like;
Bath – free standing Victoria Albert bathtub


Vanity – Vanity by Design with Hampton style finishes.


Toilet – Villeroy and Bosch


Tiles – Italian hand cut stone tiles with bevelled Sun Way tiles on the walls.


Shower – bespoke closed, over-size, floor mounted shower screen.


Lighting – Wall pendant lighting to add a Hampton style to the room


Floor – underfloor heating.
Photos of the finished bathrooms renovated in Seaforth
Master Bathroom – brand new floor and wall tiling, walk in shower, freestanding bath & beautiful new skylight give this new room plenty of light and space with a luxury feeling.
Ensuite bathroom – this is a simple room so the in wall toilet creates more space, the exposed pipe sink reduces the visual bulk vs a cabinet & the textured tiles give the room some interest.
Kids bathroom – this is all about practicality. The floor plan was changed to enable the installation of a huge walk in shower to make it easy to get the kids washed each night.