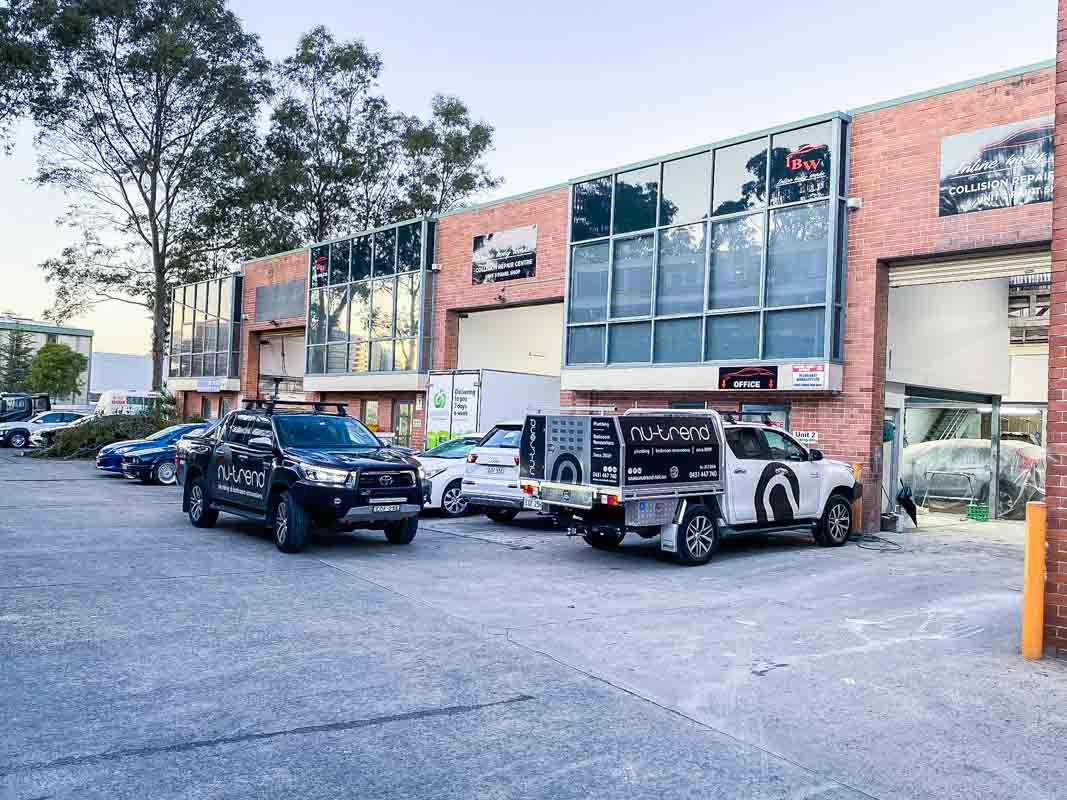 A clever commercial small bathroom renovation
Our commercial small bathroom renovation brief
Nu-Trend is a local commercial small bathroom renovation specialist that can complete all types of renovation projects to help small business owners in Sydney. We provide small bathroom renovation ideas to help solve all types of scenarios for business owners who are looking to minimise the cost of a remodel but maximise the space that is available considering rent is so expensive in Sydney.
The team at Inline Body Works had an old toilet under a stair case area of their warehouse based workshop in an industrial area that wasn't getting used very much. The business owner, Tim, wanted some small bathroom renovation ideas for the small space that he had. The goal was to try and use the whole space available to create a shower and toilet area for his staff to use. We love jobs like this because we have to come up with clever design ideas for small spaces that are functional while keeping the cost of a bathroom remodel at a reasonable level.
Our bathroom renovation design idea
While his staff might have loved a small freestanding bath to soak in after a long day working, there just wasn't the space or budget for this. The bathroom was actually under a staircase which also meant the shape of the walls and roof were not your typical 3m x 3m room that was completely square.
So our solution was to;
Completely strip the old toilet and sink.
Renovate the room with floor to ceiling tiles.
Relocate the plumbing so that the toilet and sink were in the right place to maximise space.
Install a full length floor recess so that any water could be drained easily from the whole room.
An easy to clean toilet with smooth surfaces.
A stainless steel sink with exposed piping to make the whole room easier to clean and keep costs down.
A wall mounted dual shower head mixer.
So the idea for this commercial small bathroom renovation was to basically turn the room into a dual use toilet and shower that is one open space with no internal walls, no need for a shower screen, while also being easy to clean with full floor to ceiling large format tiles.
Commercial small bathroom renovation ideas for a business
For most business owners they wouldn't go to this effort to provide their staff with a great bathroom. Although Tim wanted to give something back to his staff who work long hours and help his business grow. Here are some of the things we did for this renovation.
CLEAN WORK ENVIRONMENT  – We had to be even more careful than normal to keep the environment clean during the renovation as Tim's business repairs and resprays damaged vehicles. renovate this commercial small bathroom so that his staff could use it as a toilet and shower. We made sure that the skip bins were lifted and removed from the site without leaving any debris, with minimal disruption to other businesses.
WORKING OUTSIDE TRADING HOURS – to minimise disruption to his business we did most of the work outside normal trading hours so that the renovation could be completed quickly without stopping their normal trade. It also meant there wasn't excessive noise or smells from sewage pipes being exposed or using the wet saw.
CHECKING THE CONCRETE SLAB – we wanted to make sure that the industrial warehouse space being renovated had a completely level and flat concrete slab to work with. With the area being used for heavy industrial businesses the foundations can be prone to moving or not being even and this can cause the bathroom to have issues later.
CHECKING FOR SERVICES – it is always critical to make sure there are no other services that might get affected by a renovation, especially for industrial or business properties. We needed to make sure we could run the plumbing drainage and water to the right locations. 
KEEPING NEIGHBOURS HAPPY  – we needed to make sure all the neighbouring units weren't disrupted, so we planned our access to get in and out as well as help with things like traffic management.
REPLACING EXTERNAL ITEMS  – we made sure things like the fire extinguisher and sliding door are all replaced in the same locations they were when we started to finish off the job. 
So for this project, many people might not think such a small space under a staircase is something you can use to create a bathroom and in many cases, people will block it off with gyprock and maybe just use it for storage. Although with some clever design ideas you can make these spaces very usable and as we proved with this example, a fully functional bathroom. 
Nu-Trend can provide all types of small bathroom renovations 
Commercial small bathroom renovations before and after
* Please note these photos are not professional property images. They have been taken using a mobile phone making it quick and easy to show off some of our work without gimmicks or photoshop trickery.
The finished renovation project
During the renovation project
How we make bathroom plumbing stress free.
We make sure everyone knows what areas of the house can or cannot be used. So for example we make sure there are warnings on the toilet or sinks to make sure someone doesn't use them be accident before they have finished being installed.
A shower wall niche has become a modern trend for new bathroom renovations. For this room it was a full length niche spanning the wall which made it a design feature and practical element for the shower area. It utilises empty space in the wall to turn it into a shelf for storing common shower items. No more ugly hanging baskets or other ugly items in your shower but have an easy to reach shelf.
A feature wall can add impact and style to any bathroom size whether it is for a house, unit or apartment. It gives you that wow factor that can transform a bathroom.
A floating vanity unit can help make a room feel larger. Visually what happens is your eye can see more of the floor and naturally the room or space feels larger because you can see further. By placing a vanity unit, cupboard or other furniture on the walls in a floating style you can make any small bathroom feel larger.
A complete clean up from street to bathroom. We don't leave mess anywhere and make sure every element has been cleaned to return it to normal.
We also take care of the little things like making sure the rubbish removal bin is covered so that dirt, debris etc doesn't fly out on the street and it makes it easier to be taken away.
"I recently employed Rick Karagiannis and the team from Nu-Trend. From the moment they agreed to come and quote on the job, I knew I had a good team. They were on time, efficient, realistic and keen. This sadly is unusual when attempting to get tradesman to your house.

The process of renovation was clearly mapped out and appropriately costed. This is not my first renovation or build and so I was ready with an armful of questions. Both Rick and Robby were able to promptly answer any queries I had. They made the effort to travel to the company I had chosen to use for bathroom products and therefore had a good understanding of what was ahead of them. I have no hesitation in recommending Rick, Robby and their team."
"Called nu trend as we needed urgent works to our bathroom. They came and installed our new toilet suite in a timely matter and even cleaned up after they finished. Easy to deal with and very responsive. Would definitely use again for future renovations and bathroom fixes! Thanks guys"
"The boys were referred to me by a good friend of mine. They completed two upstairs bathroom renovations for us which look IMMACULATE. We were not the easiest clients to work with however the boys went to extreme lengths to please us daily! They are everything from respectful, super clean, perfectionists and beyond. We were so happy we have decided to use them downstairs to renew all of our plumbing, renovate two old bathrooms downstairs and create a complete new bathroom and balcony area!! Anyone who would like to see the works please contact the boys and we can organise a site visit! A plus plus plus"