Combined bathroom and laundry renovation ideas in Sydney with a new floor plan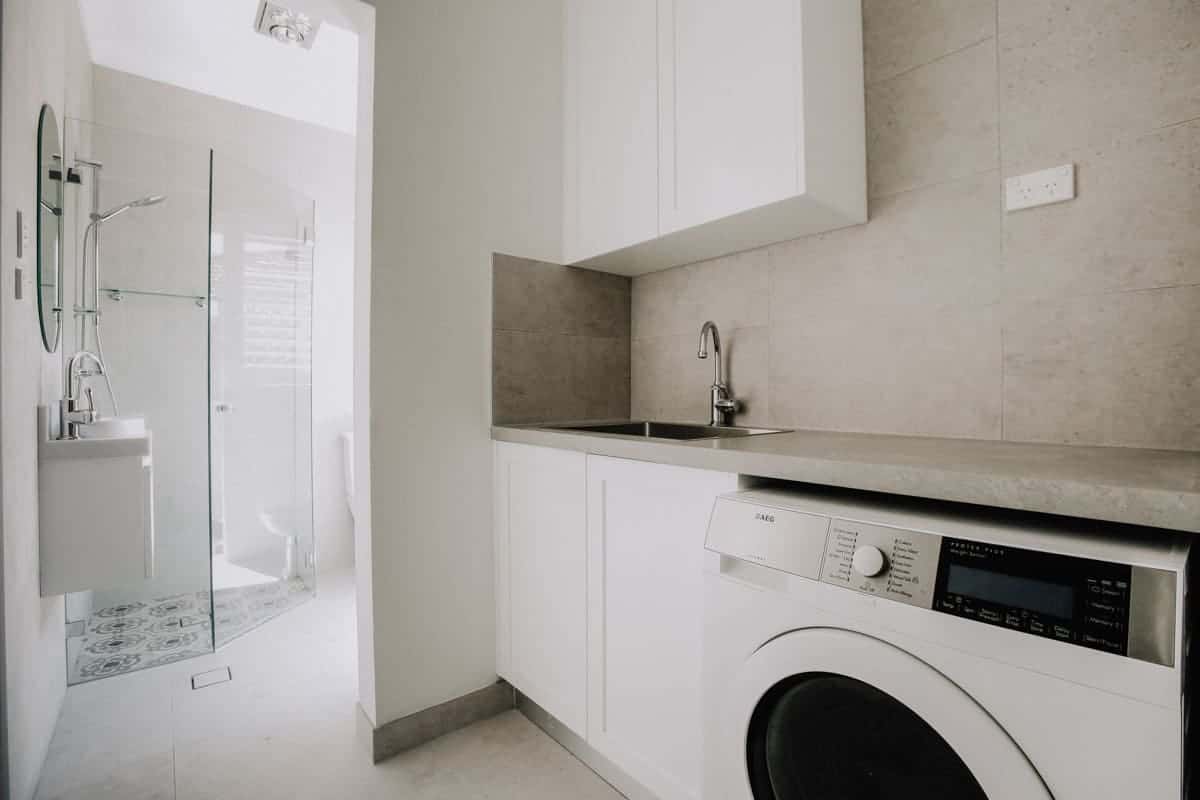 We changed the floor plan of this combined bathroom and laundry renovation to create more usable space.
Nu-Trend is a laundry renovation company in Sydney that can help property owners move a toilet in a bathroom or move the shower plumbing to create a combined bathroom laundry set up. Nu-Trend is a local renovation specialist that has been operating since 2009 and completing many different laundry renovation projects for houses, units, townhouses and hi-rise apartment blocks. We can take care of everything from the initial design, sourcing products all the way through to laundry demolition, laundry tiling in Sydney & the final clean up. Our experienced team know exactly how to manage working in small spaces to transform your laundry into a more usable space with extra storage, light and ventilation.  
Timeframe: 4-6 Weeks
Budget: $30,000 – $40,000 
For this laundry and bathroom combination renovation project the client had selected products from the amazing team at the Bathroom Collective in North Manly with products from the Astra Walker Olde English range and an ADP London Mini Vanity Unit. Our scope of work for this renovation included putting a washing machine into the bathroom, new laundry sink, new shower in the laundry and more;
Protection of the property
Demolition of the old bathroom & laundry
Moving the toilet on the concrete slab
Moving the shower plumbing
Repairing the walls

Hot and cold water rough in

Fit off fixtures and fittings 

Screeding gradients to correct falls 
You can maximise the value out of laundry room renovation cost when it is combined with renovating your bathroom. Both of these rooms are treated as 'wet' areas in a property and typically are next to each other or share a common wall. One of the best cheap laundry renovation ideas is to combine the laundry & bathroom into a single space in the home which can improve ventilation, storage space, lighting and usability with a shower, toilet, washing machine, dryer and vanity all within easy reach. 
So it is very common for some property owners to have their laundry in the bathroom where you would have your washer and dryer housed in modern cabinets with great storage options vs the older standalone metal sinks. We can easily help any property owner create a combined bathroom laundry floor plan even if it is on a concrete slab. Nu-Trend only uses the latest modern laundry ideas in Australia including modern cupboards, laundry tiling or even laundry door and window combination installations.
How much does a combined bathroom laundry floor plan renovation cost in Sydney?
A qualified plumber can help you move your laundry or shower plumbing to help change your floor plan.
Nu-Trend is a Sydney laundry and bathroom renovation specialist that prides itself on being able to deliver high quality laundry and bathroom renovation projects in Sydney. We even share lots of trade secrets to make sure property owners are not getting misled by cheap quotes or poor work – see our Bathroom Renovation Advice
What can add cost to a laundry and bathroom combined renovation?
For this combined bathroom and laundry project the Client wanted swap the location of the laundry, shower and toilet so that you could have direct access from the back yard to wash your hands or have a quick shower. Making a change to the floor plan is possible for most properties and will depend on exactly where the existing waste and water supply locations are.
Sometimes it might be necessary to move the toilet on a concrete slab or move the shower plumbing in the wall, it just depends on the situation. Either way because Nu-Trend are qualified plumbers and bathroom renovators we can take care of both tasks to make sure you deal with less trades & we can make sure it is done to Australian Standards.
Nu-Trend has completed many laundry renovations over the years where we have moved doors or moved a toilet on a concrete slab to create more space, light and better storage in the room.
Can an interior designer help with a laundry renovation?
In many cases the laundry is a very small room to start with so this can limit the design decisions that can be made. Sometimes using an interior designer can help you to utilise the space better as they can custom design the room to suit your needs better. An interior designer will look at the overall living arrangements and other spaces in the house to work out clever laundry renovation solutions to maximise space usage, light, ventilation and storage.
Why do laundry renovation quotes vary so much between renovation companies?
Some people might compare quotes from their friends from a similar sized laundry renovation and wonder why there is maybe a $5,000 or $10,000 difference. Although many different factors come into play;
– What was the access like for the renovation?
– Are existing building materials being used?
– Will a Gyprock or renderer be required?
– Is their stair case or single level access?
– Are there noise restrictions that limit the times we are able to work?
– What is parking like around the location?
– Are the existing depths and heights being used?
– What is the condition of the existing room & does it need repairs?
– Will the plumbing need to be moved?
You can save money on a laundry renovation if things like the access is easy, you are using existing fixture locations and time is saved on labour from getting into and out of the room faster or using an existing floor plan.
A combined laundry renovation with washing machine, new sink, cupboards & fittings from the Astra Walker Olde English range
A laundry renovation can use storage principles from kitchen renovation projects to create more usable space.
For this laundry we installed new cabinets, a large, deep stainless steel sing and overhead cupboards. It means the benchtop can be used to clean up dishes from out door entertaining or there is plenty of space to leave a basket of clothes or fold up the washing. We left plenty of space to fit a washer / dryer combo unit & also lots of under bench storage. 
This type of laundry renovation can transform a typical old laundry into one that is practical with lots of space, ventilation and storage.
The products used in this laundry renovation;
Vanity: ADP Australia London Mini with Carrara Cherry Pie Top & Satin White Cupboards
Laundry mixer: Astra Walker Olde English Signature Sink Mixer Chrome A50.08.00
Basin mixer: Astra Walker Olde English Signature Basin Mixer Chrome A50.03.00
Toilet: Rak Washington Closed Coupled S Trap 240mm Complete Toilet Suite (White/Chrome) 060130W
Shower head: Astra Walker Icon Integrated Rail Shower with Multi-Function Hand Shower Chrome A69.43.V4.00
Toilet roll holder: Astra Walker Olde English Toilet roll holder Chrome A51.61.00
Towel rail holder: Astra Walker Olde English Towel rail double 900mm Chrome A51.57.9.00
Combination bathroom and laundry renovation frequently asked questions
Bathroom and laundry combined renovation with a shower, vanity & washing machine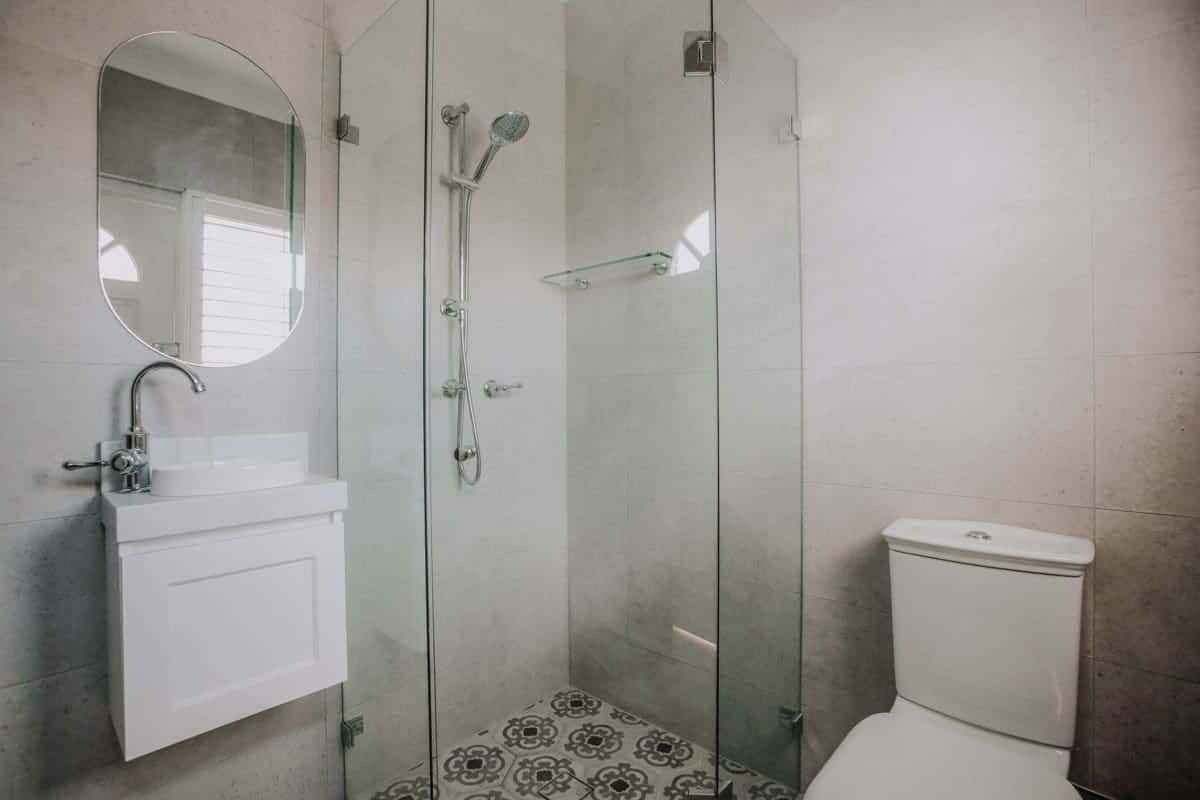 A very practical combination bathroom laundry renovation with custom made glass shower screen
The bathroom in this renovation needed to have lots of space so that people could come from the pool outside then get changed and have a shower. There wasn't any need for a large cabinet and vanity unit as the space is used as a second toilet and for guests who are in the backyard. The floor to ceiling tiles help bring the space together with the laundry but also make it easy to clean.
Laundry door and window combination renovation ideas with combined bathroom
Sometimes changing the floor plan means the old window is of no use
When you change the floor plan of a bathroom or laundry it might be necessary to not only move the existing plumbing but change doors, windows, ventilation or even the electrical wiring. For this project the Client wanted to block off an existing window so we helped them find matching bricks.
Doing this type of product matching can take time especially when the property is nearly 30 years old. It took us two days and while it sounds easy there are many things to consider when matching bricks;
– Styles
– Textures
– Colour
– Supplier
Then you have to think about weathering, sunlight, rain, moisture and other factors that can change the colour of old vs new or replacement bricks. We tried our best and luckily our Client was happy with the result. It meant that they could block off an existing window to create more wall space inside the property that helped create more cabinet space. 
Laundry demolition and tiling company in Sydney.
#1 PROTECTED THE PROPERTY
Doing as many house renovation projects as we do, we understand how stressful they can be for people trying to live through them. Most tradies also make a big mess. We make sure we protect your property with floor and wall coverings to make sure nothing is damaged while we are renovating your house.
#2 PLUMBING & FLOORING INSPECTION
Nu-Trend is a licensed plumber which is an advantage when you are renovating a bathroom. For every project we inspect all the plumbing to make sure it is ready for use. When you combine this with our renovation expertise you get piece of mind.
#3 TAKING CARE OF THE PROPERTY
It is the small things that count. We will check things like how your pets get into the house, if neighbours require access to driveways or other things that are important to how you live in your home to make sure everything goes smoothly during a renovation. 
Some renovation contractors will not include this in their service, they might leave the rubbish from the demolition in your backyard or on the street. Nu-Trend will make sure all the materials and rubbish that are not used are removed neatly ensuring your property isn't left in a mess and neighbours are happy.
#5 MOVING THE SHOWER PLUMBING
For this project we helped move the toilet on the concrete slab as well as the shower plumbing. Moving the plumbing helped to achieve the new floor plan that was needed for this renovation project.