Complete bathroom renovations in North Sydney
When a client mentions "Change it all" they usually mean completely demolish the existing bathroom and start again. Typically this is the best way to renovate because then you know exactly what you are working with – from flooring, walls, electrical and plumbing services. Every aspect of the newly constructed room can be controlled compared to doing a remodel where you might tile over existing tiling or just paint things to make them feel fresh.
This 1950's style home in North Sydney had received remodels to the living areas and kitchen but it was time for renovation work to be done on the bathroom. The Client had been travelling around the world and loved the style of the bathrooms they experienced when staying in different luxury hotels overseas. So using the photos they provided us we set about re-creating a luxury style bathroom for their home that was to include a freestanding bath tub.
We are very particular when it comes to working with other trades, sometimes we do decline requests to collaborate on jobs. Although we have worked with the building team at EZY PROJECTS for this site and many others. We always enjoy working with this crew because;
They are great builders who don't cut corners.
Most of their building work has been crafted by Designers so it includes a very detailed scope of work.
They typically use high quality fixtures and tap ware to create premium quality builds.
We continually learn new techniques that we can apply to our own renovation projects.
We helped the property owner to source the tiles, tap fittings, shower head, vanity, toilet and other items so that we could build their version of the perfect bathroom. This luxury bathroom renovation was a classic case of transforming the room from tired to modern & contemporary.
We can complete bathroom renovations in Sydney for a house, unit or townhouse. We are able to work with all types of room shapes and sizes creating a design in collaboration with a designer or working with your ideas. For this particular project the home was located in the heart of North Sydney. With a complete gutting of the existing room we could design a bespoke room down to every detail.
What did we do in this bathroom renovation?
Our scope of work for this bathroom renovation was extensive and included the following items while the Client supplied all their own products;
Managing the demolition of the existing bathroom.
Removing all the rubbish.
Concreting and slab preparation.
Some of the electrical work.
Carpentry work for the existing door and skirting.
Waterproofing and certification processes.
All the tiling.

Painting the room.

Some structural work to shift wall dividers and cavity spaces.
The luxury finishes used in this bathroom re-created the opulence and ambiance of a hotel experience. A lovely warm palette with neutral tones creates a sense of calm with lots of space for a couple to enjoy. Everything was chosen to compliment other parts of the house even though the work was done at different times.
What was unique about this bathroom renovation?
The client sourced and supplied all the items that went into this bathroom like;
Natural stone look tiles: Statuario Old Lappato Rett and Di Lorenzo DLT 84015 Satin White.
Afa Vertus 1 & 1/2 bowl.


Mizu Soothe Pull Out Sink Mixer.

Krome Bedarra Handles in Satin Chrome.

Milli Pure Floor Mounted Mixer with Hand Shower.

Milli Pure Wall Basin Hostess System.


Milli Inox Overhead Wall Mounted Twin Rail Shower.

Milli Pure Toilet Roll Holder.

Milli Rush 632 Heated Towel Rail.

Laufen Living Square SaphirKeramik Counter Basin.
Laufen Kartell by Laufen Back to Wall Toilet.
Geberit Sigma 70 Dual Flush Button Access Plate.


Victoria & Albert Barcelona Bath.



Issy Z8 Butterfly Vanity.

Omvivo Mini basin.

Omvivo Mini Vanity.

Being a larger bathroom it was in about 6 weeks with a similar room makeover costing between $50,000 – $60,000. We introduced a few design features in this room to improve its functionality like the in-wall niche which created extra storage space for things like soap bottles and accessories in the shower. So no bending down or hanging things off the shower head or walls.
We were able to install a Victoria and Albert Bath which looked and worked perfectly for this site. It was a little tricky to manage with its matte white finish and we didn't want to scratch anything.
Is it difficult to add a bath tub to an existing bathroom?
A lot of old bathrooms just had a shower, vanity & sink with some having a combination shower / bath tub. Although typically the installations were bulky or the bath was just put in to satisfy families with small kids, they are generally too small for an adult to comfortably relax and stretch out.
Bath tub designs have come along way in the last 20 years and these days it is very easy to install a new one into an existing bathroom. We can re-arrange the services and piping to accomodate the installation.
In the case that the bath is getting installed on a second storey there might be a requirement to engage with an engineer to ensure the flooring will be able to deal with the new load being placed on it when the tub is full of water and people.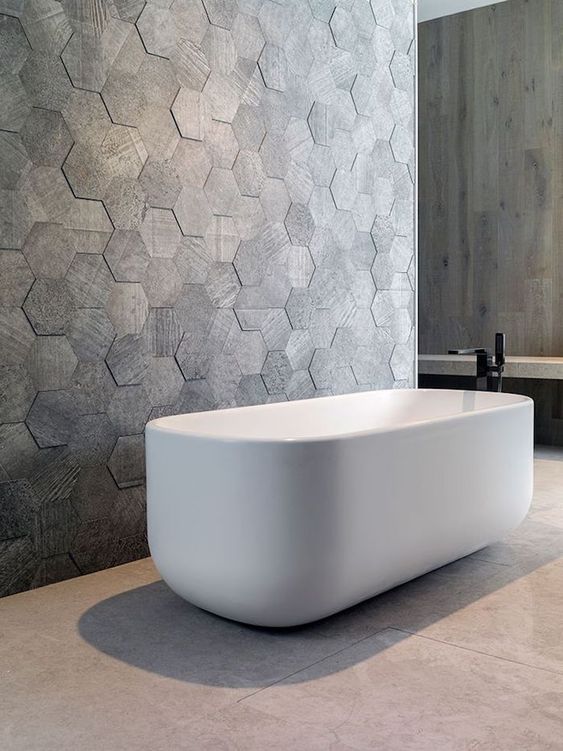 What is the cost of renovating a property in North Sydney?
$100 – yes, it's true. Just kidding. The cost of renovating in North Sydney is really no different to any other suburb in Sydney. The are a billion variables so the pricing will be dependent on exactly what is being done.
Nu Trend can do a site inspection, talk through your renovation brief, design ideas & then provide a fixed price written quotation so you can calculate your costs accurately.
What will vary?
The materials used
The quality of the labour
Products that get installed
Type of tiling
Whether the existing room needs to have remediation to repair flooring or walls
If the floor plan is getting changed which requires services to be moved.
Either way we can help you work out all the required costs to help you budget accordingly.