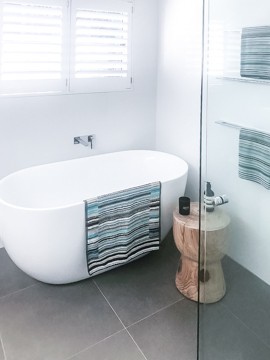 A bathroom and laundry renovation in Baulkham Hills
Here was an interesting challenge ;
"How can Nu Trend bathroom renovations keep a house of five people functioning while completing the renovation work?"
It wasn't an easy task but we managed to achieve it with a mighty thumbs up from our Client afterwards which always makes the hard work that much more enjoyable. In this family home the existing bathrooms felt really boxed-in meaning there was lots of wasted space, little light and unusable nooks – not ideal for a young family of five. 
This bathroom and laundry renovation in Baulkham Hills was a classic case of transforming the rooms from 80's style decore to be fresh, modern and contemporary. The goal was to create fresh new living spaces that wouldn't age and improved the available natural light. The idea began with the choice of huge floor tiles and beautiful one piece bath. The rest of the room was then created around those elements to create a luxurious escape for the parents.
A master bathroom is very typically spacious and we like to create ours so they can easily be used by two or more people. Where budget allows we try to include things like double vanities, mirrors or even twin shower heads where we can. Like this example, these rooms will have a bathtub, separate shower, lots of storage and a semi-private toilet. Other things that can be added are things like underfloor heating, mood lighting, voice activated controls and more. We try and craft our work so that the design spoils the user, creating a peaceful space tucked away from the busy world for relaxation and solitude. This bathroom was designed to reduce maintenance with the large format tiles and open space.
The laundry was also renovated to create more storage space, better ventilation and easier access to things like power points, the sink or cupboards.
We can complete bathroom renovations in Sydney for a house, unit or townhouse. We are able to work with all types of room shapes and sizes creating a design in collaboration with a designer or working with your ideas.
For this particular project the home was located in Baulkham Hills in Sydney's north west. The owner was after a complete strip back to a bare room shell to start with a bare slab and timber frame structure. Taking this approach for a renovation project means everything is completely rebuilt and it reduces the chances of issues occurring over time as the room and building ages. We are able to get access to the entire wall cavity, services and apply our attention to detail from the ground up to install piping, electricity, water proofing, tiling and of course things like the shower, bath, vanity and toilet etc minimising any hidden surprises.
What did we do in this bathroom and laundry renovation?
Our scope of work for this bathroom and laundry renovation was quite extensive and included the following items while the Client supplied all their own products;
Managing the demolition of the existing bathroom and laundry.
Removing all the rubbish.
Concreting and slab preparation.
Some of the electrical work.
New Gyprock for the ceiling and walls.
Timber stud correction.

New door installation.

All the carpentry work.
Waterproofing and certification processes.
All the tiling.
Plumbing services.
Painting the room.
"Ricky & his team recently renovated our main bathroom & laundry & did a fantastic job. All the tradies were punctual, courteous, professional & above all produced a quality finish. Special mention to Mitch who ran the job like clockwork, Anthony the gun tiler & crew, & sparky Steve. They are starting our next project in January so can totally recommend NTP for all your bathroom requirements, they will not let you down."
What was unique about this bathroom and laundry renovation?
The client sourced and supplied all the items that went into these rooms like;
Large format floor tiles.
Single piece, free standing bathtub.

Shower mixers and head.

Vanity unit with wooden touches. 
The bathroom was completed in about 4 weeks with a similar room makeover costing between $35,000 – $40,000.
The space was completely transformed from a tired 80's looking bathroom to a modern space with the master bathroom, ensuite and laundry all given a new look. With extensive use of white on the walls and open toilet nook with glass shower screens the light could fill each room. 
Photos of the completed bathroom and laundry renovation.
* Please note these before and after photos are not professional property images. They have been taken using a mobile phone making it quick and easy to show off some of our work without gimmicks or photoshop trickery.