Replacing a bidet & installing a new bath in Bronte
The house owners wanted a new bath installed in Bronte to replace the existing bidet that was in their main bathroom. They had recently moved into the three bedroom townhouse and with a young child they needed a bath so that it was easier to wash them compared to using a shower or a portable tub.  
So we didn't need to do a complete renovation, instead, we helped the house owners to make their existing bathroom more functional for their needs by installing a new bathtub. The goal was to remove the bidet & replace it with a bath that could fit the existing space & use the current plumbing where it was so that it could blend into the existing interior design. 
What made this project a little more difficult compared to normal was it was inside a townhouse in Bronte that was split over multiple levels. So we had to consider access, the neighbours and making sure our work didn't affect the downstairs area of the property. Of course, Nu Trend does also do complete bathroom renovations in Sydney for any type of property. We are able to work with all types of room shapes and sizes creating a design in collaboration with a designer or working with your ideas.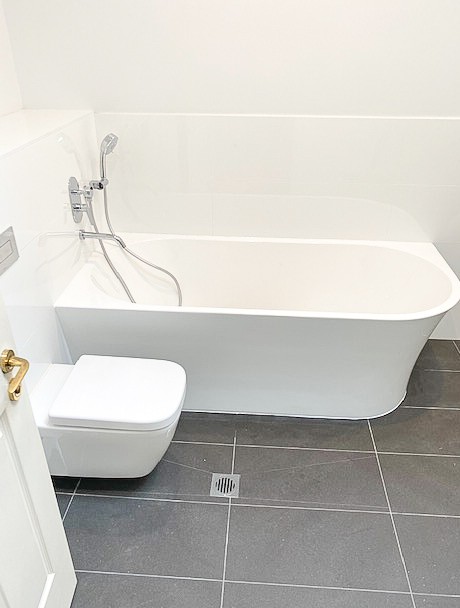 What did we need to do to install this bath?
Our scope of work for this bath renovation included; 
Core hole slab.
Cut and prepare the downstairs ceiling to alter the plumbing.
Patch and paint the ceiling.
Remove the existing bidet.
Waterproof and re-tile the wall.
Supply and install the bath and new tapware
Remove all rubbish.
Install a new ceiling ventilation fan.
What made this project tricky was sourcing a bath that could fit the space, match the style and be moved into the townhouse.
What was unique about this bath installation in Bronte?
We helped the client sourced and supplied the items need to renovate this bath like the;
Grohe showerhead.

Mizu spout.
Mizu mixer diverter.
New tower rail
New corner to wall bath tub.
Ceiling ventilation.


We also took extra steps to;
Provide our contact details to all the neighbours.
Cover all the entry points to the bathroom to prevent dirt / dust.
Mask the existing vanity unit to make sure no dirt / dust went into the draws.
Cover the existing bathroom floor tiles to prevent any scratches or damage.
This bath installation was completed within a week and a similar project can cost between $1,500 – $10,000 depending on the type of property, the products chosen and the scope of work.
Are back or corner to wall bath's a good idea?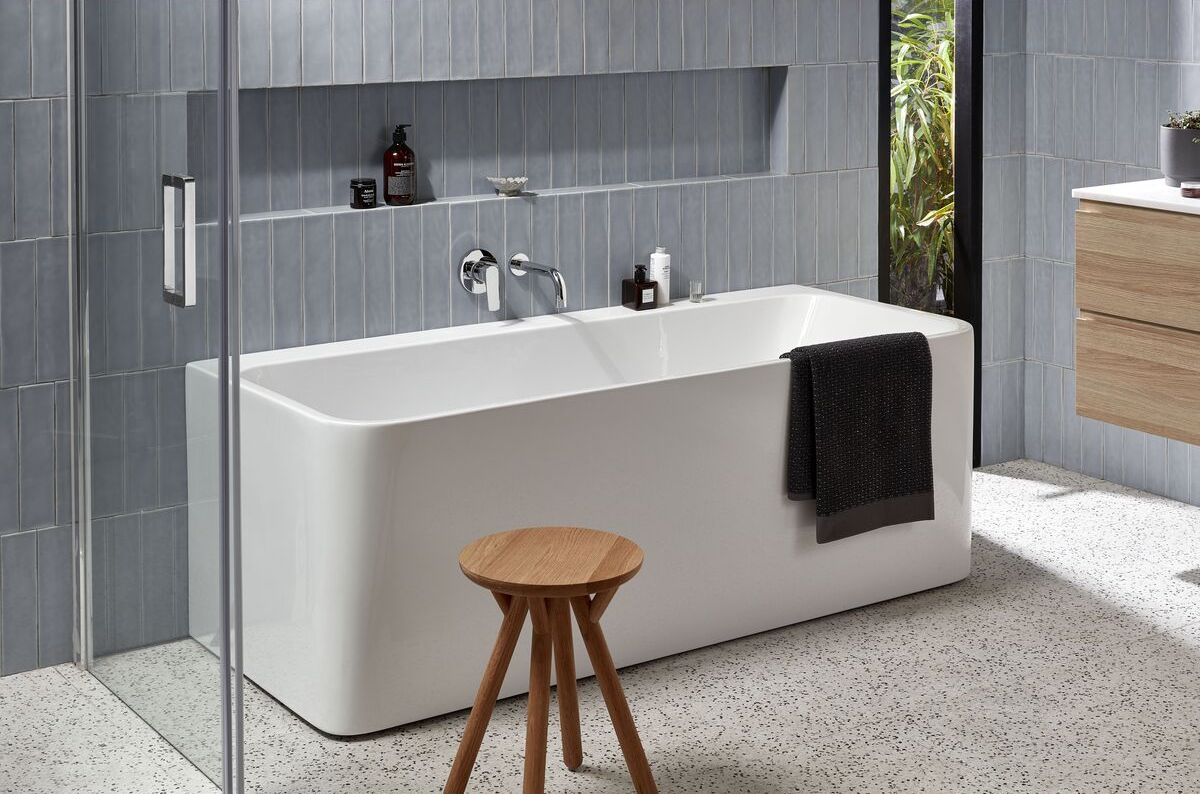 Places like Reece, The Bathroom Collective or even Bathroom Factory Warehouse have a wide range of back to wall or corner to wall bath styles that can be installed into any bathroom. In the 'old days' you would create a timber frame & then insert a bath, then tile around it. If the work wasn't done properly or the house foundations shifted then the sealing around the edges of the bath can fail or even mould can build up around the edges.
The more modern technique for installing a new bath is to buy a freestanding bath that is made in a single piece & placed into the room. This can be on its own with space on all sides or up against a wall or corner depending on the layout. Some baths are quite deep which make them more suitable for adults to use, while there are small, shallow ones like the Laufen which is just 455mm tall.
Photos of our work before, during and after
* Please note these before and after photos are not professional property images. They have been taken using a mobile phone making it quick and easy to show off some of our work without gimmicks or photoshop trickery.