SYDNEY BLOCKED DRAINS PLUMBER
A local plumber in Sydney that can fix your blocked drain.
Nu-Trend is a blocked drain expert plumber in Sydney that is an experienced contractor providing plumbing services. Originally founded by father and son, this highly recommended team has extensive experience as a drain cleaner to fix blocked drains and sewers even for emergency plumbing situations for home owners and small businesses. 
We are an independent local plumber trained in the latest techniques for fixing your drainage system for all kinds including kitchen sinks, bathroom sinks as well as blocked showers and toilet plumbing. We have modern equipment like CCTV cameras, high pressure hot water jet and other items to inspect, clear or repair even the most stubborn clogged pipes.
There are lots of different types of blocked drains in your house and they could be related to the toilet, shower, kitchen sink, underground pipes or other areas in your home. We are drain experts and know you will normally notice things like the toilet has a low water level, the water drains slowly in the sink, there is a foul smell near a drain or there are gurgling noises. We can inspect pipes with a CCTV Drain Camera and fix your drainage system quickly.
What are the warning signs that you have a blocked drain?
It is possible to prevent drainage system problems and getting a blocked drain pipe or sewer in Sydney by being able to detect the early warning signs. Needing a blocked drains plumber is a pretty common service to request in Sydney, but you can avoid it by being aware of these things happening in your home. Sometimes it can be a simple drain blockage or a pipe that is clogged, but in other situations it could be your main sewer line that is blocked, getting a drain expert can identify this correctly to then fix your drainage system.
These are the things to watch out for;
What can cause a blocked drain?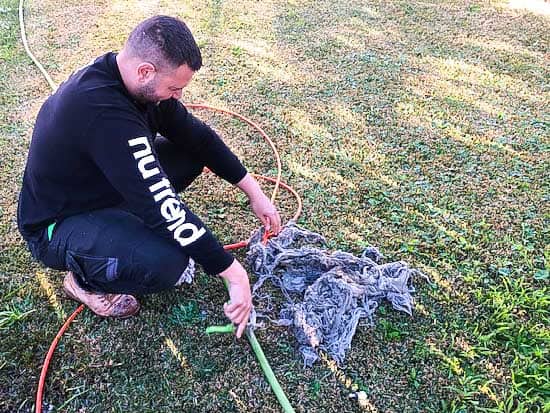 Let's say you are experiencing one of the four warning signs of a blocked drain that we have explained above, then your next question will probably be what has caused the blocked drain to occur in the first place and how can you fix it? We have listed what we have typically found to be the cause of most blocked drains in Sydney and other items that we have seen inside drainage systems have included;
tampons

teabags

sanitary pads,

rats

cockroaches

balls of grease

cat heads

syringes and nappies. 
These items have been put down a kitchen sink, into a toilet or down a shower drain and have required emergency plumbing or a professional, highly recommended drain cleaner to fix the clogged drain.
When do you need a blocked toilet plumber in Sydney?
Nu-Trend is a local Sydney business that provides a blocked toilet plumber service for people in houses, units or apartments. Nu-Trend is a qualified Sydney blocked toilet plumber that can assess what the blockage is then provide the necessary repairs required. We use CCTV digital camera equipment to inspect your blocked toilet and work out what is causing the blockage in the sewer lines. Sometimes it might be easy to clear your blocked toilet due to debris or other material in the pipe. 
In some situations the toilet might be blocked because your sewer line has another underlying issue like tree roots that have grown in the pipe, a build up of waste or even a cracked sewer pipe that is preventing proper water flow. In any situation you need a blocked toilet plumber to be able to assess your site and recommend the right solution.
What is the worst type of blocked drainage system?
By far and away the worst type of blocked drain anyone can experience is the sewer. Obviously nobody in Sydney ever really thinks about their sewer lines until you have a major problem. Depending on the scale of your sewer blockage you can have raw sewage coming back up out of other drains or out on the street. As drain experts, we are equipped with CCTV drain camera inspection gear, high pressure water jet equipment and other tools to fix drain pipe problems quickly, although preventative measures are better than a cure to avoid the cost of plumbing repairs whether it is your sewer or kitchen sink.
How can I fix or unblock my shower drain plumbing
Your shower drain plumbing is part of your waste and sewer system of your whole piping system in the house, unit or apartment. So you have to be very careful with how you deal with your shower drain plumbing as the waste going down that drain enters the public waste systems. Nu-Trend is a qualified plumber and bathroom renovation company in Sydney that can help repair, replace or even move your shower drain plumbing as needed.
DIY tips to repair a blocked drain
One of the quickest and easiest solutions to fix a blocked drain is to try pouring a pot of boiling water into the drain. In many cases this may be enough to loosen or dissolve the blockage without having to resort to more serious measures. Be careful though, you should only use method on metal or ceramic pipes, as the heat can loosen joints on plastic or PVC pipes.
There may be other combinations or methods to fix a blocked drain that you can read about on the internet or YouTube. Ultimately though if you want a drain unblocked quickly it is recommended to get a professional local plumber to do it for you. We can then also check to see if there are other underlying issues causing the problem like broken pipes, tree roots inside pipes etc
Blocked and clogged drains are a nasty problem as they can happen in the kitchen, bathroom or shower and are often caused due to build-up of grease or plant roots that have found their way into the pipes. Typically how owners don't understanding the causes of blockages and are not fully equipped to fix the problem. A reliable plunger is a good first line of defence, chemicals might work but are harmful to pipes and the environment, but in many cases the job requires a high-pressure water jet.
The first process of unblocking a blocked drain pipe is drainage. If traditional methods such as plungers or drain cleaning liquids do not work, then you will need to contact us for help. We can determine the cause of the blocked drain, give you a cost of the drain unblocking fix and remedy the situation ensuring the highest quality of work is performed. We are fully qualified and licenced with years of experience in the plumbing industry. We have an extensive range of tools that are designed specifically for the clearing of blocked drains like our high pressure water jet which forces any blockages loose. With the common threats of water shortages, all household plumbing supplies have been designed to provide maximum efficiency while reducing cost. If you are using outdated plumbing equipment you should consider upgrading your equipment to more efficient replacements to prevent clogged drains.
If you leave a blocked drain for too long it can create further damage than you can imagine, especially if it effects the property's foundations or internal structures. Nu-Trend has all the latest equipment to provide a range of plumbing services for your property;
House, unit, apartment or townhouse.
Residential, commercial, industrial or rental properties.
Same day high pressure water jet blasting available.
Same day inspection and dig up available.
Burst pipe location and CCTV digital camera inspections.
Jet blasting blocked drains in Sydney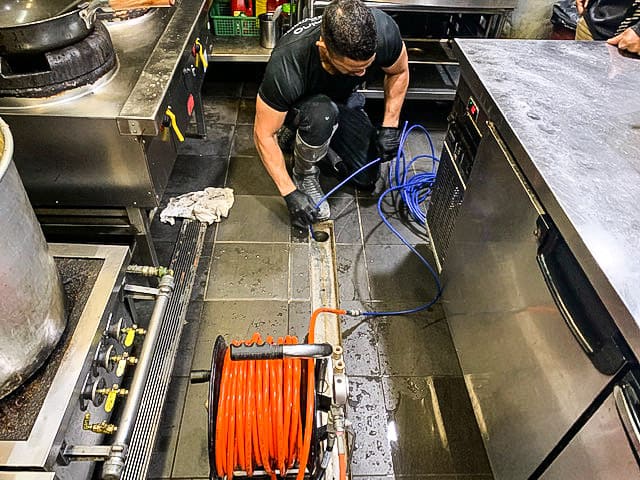 Nu-Trend has high pressure jet blasting equipment to fix blocked drains in Sydney. Our equipment uses either hot or cold water with high PSI water pressure to fix the blocked drain quickly. We use the jet blasting equipment together with our CCTV Camera so we can inspect the pipe and see exactly what is causing the blockage. We can do jet blasting for homes, units, apartments or small businesses in Sydney.
How can blocked drains get repaired?
In a lot of situations your blocked drain might not be damaged and therefore won't need repairs. We use different techniques to clear blocked drains in Sydney that don't require breaking the pipes or needing to repair the drain. For example our high pressure jet blasting equipment uses water to clear blocked drains and doesn't damage them. This means you don't have to spend money repairing your blocked drain in most situations.
If the foundation has moved, pipes have been broken or there are things like tree roots growing in the pipes, then yes, it might be necessary to repair your blocked drain given there could be damage to the piping systems. 
Local | Licensed | Insured

Protection for your renovation project.
Contract a local Sydney renovator.
A qualified and licensed builder.
Public liability insurance for peace of mind.
Drainer  |   Gasfitter  |  Plumber  |  LP Gasfitter 

 Kitchen, Bathroom and Laundry Renovator
Nu-Trend is a renovations company in Sydney that is available 7 days a week. With 15 years experience, the Directors Rob and Rick are hands-on, and provide a personalised service that is fully licensed, insured and qualified.

You can check online with the NSW Department of Fair Trading here
STANDARDS AUSTRALIA AS/NZS3500:2018 Compliant
All the work carried out by Nu-Trend is AS/NZ3500:2018 compliant. It is the Australian Standard for Plumbing and Drainage in NSW as set down by Standards Australia and the Australian Building Codes Board. They give the plumbing industry technical direction to enable compliance with required regulatory frameworks.
PROFESSIONAL PLUMBER FOR RESIDENTIAL  |  COMMERCIAL  |  INDUSTRIAL 
Choose Nu-Trend as your blocked drains plumber.
Your decision for selecting a plumber in Sydney may purely come down to price. Although we know from experience that delivering an incredible service is more than just about price. Here are ten reasons we believe you should make us your choice for any plumbing work required.
Property protection
We will make sure your property is protected with coverings from entrance to project area, even furniture to protect from dust or dirt.
Organised & prepared
All of Nu-Trend's equipment and tools are labelled, sorted and organised to deliver a quick, efficient and precise service each time.
Regular Updates
At the end of each day we will provide an update on the progress of your project. This ensures you know exactly what is happening at each step.
Tidy work site
If we need to leave the site at the end of a working day we make sure it is tidy, organised & everything in place to minimise disruption.
Respecting Property
Yes, we will work in our socks and cover your flooring to protect your property while we work.
Love letters
That's right, we'll leave a little note when required so you know the job is completed or item is ready to use.
Over 100 reviews
We will admit we get too busy to ask everyone for a review, but we have hundreds of happy clients.
Satisfaction Guarantee
Sounds corny, but we stand by our work with a written guarantee for our workmanship and quality.
...I can't recommend the team strongly enough, they are professional, tidy, prompt and polite, and above all excellent craftsman...
...their service standards & ability to resolve problems that occur during the daily operations of a busy club are fantastic....
"...For over 3 years now we have been operating and using Nu-Trend's plumbing services and have been impressed with the level of attention and care your team put in to going over and above the levels that we have expected...."
15 years experience with a written commitment.
Rick and Rob are the hands-on directors for Nu-Trend. Rather than hire sub-contractors and manage their business from a distant office, they are on the tools, at your site & working towards delivering your bathroom renovation or plumbing service. It means you are talking directly to the owners of the business, the guys who are accountable and responsible rather than via email or through customer service teams.
It is why they are able to provide a written guarantee that demonstrates their confidence in standing by the quality of their workmanship and the service they deliver to every single client.
They have a very single minded commitment to deliver a high level of professionalism and quality, they've been doing renovation contracting in Sydney for 15+ years.