COMMON PLUMBING QUESTIONS ANSWERED
Learn more about what local plumbers in Sydney do.
The most common plumbing questions we get asked.
We know, for common plumbing questions you can use Google to find the answer for nearly any type of plumber problem like 'how to fix a blocked drain'. Although Nu-Trend is an experienced domestic plumber in Sydney that has hands-on practical knowledge that can answer the most common domestic plumbing questions. We hope it helps you choose the right plumber in Sydney.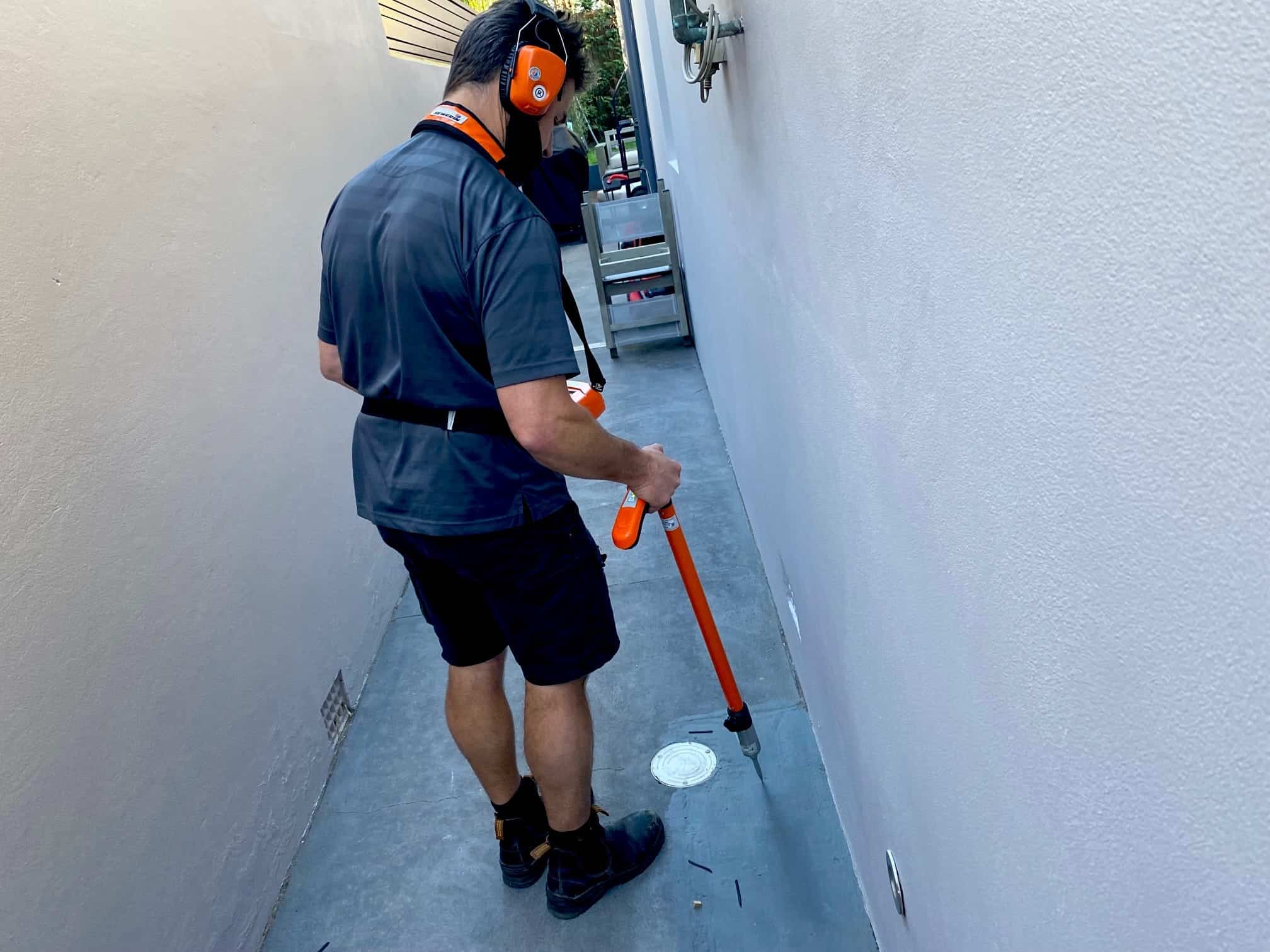 Nu-Trend has the latest equipment to find water leaks quickly on any type of property in Sydney
Qualified and licensed plumbers provide a range of services relating to plumbing for residential, commercial or industrial properties. It is typically considered the that 'dirty job that someone else has to do'. Generally most people don't give a second thought to their plumbing until a problem arises with a leak or blocked drain. The truth is, plumbing is the one system that your home in Sydney that you absolutely can't be without. It keeps your home clean, hygienic, virus free and safe. It enables you to cook, clean and do many other things we take for granted.  Without plumbing you'd have no hot water, no gas to cook with, no flush for your toilets, no swimming pools or no air conditioning.
Plumbers plan, install, maintain and repair all the systems in your property that allow water and gas to flow in and out. Consider where these systems exist: bathrooms, toilets, kitchens, laundries, swimming pools, barbecues, air conditioners which are in all rooms of your home. What you generally see or experience is the fitting or fixture e.g the toilet, vanity sink, tap etc. Although what you don't see is the system of piping, valves and fittings that allow these systems to work correctly. These have to be carefully selected, placed and installed inside your building walls by plumbers or gas fitters. Without this your plumbing won't operate effectively, quietly and in a way that keeps you and your family safe.
Do people who do plumbing need to be licensed?
All of these scenarios and requirements are just a small example of why all plumbing must be done by a licensed plumber in Australia. Trying to take matters into your own hands could lead to disastrous damage to your property, or even injury or death. This becomes even more important in unit blocks or properties with shared walls. Plus on a more practical level it could void any insurance claims.
So yes, a plumber has to be licenced and it is easy to check online for their current license and for a safety certificate.
Why can't you fix or install your own plumbing?
Like many skilled trades there is a lot more to plumbing than meets the eye and a YouTube video won't provide all the answers to every scenario. Plumbing in Sydney is very carefully regulated in order to keep it safe while also ensuring standards are met, for example;
Sewage and waste – have to be managed carefully in order to avoid the dangers of exposure to harmful bacteria and poisonous gases. 
Natural and LPG gas – is highly combustible and requires special care with procedures to avoid ignition or explosions.
Hot water – regulations also exist to ensure that the water in your hot water tank is of a sufficient temperature to prevent the growth of dangerous legionella bacteria. At the same time, your plumbing also needs to incorporate valves that limit the temperature of the water coming out from your shower, so that it won't burn your skin
Piping – the materials used, sizing, types of joins and gradients used must meet the correct measurements or falls to not only be legal, but to function correctly.
So while some people may feel like it is possible to replace a washer in their leaking tap themselves or unclog a drain, you may be surprised as to the underlying issues these problems are causing that only a qualified plumber can identify and remedy correctly.
What is our 'No Gimmicks' policy?
We see lots of companies offering sales gimmicks such as;
Save $50 when you mention this ad.
Unblock a drain for $79
$0 Call Out Fee
Senior's Discounts
$100 off Water Heaters and more
If you think about it for most of these examples how could the company provide any discounts without either knowing exactly what is required for that job or seeing the site? What is happening is these discounts are being loading into the pricing you receive afterwards or added into other 'required services'.
What warranty is included for the work you do?
7 Year Warranty for waterproofing.
1 Year Warranty for all workmanship.
We are fully qualified and licensed with 15 years of experience. We know we must deliver high-quality work to be able to support such long warranty periods and give you peace of mind.
How much does a plumber charge per hour?
The general rate or charge for a qualified plumber per hour is $90 plus GST.
An apprentice plumber charge per hour is $60 plus GST.
In all cases though it is best to get a confirmed quotation as each plumbing service job will vary in terms of location, difficulty and what is required. We provide Free Quotations.
Do plumbers charge by the hour?
A plumber may charge by the hour or a fixed charge depending on the scope of work required.
Some jobs are quick and simple and done with a fixed cost charge while others may be a little more involved and would require an hourly rate. In either situation you can ask your plumber how they work or how they charge before you get them to complete any repairs or renovation work.
They will most likely require details about what is needed, photographs or videos to help them assess the situation or come and do a site inspection.
How much does it cost to get a plumber to unclog a toilet?
The cost to get a plumber to unclog a toilet in Sydney will vary between $90 and $500.
A process of elimination is required starting with a simple plunge but it not resolved, moving to jet blasting or even a CCTV camera inspection of the blocked pipes. Given there is not complete access available sometimes it isn't a simple cause to know what is clogging your toilet. 
How much does it cost for a plumber to fix a leak?
The cost for a plumber to fix a leak can really vary depending on the type of leak it is e.g a tap leaking, a water leak on the floor, water logged backyard etc.
So the cost to fix a leak could vary from $90 to over $10,000 depending what or where the leak is located, what access is like and how major the leak is.
How much does a plumber charge to install a toilet?
A plumber's charge to install a toilet actually varies based on different factors such as;
Does this include removing the existing toilet?
Supplying a new toilet?
Rubbish removal of existing toilet?
New tiling required around the base or wall?
Addressing any clogged pipes.
Moving a toilet to a different part of the room.
Every scenario is differnt so the cost for a plumber in Sydney to install a toilet will vary greatly.
What exactly does a plumber do?
A plumber provides a range of services such as;
Tap maintenance.
Clearing blockages.
Hot water systems.
Digging new pipes.
Detecting leaks etc
Plumbers install and repair pipes that supply water and gas to, as well as carry waste away from, homes and businesses.
They also install plumbing fixtures such as bathtubs, sinks, and toilets, and appliances, including dishwashers and washing machines
That may mean clearing existing sewers , running new services, fixing old services, maintaining existing services
Why is plumbing so expensive?
A plumber service is expensive as it is a highly skilled trade which requires a license & involves a high level of risk for people or properties.
After 6 years of education a plumber can then deal with  gas, storm water mains to a house, sewerage etc. Any errors can cause a flood, an explosion or more.
It is extremely labour intensive work on one of the most crucial parts of a business or house – no water or sewage means no showers or going to the toilet.
All plumbers need to abide by the National Construction Code (NCC) put in place by the national governing body for plumbing regulation the Australian Building Codes Board.
Do you have to pay a plumber up front?
Sometimes you need to pay a plumber up front if the job is small or 'on the spot'
At other times it may be agreed to pay via Invoice or if the job is on a larger scale a payment agreement will be put in place.
What questions should I ask a plumber?
It seems a little silly but these are the questions you should ask a plumber before allowing them to work on your home or site.
Are you qualified?
Are you licensed?
Do you have any references?
How long have you been in the trade?
Is there any warranty on the work?
If this was your site what would you do?
Is there any customer satisfaction guarantee?
What are the main types of plumbing systems?
Plumbing systems are typically made of either steel, copper or plastic.
No. Copper pipe and tubing were widely used for domestic water systems in the latter half of the twentieth century. Demand for copper products has fallen due to the dramatic increase in the price of copper, resulting in increased demand for alternative products including plastic or steel.
What is considered a plumbing emergency?
A burst pipe.
An overflowing pipe.
A blocked sewer.
A gas leak.
A gas smell.
Sewerage in a public place.
How can you tell where a water leak is coming from?
"Where is a water leak coming from" is a million dollar question we get asked all the time. In most cases it isn't as simple as finding the leak where the water is gathering. The water could be travelling from another location or even from multiple spots. Using our experience, specialist equipment and expertise we can find a leak, then fix it.
How do plumbers unclog drains?
Yes a plumber can unclog a drain using various techniques such as an electric eel or a jet blaster depending on how tough the situation is.
Can you use a sink auger in a toilet?
No. Although if you do consider doing this, can you have someone film it with a mobile phone and upload it to YouTube, we think it could be entertaining.
How do I unclog my main sewer line?
Unclogging a main sewer line could require various approaches depending on how bad the blockage is. We can use a CCTV camera to inspect the lines and then professional equipment like a water jet high pressure blaster to clear the problem.
How do you check if I have lead pipes?
You can check if you have lead pipes by organising a site inspection by a qualified plumber in Sydney. We can use our CCTV high resolution camera to look into your pipes.
Do all plumbers charge for estimates?
No, a plumber typically does not charge for estimates. They may charge for their time if they are required to source products or dispose of rubbish.
How much does a 24 hour plumber cost?
A 24 hour plumber normally costs double the daytime hourly rate. Nu -Trend can provide a quotation over the phone. 
Keep in mind that typically an 24 hour plumber in Sydney is leaving their family in the middle of the night to come and provide you an emergency service, hence the cost is higher than normal.
How much do plumbers charge for emergency calls?
An emergency call normally costs double the daytime hourly rate. Nu -Trend can provide a quotation over the phone. 
Keep in mind that typically an emergency plumber service in Sydney is dropping everything to attend to your needs, hence it is a higher charge.
How do I know if my plumbing is bad?
You can work out if your plumbing is bad based on how many times your drains clog, your taps leak or you have smells from sewage. We can provide a complete inspection of your site to give you an assessment.
Do plumbers unclog drains?
Yes a plumber can unclog or fix blocked drains.
What are signs of sewage backup?
You can detect sewage backup by paying attention to ;
Bad smells.
Leaks.
Gurgling.
Toilet filling up.
Overflowing drains
Will Drano unclog sewer line?
Well let's just say that sometimes marketing hype can overtake the actual delivered results.
How do you unclog a toilet quickly?
The fastest way to unclog a toilet quickly would be to get a toilet plunger and clear it yourself. If that is unsuccessful you may have another underlying issue that needs to be addressed.
How much water is used in a 5 minute shower?
Well Google says you might use 10-20 litres mer minute during a 5 minute shower, although a lot will depend on your piping system, where your water comes from, the type of taps or even shower head you use.
What are common plumbing services provided by a local plumber?
Plumbers study for a number of years to learn a wide range of skills, these include;
Carry out interactive workplace communication
Read plans and calculate plumbing quantities
Carry out WHS requirements
Handle and store plumbing materials
Use plumbing hand and power tools
Carry out levelling
Cut and join sheet metal
Mark out materials
Weld using oxy-acetylene equipment
Weld using manual metal arc welding equipment
Carry out simple concreting and rendering
Work safely on roofs
Flash penetrations through roofs and walls
Weld polyethylene and polypropylene pipes using fusion method
Fabricate and install non-ferrous pressure piping
Locate and clear blockages
Install domestic treatment plants
Install stormwater and sub-soil drainage systems
Drain work site
Install prefabricated inspection openings and enclosures
Plan layout of a residential sanitary drainage system
Install below ground sanitary drainage systems
Install on-site disposal systems
Fabricate and install fire hydrant and hose reel systems
Install LPG systems in caravans, mobile homes and mobile workplaces
Install LPG systems in marine craft
Install gas pressure control equipment
Install Type A gas appliance flues
Purge consumer piping
Disconnect and reconnect Type A gas appliances
Calculate and install natural ventilation for Type A gas appliances
Install gas piping systems
Size consumer gas piping systems
Install LPG storage of aggregate storage capacity up to 500 litres
Install and commission Type A gas appliances
Collect and store roof water
Plan layout of a residential sanitary plumbing system
Install discharge pipes
Fabricate and install sanitary stacks
Install and fit off sanitary fixtures
Connect and install storage tanks to a domestic water supply
Set out and install water services
Install and adjust water service controls and devices
Install and commission water heating systems
Install water pumpsets
Fit off and commission heated and cold water services
Connect irrigation systems from drinking water supply
Provide basic emergency life support
Install trench support
The Nu Trend team can service any suburb in Sydney whether that is for an emergency plumber late at night, general plumbing maintenance or complete bathroom makeovers to add value to your property.
"The Nu-trend guys just completely renovated our bathroom - 3 bed 1 bath unit. They were quick, friendly and affordable. Very happy with the bathroom. Noticed that the water temperature fluctuated a bit in the shower the first few days. Let them know one afternoon and they came back the very next morning and found the issue (simple fix) and sorted it out while I was at work. Highly recommend these guys, all were a pleasure to deal with throughout"
Jacob
via Google
"The boys at NuTrend recently renovated my bathroom and I couldn't thank them enough! From start to finish the service was more than professional, every question I had they were more than happy to answer making me feel comfortable through the whole process. The site was always immaculate and the end of every work day there was never rubbish left behind. Everyone who has seen our beautiful new bathroom has complimented on every little stylish touch. NuTrend helped my vision for my bathroom come to life! Out of 3 quotes they were the most pricey however I had a gut feeling that they would be the best due to the reviews and recommendations! Can't recommend them enough!!"
Elle
via Google
"I cant give these guys enough praise. Ricky organised all the trades and managed my recent bathroom renovation with such care and professionalism, I wouldn't hesitate to use them again, or recommend them to friends and family. The attention to detail and dedication to their craft was wonderful to see and I am thrilled with my gorgeous bathroom."
Prue
via Google
We provide free quotes for our range of plumber and bath renovations services. We know it provides peace of mind to know exactly what will or won't be included. We guarantee they won't include any discount gimmicks either.