Changing the floor plan layout for a bathroom renovation in Gymea, Sydney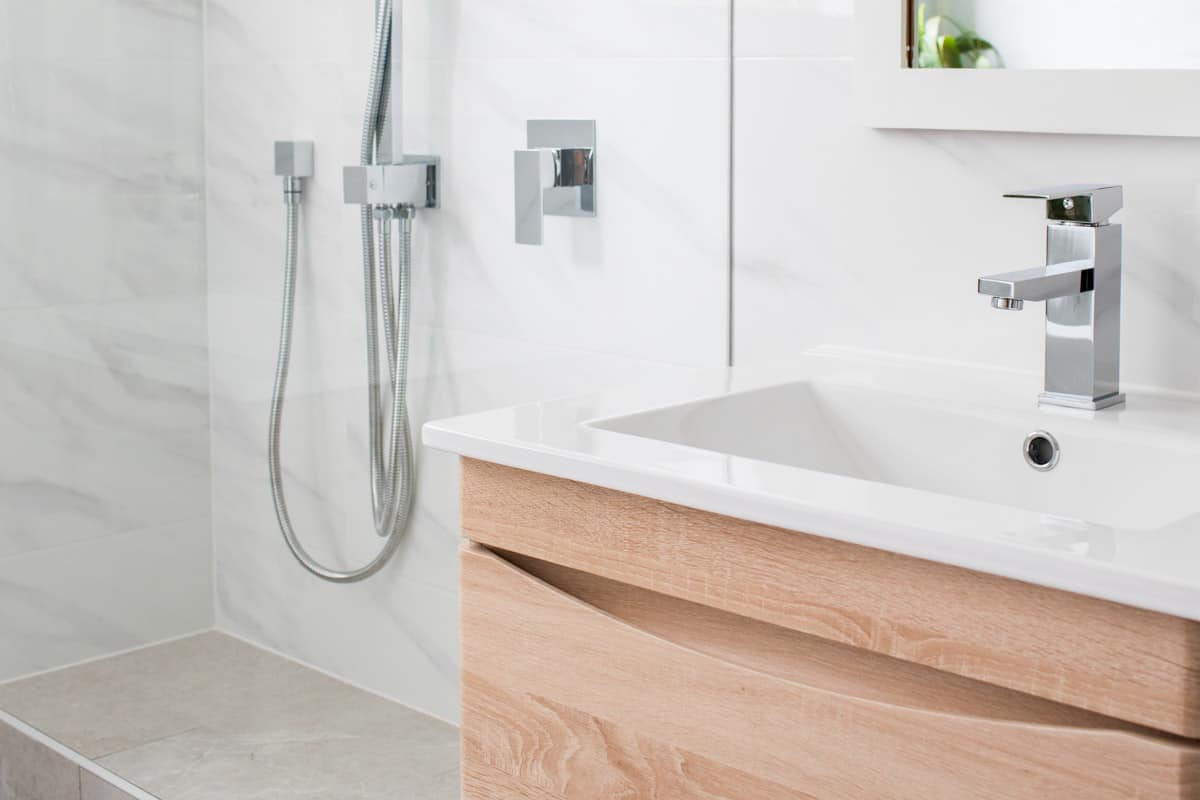 The renovation of this bathroom included a complete change to the floor plan. We removed the bath, moved the toilet and installed a new walk in shower on the existing concrete slab.
Nu-Trend is a Sydney bathroom plumbing contractor that does apartment bathroom renovations even if they are in small spaces. Most units in Sydney will have at least a master bathroom while larger apartments may have an ensuite on the main bedroom and then a separate bathroom for the rest of the house to use.
Our company is a renovation specialist in Sydney that can be contracted to move a toilet or shower on an existing concrete slab to create a new floor plan layout in your bathroom. We've been performing this type of work in Sydney since 2009 and have completed many different units, apartment & townhouse renovation projects in apartment blocks. Our renovating company can help you work out your interior design, demolish your existing bathroom, prepare the room to be waterproofed and tiled, then install all the new fixtures so that it is ready to be used.
Nu-Trend is very experienced at knowing how to manage working in small room spaces to renovate them into something that is more usable with more storage, light and ventilation.  For this small bathroom renovation project the client selected products from BBC Tiles that included items from Lauren Project, Alzano, Roma Bathroom and Linkware to be installed.
A modern bathroom with walk in shower and large seat
The brief we received to renovate this bathroom had two main design priorities;
A very open layout with a walk in shower instead of a bath tub

The installation of a custom made seating area in the shower
This type of renovation will normally take around four weeks to complete and requires a budget of between $20,000 – $30,000 depending on the brands or models of taps, mixers, toilet, vanity or tiles used. Our scope of work for this renovation included;
Protection of the property
Demolition of the old bathroom
Moving the toilet on the concrete slab
Moving the shower waste and plumbing
Removing the bath tub
Replacing the vanity

Floor to ceiling tiling

Hot and cold water rough in

Fit off fixtures and fittings 

Screeding gradients to correct falls 
Unit bathroom renovation before photos
The old bathroom had a fairly typical 1980's style with a simple white colour palette, simple shower screen frame, basic vanity and an inset bathtub under the window. It was functional but not very modern or inviting. When you begin thinking about updating your bathroom you can remove an old bath or toilet to change the layout, even if it is in a unit or apartment.
Plastic taps, flimsy shower screen frame and low quality vanity all had to go.
Apartment bathroom renovation Sydney
Once the old bath tub was removed there was plenty of space to install a new walk in shower. By removing the shower cubicle from the entry to the bathroom it created more space, more light and made it easier to move around. The timber vanity adds a touch of warmth while the new tiling is luxurious. This is the type of modern style that can be completed for an apartment bathroom renovation in Sydney.
A walk in shower with seat
One of the unique design features (and a great renovation idea) of this walk in shower was the installation of a custom made seat. The idea is similar to a day spa, when the mood strikes you can sit and use the handheld shower head to wash your body, cut your toe nails or wash your hair. Creating a unique feature like this is one of the huge benefits of a total bathroom renovation compared to a simple makeover, it lets you create any idea you can think of.
Changing the layout of your bathroom
By changing the layout of this unit small bathroom it created a completely new space.
The first thing we did in this unit bathroom renovation was remove the bath to free up space in the room to create a large walk in shower area. A wall hung floating vanity and floor to ceiling tiles were also used to enhance the feeling of space with lots of light reflecting around the room and clean lines using large format tiles. 
We moved the bathroom plumbing to accomodate the new positioning of the shower and toilet while the existing window was left in place to reduce the overall costs of the project.
The products used in this renovation;
Can you move a toilet in a unit or apartment?
A qualified bathroom plumber can help you move your toilet or shower in a unit to change your floor plan.
Nu-Trend is qualified and licensed bathroom plumber that can move your toilet, shower, bath or vanity unit. We give you the best of both worlds by using our expertise as plumbers together with our qualifications as bathroom renovators. Rather than using separate contractors we can take care of everything for you. 
Nu-Trend has delivered many high quality bathroom plumbing renovation projects in Sydney. We even share lots of trade secrets to make sure property owners are not getting misled by cheap quotes or poor work – see our Bathroom Renovation Advice
Can you move your toilet in a unit small bathroom?
Depending on the structure of your unit property and the water and waste services it may be possible to move your toilet that is in your bathroom even though the unit is on a concrete slab. For this project the Client wanted to create a more open bathroom layout by removing the bath tub and relocating the shower and toilet to make more space. Making a change to the floor plan in a unit block is possible for most properties and will depend on exactly where or how the existing waste and water supply installations have been done.
For this renovation it was possible to move the toilet and shower even though the unit was on a concrete slab with shared walls to neighbours, this just varies on the property. With Nu-Trend being a qualified plumber and bathroom renovator we could take care of moving these elements in the room which meant our client dealt with less trades & we make sure it is all done to current Australian Standards.
Why do unit bathroom renovation quotes vary so much between renovation companies?
Some people might compare quotes from their friends for a similar sized bathroom renovation and wonder why there is maybe a $5,000 or $10,000 difference. Although many different factors come into play;
– What was the access like for the renovation?
– Are existing building materials being used?
– Will a gyprock or renderer be required?
– Is their stair case or single level access?
– Are there noise restrictions that limit the times we are able to work?
– What is parking like around the location?
– Are the existing depths and heights being used?
– What is the condition of the existing room & does it need repairs?
– Will the plumbing need to be moved?
– How costly are the new items going into the room?
You can save money on unit small bathroom renovation if things like the access is easy, you are using existing fixture locations and time is saved on labour from getting into and out of the room faster or using an existing floor plan.
What work did we complete unit bathroom renovation?
#1 PROTECTED THE PROPERTY
Doing as many unit renovation projects as we do, we understand how stressful they can be for people trying to live through them. Most tradies also make a big mess. We make sure we protect your property with floor and wall coverings to make sure nothing is damaged while we are renovating your house.
#2 PLUMBING & FLOORING INSPECTION
Nu-Trend is a licensed plumber which is an advantage when you are renovating a bathroom. For every project we inspect all the plumbing to make sure it is ready for use. When you combine this with our renovation expertise you get piece of mind.
#3 TAKING CARE OF THE PROPERTY
It is the small things that count. We will check things like how your pets get into the house, if neighbours require access to driveways or other things that are important to how you live in your home to make sure everything goes smoothly during a renovation. 
Some renovation contractors will not include this in their service, they might leave the rubbish from the demolition in your backyard or on the street. Nu-Trend will make sure all the materials and rubbish that are not used are removed neatly ensuring your property isn't left in a mess and neighbours are happy.
#5 MOVING THE TOILET & SHOWER PLUMBING
For this project we helped move the toilet on the concrete slab as well as the shower plumbing. Moving the plumbing helped to achieve the new floor plan that was needed for this renovation project. 
Frequently Asked Questions