A small bathroom ensuite with custom designed vanity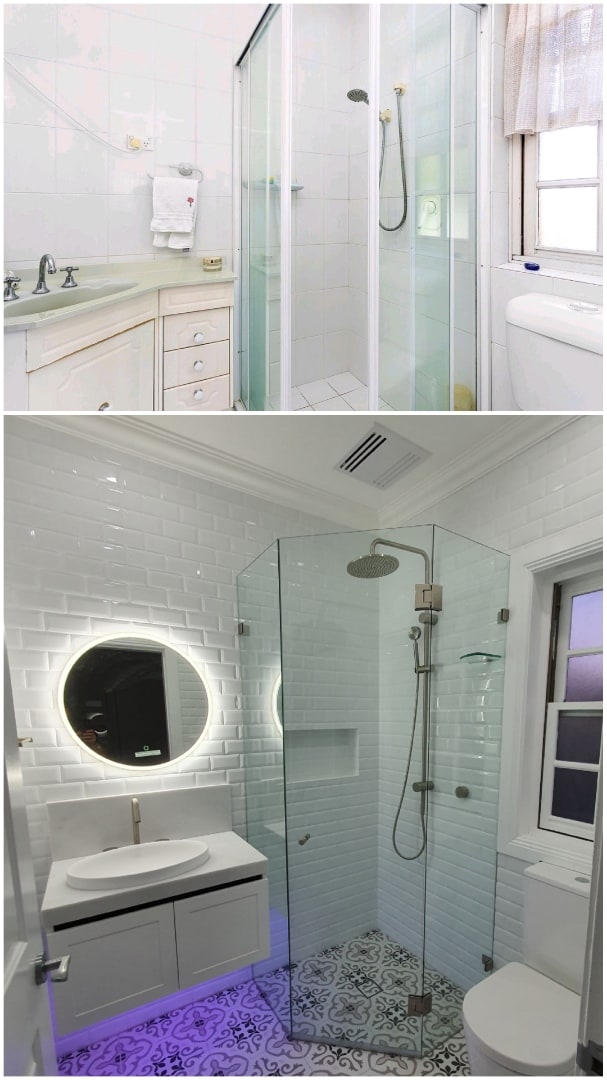 A renovation for a small bathroom with floating vanity from ADP Australia
Nu-Trend is a bathroom and plumbing renovation specialist in Sydney that has many years of experience renovating small bathrooms for houses, units or apartment blocks like this one in Kyle Bay in the Sutherland Shire. The team at Reece Rockdale referred this property owner to us to get his renovation completed. The owner of this property had already finished the demolition of the existing bathroom so we had an empty framework to begin the project with.
Having a demolished room can ensure everything is renovated to a high standard with the renovation focussed on completely new new work getting done vs remodels or makeovers that try to make adjustments to pre-existing conditions which may not be ideal. The owner had selected products from Reece Plumbing like the Kado Lux Toilet Suite, Milli basin set, Mizu wastes and custom designed wall hung vanity unit from ADP Australia.
The scope of our renovation work included;
Hot and cold water rough in 

Fit off fixtures and fittings 

Screeding gradients to correct falls 

Render correction of all walls 
An Australian designed wall hung vanity unit from ADP Australia
Architectural Designer Products is an Australian business that has been family run since 2001. They are considered to be one of Australia's largest and most innovative bathroom furniture manufacturers. ADP creates a range of vanities, shaving cabinets, ensembles, basins and more. 
For this bathroom the home owner had chosen the wall hung vanity from their London Range  It comes in a range of sizes and configurations starting with their 600mm model from $1829 with vanity top material choices like Cherry Pie Premium Solid Surface (60mm), Friday Hybrid Quartz (60mm) or Caesarstone (60mm – additional charges apply) available. There are plenty of other options available for what is a timeless piece of design that won't date very easily.
The owner of this property had already created their own design which we worked from.
What did we do in this master bathroom renovation?
#1 PROTECTED THE PROPERTY
Doing as many house renovation projects as we do, we understand how stressful they can be for people trying to live through them. Most tradies also make a big mess. We make sure we protect your property with floor and wall coverings to make sure nothing is damaged while we are renovating your house.
#2 PLUMBING & FLOORING INSPECTION
Nu-Trend is a licensed plumber which is an advantage when you are renovating a bathroom. For every project we inspect all the plumbing to make sure it is ready for use. We conduct a CCTV Camera Inspection of your piping and if required a high pressure jet blast to make sure everything is ready.
#3 TAKING CARE OF THE PROPERTY
It is the small things that count. We will check things like how your pets get into the house, if neighbours require access to driveways or other things that are important to how you live in your home to make sure everything goes smoothly during a renovation. 
Some renovation contractors will not include this in their service, they might leave the rubbish from the demolition in your backyard or on the street. Nu-Trend will make sure all the materials and rubbish that are not used are removed neatly ensuring your property isn't left in a mess and neighbours are happy.
#5 PRECISE MEASUREMENTS & PREPARATION
We make sure that each part of the renovation project is not only done in accordance to Australian Standards but is precise, measured and correctly prepared.
This includes things like doing a laser level check for the screed and tile height pre start off the plan to make sure the right falls are created.
For every bathroom renovation project we do we will typically have custom designed drain grates created so they fit your space perfectly. 
Same applies for most shower renovations that we do, rather than use off the shelf screens, in most cases we will recommend a custom cut shower screen so it can perfectly fit your room.  
#7 RELOCATE PIPES & DRAINS
If you are changing the floor plan of your renovation we can move pipes and drains to suit the new layout. This means you have better flexibility for your interior design choices. 
What products were used in this renovation?
Here are some of the main items used in this retro house renovation project to give the rooms a modern feel. As you can see the list is quite long and this can add up quickly so it is important to understand how to work our your renovation budget in the planning stages.
Floor tiles – Marques Jet Gris 333 x 333mm
Wall tiles – Subway 150 x 75mm white gloss bevelled edges
Cabinets and Vanity – London Series from ADP Australia
Products from:
Reece Kado Lux close couple back to wall toilet suite with soft close seat in white

Reece Milli Pure basin set with linear textured handles
Reece Milli Pure progressive shower bath mixer
Reece Milli Pure twin rail shower head
Reece Mizu Drift sink wastes
Reece Milli Pure accessories for the towel rail, toilet roll holder.