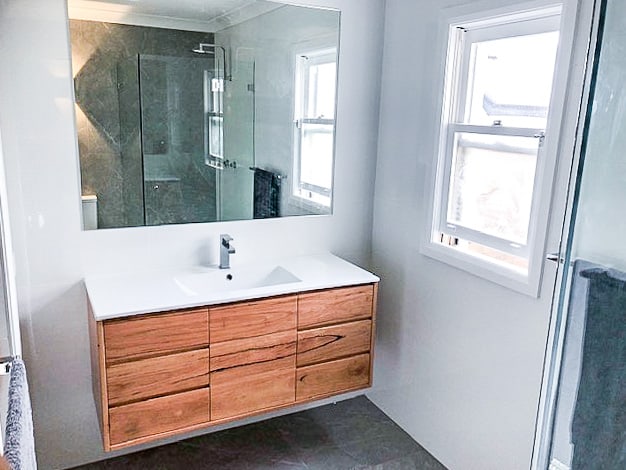 A small bathroom renovation with an Eclipse custom made vanity
The small bathroom renovation brief
This bathroom renovation with an Eclipse custom made vanity actually began with a hot water system installation. Nu-Trend was called out to provide a plumbing service in Alexandria to help install a new hot water system in a terrace house. The job was actually quite difficult as we needed to access the roof and needed to rig scaffolding to carry the hot water system by hand to install it.
The property owner was so impressed they then asked us to renovate their small bathroom on the second floor of their terrace.
One of the feature elements was to be a vanity from Eclipse Handcrafted Furniture who have been manufacturing high quality, solid timber furniture for in over 30 years. We knew this would be an incredible statement piece for a bathroom. For people looking for unique bathroom renovatinos ideas, Eclipse have specialised in the use of unique indigenous hardwood timbers to hand make unique pieces of furniture. Generally they use timber that has been salvaged from dead trees on private properties or recycled timber from old buildings. These hardwood timbers perfectly reflect the harsh Australian environment that the tree has been exposed to. It gives their pieces a unique look.
So our renovation brief was to;
Strip the floor and walls in the existing bathroom
Remove the old wooden vanity unit, shower screen and toilet
Check all the walls and floors to make sure they were suitable to renovate with
Re tile, paint & install all the new fixtures and fittings, including the Eclipse timber vanity that was being custom made.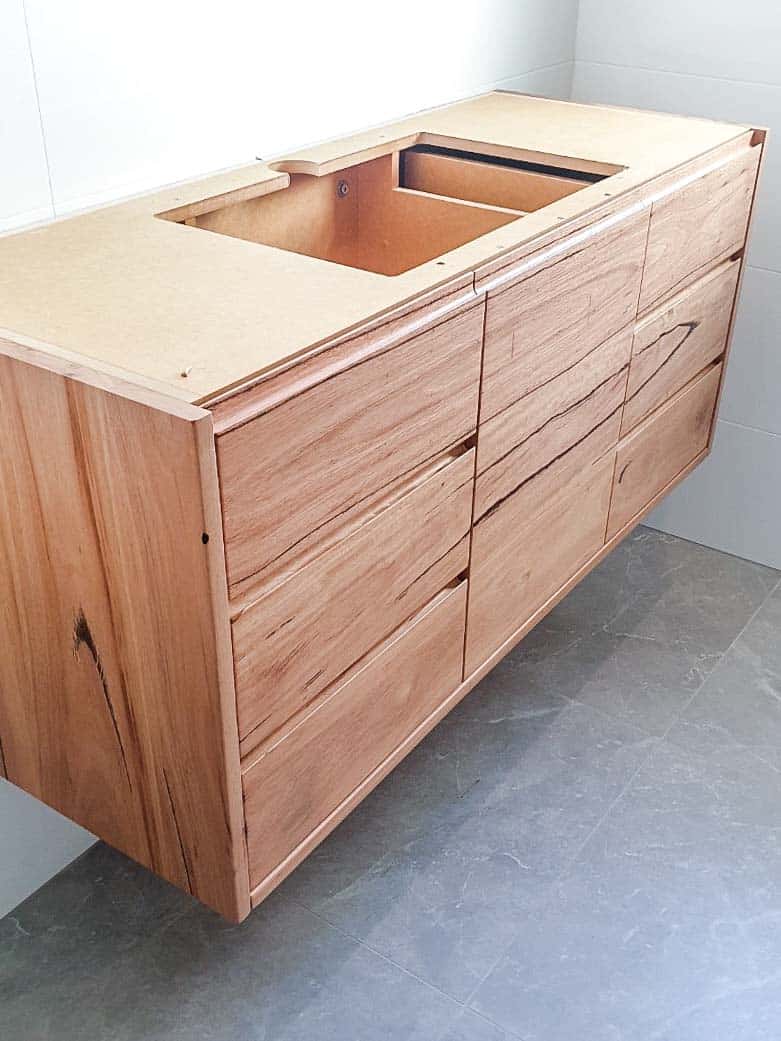 Is using an Eclipse custom made vanity a good idea?
When you are planning your bathroom renovation and are thinking of the best renovating ideas one of the first things to consider will be the style of the room you are trying to create. Some of this will be influenced by the rest of the property, your budget & the reason you are renovating. So for people who are trying to renovate for profit having custom furniture pieces created for a bathroom might add incredible impact to lift the sale price of the property. Although in other situations it might be more economical to replace the vanity with a modern piece to keep renovation budgets under control.
So, every situation will be different. For this property owner they wanted something unique in their bathroom to add value to their home and fit with the rest of the home. Here are some ideas why a custom made vanity unit could be a good idea;
You can specify every single measurement to fit the room rather than trying to fit your room around your furniture.
A unique piece can add impact to any room with something people have never seen before.

The Eclipse custom made vanity units are 100% Australian made from locally sourced timbers.

Using recycled materials is an eco friendly approach to completing renovations that reduces the use of plastic.
Using timber can give the bathroom a softer, more natural look which will age nicely vs other modern materials.

It is like owning your own piece of artwork that nobody else has
What did we do in this bathroom renovation?
#1 PROTECTED THE PROPERTY
Doing as many bathroom renovations as we do, we understand how stressful they can be for people trying to live through one. Most tradies also make a big mess. We make sure we protect your property with floor and wall coverings to make sure nothing is damaged.
Our professional service helps you every step of the way from the initial planning to demolishing your room. For this project we had to remove the existing shower screen, toilet and vanity to then completely strip the walls and floors.
#3 INSPECT THE BATHROOM PLUMBING
Nu-Trend is a licensed and qualified plumber in Sydney so it means we can also check your bathroom plumbing before doing any renovations. This saves time and the hassle of trying to manage multiple contractors. With our experienced plumber team we can spot issues and make sure your project runs smoothly by rectifying any issues.
#4 TAKE CARE OF YOUR PETS & NEIGHBOURS
It is the small things that count. We will check things like how your pets get into the house, if neighbours require access to driveways and other things like that to make sure everything goes smoothly during a renovation. 
Some renovation contractors will not include this in their service, they might leave the rubbish from the demolition in your backyard or on the street. Nu-Trend will make sure all the materials and rubbish that are not used are removed neatly ensuring your property isn't left in a mess and neighbours are happy.
#6 WALL PREPARATION & WATERPROOFING
Every small step is important with a bathroom renovation so we take great care to correctly waterproof and prepare things like floors, walls and other room structure elements to ensure your bathroom lasts a long time without any issues.
#6 TILE ORIENTATION AND PATTERNS
Sometimes your tiling will be simple plain colours with no texture while others will have patterns or veins. So it can make a difference which way you place them according to the arrows marked on the back of the tile. We always make sure we do a mock layout to make sure you are happy with how they fit together. You can see how the textures will work with each other before being placed on a wall or floor.
#7 FLOOR TILING PREPARATION
We will always make sure the floor preparation is done correctly when laying floor tiles and this includes using a self levelling system. We use the Italian designed Raimondi R L S levelling system, especially with large format tiles. It ensures there is no bow out of the tiles and gives you a flat finish to the floor surfaces in the room. Some other trades may not go to this level of detail but the proof is in our work.
#8 DESIGN IDEAS LIKE LIGHTING
Some people might engage a bathroom designer to help them create their dream room. In other cases people will get inspiration from photos they see on the internet. Nu-Trend can help you pull together those design ideas for things like lighting, colours, bathroom layout and other areas.
What products did we use in this small bathroom?
Sometimes people don't take the necessary steps to work out exactly all the items they need for their bathroom renovation. You might get a cheap bathroom renovation quote but do you even know what products they will use. We let every client either choose their own items or we itemise everything for them. For this project we used;
IXL Tastic Luminate Bathroom Heat Module with a silver fascia
Caroma Luna Cleanflush BTW Bk/I Suite w/- SC Seat in white
Caroma Luna Cleanflush BTW Pan
Caroma Xena Soft Close Toilet Seat
Universal BTW Bk/I Cistern
Teknobili Solido Basin Mixer Chrome
Adp Oasis Polished Edge Mirror
Essentials Accessories Glass Shelf

Mizu Soothe Single Towel Rail 750mm CP
Mizu Soothe Double Towel Rail 600mm CP
Milli Exo T/Roll Holder Chrome
Bathroom renovations before and after photos
* Please note these photos are not professional property images. They have been taken using a mobile phone making it quick and easy to show off some of our work without gimmicks or photoshop trickery.
The original bathroom before we started the renovation
During the construction of this bathroom renovation project
Photos of the completed bathroom renovation including the Eclipse custom made timber vanity installation
How do we make bathroom plumbing stress free?
We make sure everyone knows what areas of the house can or cannot be used. So for example we make sure there are warnings on the toilet or sinks to make sure someone doesn't use them be accident before they have finished being installed.