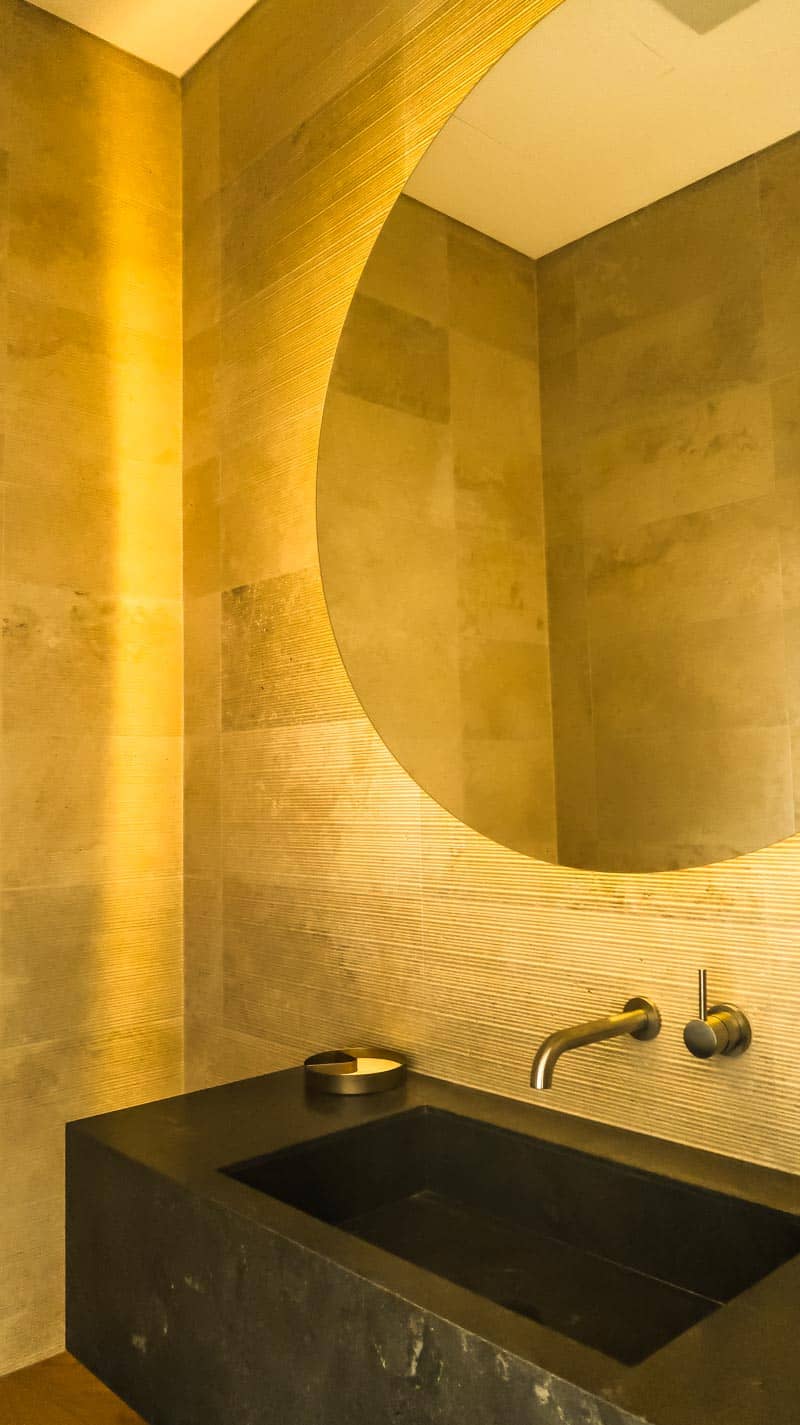 A master bathroom renovation designed by Boffi
This project site for this master bathroom renovation designed by Boffi was on the Northern Beaches in Narremburn. The design brief for this project was being managed by the amazing team at Boffi Studio Sydney. The Client wanted an escape from the hustle and bustle of daily life and transform their 1980's style bathroom into a day spa experience.
They had fallen in love with the style after seeing it while travelling overseas and wanted to re-create it for themselves to experience every day. One of the unique aspects of this bathroom renovation designed by Boffi was the extensive stone finishes, mood lighting and floor to ceiling coverage they created, you instantly felt transported to an expensive day spa retreat.
Bathrooms are generally categorised as;
Master bathroom – this would contain a shower, bathtub, vanity area, plus toilet and be connected to the largest bedroom in the house or the master bedroom. These rooms would typically be 4 metres square or larger with a renovation budget of $20,000 or more depending on size, fixtures, fittings etc.



Full bathroom – this would typically service the rest of the house and have toilet, vanity area with either a shower or bathtub but typically not both. These rooms are normally 3 metres square or smaller with a renovation budget of between $10,000-$30,000 again depending on size, fixtures, fittings etc.
While it is possible to renovate a bathroom for less than $10,000 these will typically be a makeover that uses existing walls, tiles and even hardware rather than being a complete re-do. By doing a complete renovation you get to start from scratch and make sure the room is stripped bare to avoid any unforeseen surprises.
 
Master bathrooms have some unique design elements that are typically used such as;
Walk-in showers that can take up less space than their traditional counterparts as they don't have walls or curbs.


Underfloor heating.


Space for small furniture peaces that can soften the room.


Mood lighting that can be adjusted to suit different occasions.


Dual shower heads to allow couples to wash together.


A free standing bathtub which becomes a statement piece for the room.
Of course we can complete master bathroom renovations in Sydney for a house, unit or townhouse. We are able to work with all types of room shapes and sizes creating a design in collaboration with a designer or working with your ideas. For this particular project the room was set off with a beautiful Salvatori sink with a complete gutting of the existing room enabling us to design a bespoke room down to every little detail.
What we did in this master bathroom renovation designed by Boffi.
Our scope of work for this renovation was extensive and included the following items while the Client supplied all their own products;
Managing the demolition of the existing bathroom.
Removing all the rubbish.
Concreting and slab preparation.
Some of the electrical work.
Carpentry work for the existing door and skirting.
Waterproofing and certification processes.
All the tiling.

Painting the room.

Some structural work to shift wall dividers and cavity spaces.
The luxury finishes used in this bathroom re-created the opulence and ambiance of a day spa. From the Salvatori stone sink to the moody dark tones throughout the room using stone finishes throughout. A little bit of glamour was included with soft mood lighting set up around the vanity mirror.
"I recently employed Rick Karagiannis and the team from Nu-Trend. From the moment they agreed to come and quote on the job, I knew I had a good team. They were on time, efficient, realistic and keen. This sadly is unusual when attempting to get tradesman to your house.

The process of renovation was clearly mapped out and appropriately costed. This is not my first renovation or build and so I was ready with an armful of questions. Both Rick and Robby were able to promptly answer any queries I had. They made the effort to travel to the company I had chosen to use for bathroom products and therefore had a good understanding of what was ahead of them.

They were on time everyday, they managed their subcontractors with constant supervision, they cleaned the site everyday and made every effort to reduce the impact on our family home. As with any build, there are always unforeseen issues or things that don't go quite as planned. Refreshingly these were all sensitively dealt with and resolved as quickly as possible. Nothing was ever too much trouble or inconvenient. So while I paid at the higher end of the market, the product that was delivered was flawless. I have no hesitation in recommending Rick, Robby and their team."
What was unique about this master bathroom renovation?
The client sourced and supplied all the items that went into this master bathroom like;
Salvatori sink.

Boffi tapware
Boffi vanity
Broadware taps
Boffi accessories
Boffi mirror
Candana heated towel rails
The master bathroom was completed in about 12 weeks with a similar room makeover costing between $70,000 – $90,000.
There was no expense spared with this renovation project with everything running to plan and on time. The only thing we would have probably done differently would be to pre-seal the natural stone tiles at the Nu Trend factory rather than on the building site. Working with just hi quality tiles in a luxurious environment meant there was absolutely no room for error. 
As always, we learn and gain even more experience from every different type of job we complete. Even after 10 years of completing plumbing services or bathroom renovations we learn new things.
Photos of the completed master bathroom renovation.
* Please note these before and after photos are not professional property images. They have been taken using a mobile phone making it quick and easy to show off some of our work without gimmicks or photoshop trickery.