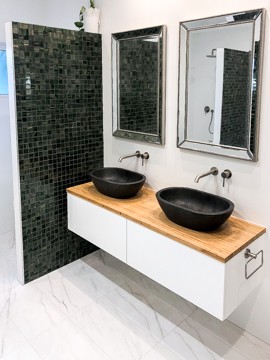 A bathroom renovation with bathtub in Miranda
Well, when we were told the bath was made of stone and weighed 300kg we knew we had our work cut out for us for this bathroom renovation with stand alone bathtub in Miranda. The room became all about the bathtub (not just how we were going to lift it!) so the colours and styling were crafted to compliment the focal point for this bathroom.
It added a touch of 5 star hotel luxury to this family home and created the perfect place to escape to and have a nice soak with a glass of wine.
A Sydney bathroom renovation can be done in any suburb whether you have a house, unit or townhouse. We are able to work with all types of room shapes and sizes creating a design in collaboration with you or working with your ideas.
For this particular project the home was located in Miranda in Sydney's Southern Shire. The owner was after a complete bathroom renovation with bathtub which meant a complete stripping back of everything in the current room and starting with a bare slab and timber frame structure. This included removing the existing corner spa bath.
Taking this approach for a renovation project means everything is completely rebuilt and it reduces the chances of issues occurring once the room ages. We are able to get access to the wall cavity, services and apply our attention to detail from the ground up to install piping, electricity, water proofing, tiling and of course things like the shower, bath, vanity and toilet.
What did we do in this bathroom renovation with bathtub?
Our scope of work for this renovation was quite extensive and included;
Managing the demolition of the existing bathroom.
Removing all the rubbish.
Concreting and slab preparation.
Some of the electrical work.
New Gyprock for the ceiling and walls.
Timber stud correction.

New door installation.

All the carpentry work.
Waterproofing and certification processes.
All the tiling.
Plumbing services.
Painting the room.
"I cant give these guys enough praise. Ricky organised all the trades and managed my recent bathroom renovation with such care and professionalism, I wouldn't hesitate to use them again, or recommend them to friends and family. The attention to detail and dedication to their craft was wonderful to see and I am thrilled with my gorgeous bathroom."
What was unique about this bathroom renovation with bathtub?
We were able to use some incredible bathroom products with beautiful design features for this room like;
Barthworx stone bath.


Double vanity with sink bowls from Highgrove bathrooms and stone bowls from Bathworx.


Tapware phoenix vivid slimline brushed nickel flick mixers.


The shower head was from Arcisian Synergiu in brushed nickel.


Tiles from MDC Mosaics.
The bathroom was completed in about 5 weeks with a similar room makeover costing between $35,000 – $40,000.
The 300kg, natural stone, bath became the absolute hero in this bathroom, the perfect way to relax after a long hard day at work. It complimented the vanity stone basins perfectly with the mosaic tiled feature wall really setting the room off. The emerald green colour was chosen by the Client and gave the room a little touch of luxury.
Even after 10 years of completing various plumbing services or bathroom renovations we learn new things, like how to move a 300kg bath into a house without breaking it.
Photos of the completed bathroom renovation with bathtub
* Please note these before and after photos are not professional property images. They have been taken using a mobile phone making it quick and easy to show off some of our work without gimmicks or photoshop trickery.