How to renovate a 1950's bathroom in Sydney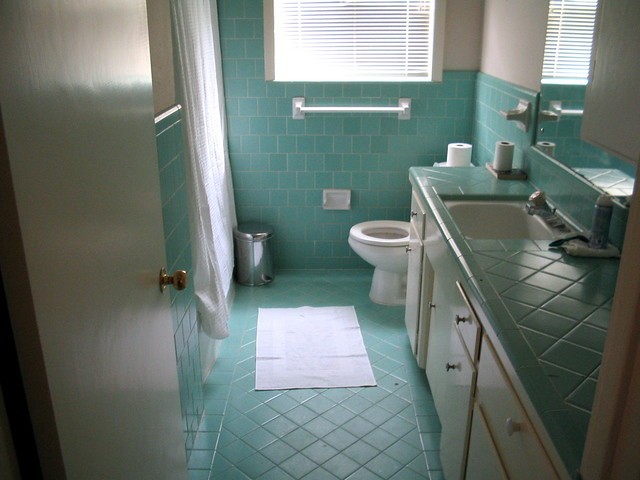 What does a 1950's bathroom look like?
The 1950's was a time of exciting and monumental changes. Around the world soldiers were returning from WWII and money that was being generated by the war created income that was being spent on the latest and greatest gadgets. It was a time for people to try and erase the memories of the previous 20 years and look to the future.
The cold, dreary colours of war gave way to bright colours whether that was clothing, cars or home decorations. So 1950's bathrooms began to take on a number of bright coloured hues with yellow, pink and teal getting splashed around. Pastel was in and was also being used for appliances in the kitchen, wall tiles, toilets and more. So as television began to rise in popularity culture, art, music, food and more began to reach the masses and so these design ideas began to spread quickly by bathroom designers.
Even things like the materials used in a 1950's bathroom has changed dramatically. For example, bathtubs in older homes from the 1950s usually had an enameled iron bathtub in white. Bathrooms undergoing a post-war renovation, however, usually featured a ceramic (or the porcelain by product) bathtub in a wide array of colours. These days, modern bathrooms feature bathtubs that can be made of stone and other materials
How much does it cost to renovate a 1950's bathroom?
You can spend as little as $200 to renovate a 1950's bathroom.  Just buy a tin of tile paint to apply a couple of coats over the brightly coloured tiles & a fresh coat of white ceiling paint. This will give the room a fresh look by hiding the old colours and covering over the existing walls and tiles.
Of course that is quite a short term view on renovating an old bathroom.
What has to be considered is that a bathroom built and designed more than 50 years ago won't really satisfy today's style or even safety standards. So while they may be quant when visiting an old Airbnb they can be tricky to live with day in day out. You need to keep in mind that after 50 years things like moisture problems can occur due to peeling paint, wear and tear on things like grout, fixtures or other hardware as well as poor ventilation. 
So depending on your goals for the property you may be looking at a renovation that;
1. Giving the bathroom a remodel with new tiles and paint.
2. Doing a mini renovation to replace the old vanity, toilet, shower & fittings.
3. Doing a complete renovation of the whole room, starting from a bare room frame.
What should you consider for a 1950's bathroom renovation?
Electrical and plumbing
On the surface, everything may seem like it is functioning properly, although a lot has changed in the last 50 years. So inspecting and assessing all the electrical and existing plumbing is a critical first step to understand what condition everything is at present.
Tiled surfaces
A professional tiler should be used to determine the best course of action when dealing with the existing tiles. In many cases trying to renovate and matching the old tiles could be quite expensive or maybe not even possible if the tiles aren't available any more.
So if it isn't a restoration project then removing and replacing the tiles with new waterproofing is the more ideal way to go.
Vanity drawers and doors
Most 1950's bathrooms had a single sink and small storage cabinet above it. For today's busy household many people are after twin vanity units, lots of storage, multiple power points and great lighting.
More modern designs could include stone sinks, mood or makeup lighting and even a TV.
Fixtures and fittings
Handles, taps, mixers, shower head and other elements should be changed to use the latest materials and water saving products.
Lighting
Most 1950's bathrooms had very modest, small windows to maximise privacy. Although these days there are a number of products available that can fill a room with light while still being completely private.
Ventilation
Along with poor lighting most of these rooms suffer from ventilation issues. This makes it harder to use the room as it steams up, but more importantly it takes longer to dry it or reduce mildew build up.
Shower or bath tub
Quite a few of these older bathrooms will have either a combination bathtub/shower or a very tiny shower cubicle.
In both cases, when renovating a 1950's bathroom consideration can be given to re-arranged the set out to maximise the space available with clever design techniques or hardware.